July 13, 2021
For drive-through windows, a head start can make all the difference between having an efficient ordering process or one that causes delays. Taking advantage of Milestone's open platform, the systems integrator Addictive Technology Solutions (ATS) developed a solution that enables fast food restaurants to serve happy customers faster than ever.
White Label Software, Addictive Technology Solutions (ATS)
Challenge: Help for Speedier Service
Whether at a fast-food restaurant, pharmacy or other drive-through business, customers are often under time pressure and expect a quick, seamless experience. Long wait times can have a significant effect on customer satisfaction and loyalty. Additionally, business success largely depends on getting as many customers as possible serviced in any given hour, especially at peak times.
The systems integrator ATS wanted to build a solution that would help drive-through businesses to streamline the ordering process by taking advantage of both license plate recognition (LPR) technology and the existing databases of customer ordering history.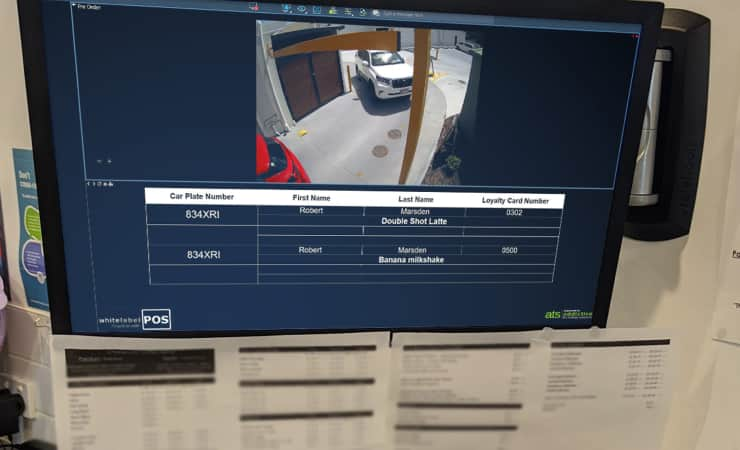 Solution: Loyal customers recognized
Milestone XProtect® video management software (VMS)
In-house software solution built by partner White Label Software
Integration of LPR and point-of-sale (POS) system using an API
database stored in the cloud on Amazon servers
Using an application programming interface (API), the software solution sits between a restaurant's POS system and networked video cameras, taking advantage of the Milestone open platform architecture.
Integrated LPR technology identifies regular customers as they drive up, accesses a database in real time to see if they have a frequent order and sends a message to the kitchen to start preparing those items before the customer has even arrived at the sales window.
Result: Turning predictions into profits
The ATS solution provides a minimum four-second head start for each predicted order, and as much as two minutes head start for high-volume outlets during busy times. The real-time customer order analysis accurately predicts 90 percent of orders, with just 10 percent of customers deciding they want something different on a specific day. Any cost of wastage is considerably less than the cost of a slower drive-through experience.
In the quick service restaurant industry, outlets survive or perish based on their customer satisfaction and the number of cars that are able to physically pass through their drive on an hourly basis. The fact that ATS is also able to deploy the solution on a physical CCTV server with cameras and storage - rather than provision a dedicated server - further benefits the business with cost savings.
Software is seldom used in a stand-alone capacity these days, and an open platform enables integrators like ATS to harness the power of Milestone XProtect by combining it with other solutions to provide a customized system based on unique needs. These solutions can be rolled out to any business where the platform can be integrated with a VIP list or database, streamlining processes and services like opening security gates or car washes.
Creative integrations result in better experiences for customers and prove that there's always room to innovate and grow.
About Addictive Technology Solutions (ATS)
ATS is a systems integrator based in Queensland, offering a wide range of business technology solutions including managed business services and security, business continuity solutions and commercial-grade security and surveillance. ATS also specializes in the provision of technologies for drive-through retail outlets and quick-service restaurants, having developed an integrated POS and LPR system through sister company White Label Software. Fast Food and Takeaway Food Services in Australia industry statistics in 2020 according to IBISworld.com:
Market Size: $20 billion
Number of Businesses: 34,754
Industry Employment: 207,291
Ready to see what we have to offer with smart video technology? 
book a demo