September 16, 2020
Every year, Milestone Systems invites coders and developers across the globe to come up with new innovations that enhance video technology. We call it Milestone's Community Kickstarter Contest.
Developers looking to shake up the status quo use our technology and gain insights from Milestone engineers and partners to help create world-changing innovations.
The winner walks away with a cash prize of $10,000 and gains access to development resources and support for marketing. This year, the crown went to OilChain, a young company that uses blockchain – usually associated with cryptocurrencies and fintech – for industrial purposes. (If you're scratching your head, blockchain refers to a distributed network of computers used to operate a digital ledger that securely records and verifies information). OilChain were crowned the winners of this year's Kickstarter for a project utilizing blockchain technology in avionics, the electronic systems used on airplanes and helicopters.
Blockchain to protect data
Blockchain is best known as the engine that drives cryptocurrencies such as bitcoin. Pierluigi Avvanzo, Chief Technology Officer of OilChain, was an early bitcoin enthusiast. While studying in London, he met Claudio Sperindio, the CEO of OilChain. They began exploring ways that blockchain could be used for purposes other than financial transactions.
Pierluigi and Claudio went on to develop a method of using blockchain to protect data created in the production of oil and gas. They have since explored how this same technology can be used in clean energy, as well as avionics, specifically related to data transmitted during the launch and take-off of helicopters and drones.
Small aircraft that fly under a threshold of 10,000 ft (3,048 m) are obliged to fly with a transponder that broadcasts information about their flight path. "This is wonderful for hackers," says Pierluigi. "All the data coming from a specific machine can be at risk. This is very important for national security agencies."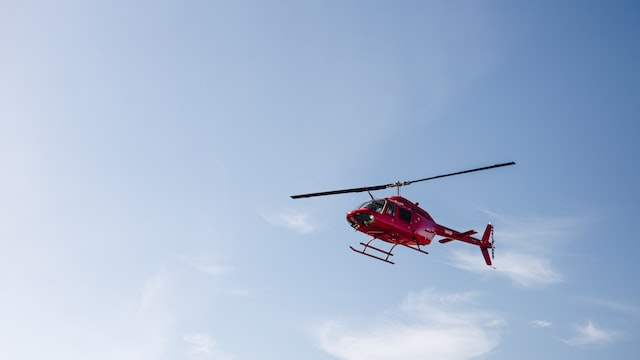 Human-sized towers
OilChain has built human-sized nodes – towers called Ground Station Networks – that operate on blockchain technology. Each node is a fully automated station that securely sends crucial information to other nodes, as well pilots and control rooms. They provide several features, such as video security, intrusion radar detection, access control and emergency communication. Machine learning is used to analyze images and other data to avoid hacking attacks.
"If you want to have an authorized approach of a helicopter or a drone, it must be recognized by means of radar, camera and radio detection. This information is then shared to all the network which keeps track of that specific aircraft and uses a consensus of 51% of all the nodes inside to take that information as true. This consensus must be in real-time," says Pierluigi. In other words, if a hacker wishes to eavesdrop on a helicopter, a drone or other small aircraft, they must attack this complex system of nodes at precisely the same time, otherwise the attack is intercepted.
Recognition
This service caught the attention of the Kickstarter judges. OilChain painted a picture of a future where air mobility becomes more widely available, with drones, for example, providing vital services. They wish to make it more secure to operate these services using blockchain and machine learning innovations. As well as taking home a cash prize, winning the Milestone Kickstarter Contest has helped validate OilChain's idea.
Ready to see what we have to offer with smart video technology? 
book a demo