XProtect Corporate
GDPR-ready certified
Milestone XProtect® Corporate obtained the highly sought-after EuroPriSe GDPR-ready certification. Read more about it and get access to relevant materials and tools
GDPR-ready
certification
About
GDPR
How Milestone
can help
GDPR
toolbox
GDPR
info kit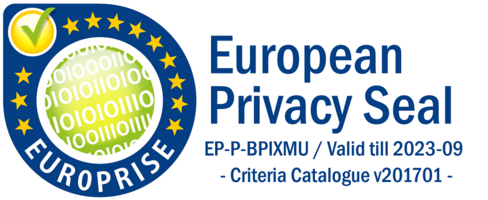 Milestone XProtect® Corporate has been added to the list of XProtect Corporate product versions that obtained EuroPriSe GDPR-ready certification.The certification is issued by the recognized and independent EuroPriSe – European Privacy Seal institute, where XProtect Corporate has been checked by independent experts and approved by an impartial certification body. Building on the native XProtect cybersecurity features, the certification covers all core VMS functions in accordance with EuroPriSe's documented scope of evaluation. The EuroPriSe GDPR-ready certification proves that XProtect Corporate fulfills EuroPriSe's certification criteria as defined in the criteria catalogue v201701*. The GDPR-ready seal and the extensive guidelines and recommendations provided by Milestone provides end users with a solid foundation for the establishment of a GDPR compliant video surveillance operation, while simplifying and reducing the cost of GDPR preparation.Click here for more information about the certification and a full list of XProtect Corporate product versions that obtained EuroPriSe GDPR-ready certification.
*) EuroPriSe's criteria catalogue v201701 catalogue is pending approval pursuant to Article 42(5) GDPR and EuroPriSe GmbH has not been accredited as a certification body pursuant to Article 43 GDPR yet. EuroPriSe is dedicated to receiving the approval of its certification criteria and the accreditation as a certification body in accordance with Art. 42 f. GDPR asap.
GDPR – data protection regulations with global relevance
General Data Protection Regulation (GDPR) is a strict EU regulation devised to protect data and privacy for all individuals within the European Union (EU) and the European Economic Area (EEA).

While GDPR is an EU regulation, it has influenced numerous domestic regulations and become the standard for personal data protection in many other parts of the world since its enforcement in May 2018.

We believe in the core values outlined in the GDPR, which include:
THE RIGHT TO BE INFORMED, GDPR Article 12-14 & 33
Information about what personal data that is collected and how long it is retained. The right to be informed in case of a data breach.
THE RIGHT OF ERASURE, GDPR Article 17
The right to be forgotten, including the deletion of personal data. Information about how long it is kept.
THE RIGHT OF ACCESS, GDPR Article 15
Ability to get access to own personal data. What personal data is being processed and the rationale for such processing.
THE RIGHT OF OBJECT, GDPR Article 21
The right object to the processing of personal data.Who and how to contact the Data Controller.

How to ensure a GDPR compliant video surveillance operation
Ensuring compliance with GDPR and similar data privacy laws requires careful planning and preparation of the design of your video surveillance system and the policies and procedures regulating how it is used.

To help system integrators and end-customers design, implement and operate video surveillance systems that are compliant with GDPR and other similar privacy regulations, Milestone provides a holistic set of tools.

Here's how Milestone helps you to become GDPR compliant:
Check-out the individual tools in the GDPR toolbox tab.
Holistic toolbox for System Integrators and End-users
Selecting a video management product that is certified to contain all required cybersecurity and privacy protection features is a good start, but not enough to ensure operational GDPR compliance of your video surveillance installation.
Use our freely available recommendations, best practices and training resources to build awareness on cybersecurity and privacy protection. With this toolbox you are set for a good start on your journey to a secure and GDPR compliant use of your XProtect video surveillance system.

SYSTEM HARDENING
GUIDE
---
The guide provides cybersecurity recommendations for the complete solution stack including network infrastructure, server hardware, operating systems and the VMS.



GDPR PRIVACY
GUIDE
---
Contains the essence of GDPR and how it applies to video surveillance, including ready to use templates, and recommendations for how to design, implement and operate a GDPR compliant VMS installation.

PRIVACY AWARENESS
TRAINING
---
Free online end-user eLearning course designed to build privacy awareness and maturity to support end-customers' GDPR implementations.


Get access to the GDPR Information Kit
The GDPR Information Kit provides further information about GDPR and how
Milestone helps end-customers become GDPR compliant.
ACCESS THE GDPR INFO KIT