August 10, 2021
Seneca's Analytics Series Servers Provide Validated Results for XProtect® Rapid Review
Milestone Systems has a history of working with technology partners. Seneca is our long-time partner that provides analytics servers that are capable of handling the heaviest workloads associated with Milestone XProtect® Rapid REVIEW.
History of Collaboration
Seneca, an Arrow Electronics company, is a long-time technology collaborator with Milestone. The company provides purpose-built hardware just right for a video analytics project. Whether our channel partners need recording servers with GPU, workstations, large storage arrays, management servers, or specialized hardware to meet a specific need, Seneca is there to meet the demand. They also provide hardware for many Milestone channel partners. In addition, they certify XProtect software products through complete performance testing.
XProtect Rapid REVIEW
XProtect Rapid REVIEW is an advanced forensic analytics solution that allows users to review videos quickly. The video analytics enable deep search and analysis capabilities necessary for physical security. Rapid REVIEW is added to the XProtect open platform, letting you review hours of video in minutes, pinpointing people and objects of interest, and turning information into evidence.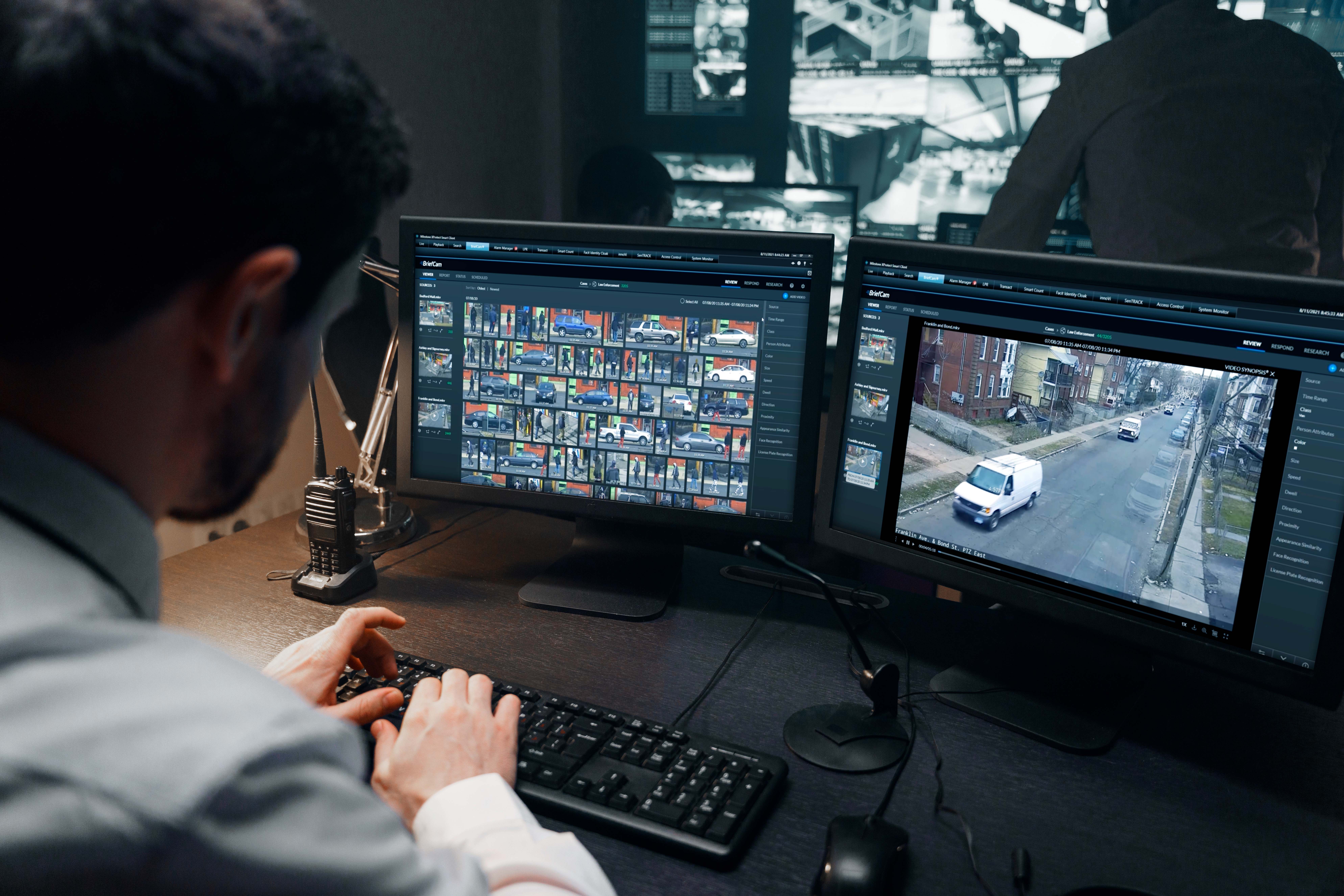 Husky IVO
The story begins with the Husky IVO™, Milestone's server running XProtect video management software (VMS). The server design results from in-depth feedback from our channel resellers and technology experts. With this feedback in mind, we've taken great care in providing a Husky IVO server product line that is both robust and scalable. So whether you need a stand-alone server or multiple units in a more extensive deployment, we give you the freedom to choose the server that best meets your needs.
Husky IVO is the right solution for running the XProtect platform. However, when your customer needs Rapid REVIEW, installing the video analytics software on the same server where you capture your security video is impossible.
Seneca has the proper hardware to solve this problem. Their team has tremendous skill in optimizing hardware to run the video analytics software on a purpose-built server with enough resources to handle the job. You will need a Husky IVO server running XProtect VMS and a Seneca Analytics Series server to deploy a complete system capable of running XProtect Rapid REVIEW.
Seneca Analytics Server
Seneca's analytics servers go beyond the analysis of data. Each is carefully designed from the ground up to deliver the power and reliability needed for these situations and has the compatibility and design features required for industry-leading analytic applications.
Ron Van Tassel is the Security Product Manager at Seneca. He manages the product portfolio and strategic direction of security solutions, including the Seneca Analytics Server Series running XProtect Rapid REVIEW. Van Tassel says, "If you don't have enough resources, you're going to put your recorded video at risk. And let me explain why, if you're trying to tax the system between XProtect VMS and Rapid REVIEW, the system can't keep up—it will drop video. The risk of doing that is not worth it. The resource intensity of Rapid REVIEW is going to cause issues with the recorder."
Van Tassel continues, "We recommend that if you're running Rapid REVIEW, you're not running Rapid REVIEW on a recording server."
Better Together
Dave Nieweg is the Community Management Program Owner at Milestone. He manages the relationship with Seneca and says that the collaboration highlights true teamwork. Nieweg says, "Milestone's Husky IVO product line is a great choice for the recording servers. Beyond that. Seneca fills many gaps. XProtect Rapid Review is one. In addition, smart client machines, and management servers from Seneca gives customers a wider array of choice. So, it's a good partnership for providing a complete system."
Nieweg continues, "The history has been Seneca's creativity and responsiveness to purpose building the right hardware. They provide good solutions—balanced with price and function based on the Milestone architecture. They can design solutions that maximize the utilization of our software."
This approach by Seneca is scientific. Their engineers run the Milestone software on Seneca hardware in a lab environment. They are figuring out what the hardware can and cannot do. This testing is essential for system integrators. The result is that you can trust Seneca and Milestone to have the answers to your questions. You're not calculating something based on specifications—you're relying on lab results.
In a recent development, Milestone has issued a formal hardware verification for Seneca Analytics Series servers for XProtect Rapid REVIEW. A technology partner has achieved this verification for the first time, which is no small feat.
Seneca has four servers that work perfectly with XProtect Rapid REVIEW. These servers work with specific customer needs and vary from basic to advanced configurations. Seneca optimizes these servers using Maestro software to install Rapid REVIEW quickly, saving you time during the deployment. Additionally, Seneca builds these servers on a Dell hardware platform with Intel processors and NVIDIA GPU cards, so you know the quality will be top-notch and backed by Dell's 5-year warranties, just like the Husky IVO server product line.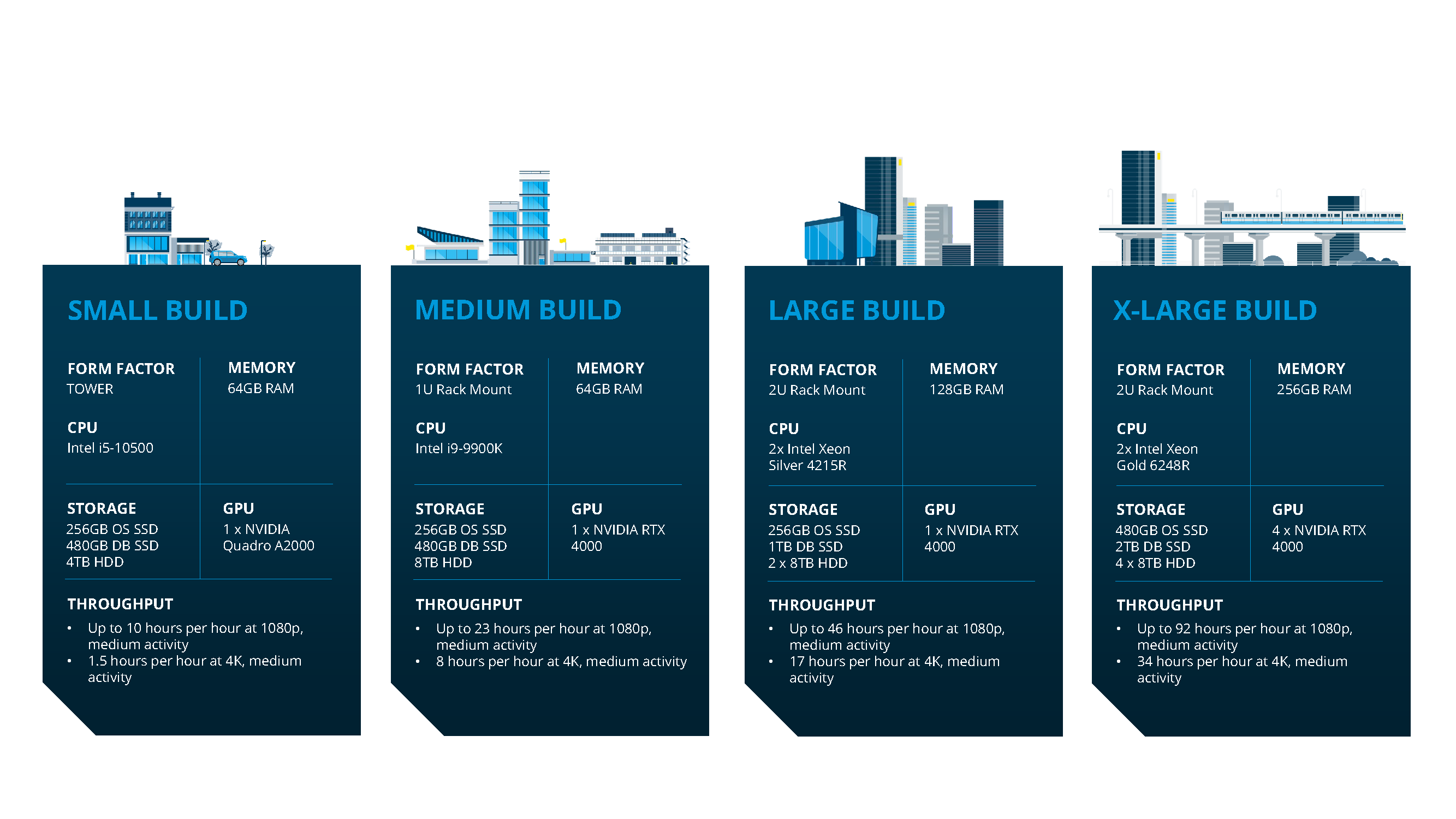 Seneca's XProtect Rapid REVIEW Analytics Series Servers – Product Line
Van Tassel says your decision on which analytics server you require will be based on how quickly you want it to process the data and deliver the video synopsis results. He says, "We're all here trying to take out the guesswork for that integrator. The integrator should understand the tolerance and criteria you need for processing video or how fast you want to be able to evaluate and review video through the Rapid REVIEW software. If you're okay with something taking a couple of days to review in a case, you don't need as much horsepower. However, you might need the more powerful server if you need a quick turnaround because it's mission-critical."
Summary
Here's the bottom line: You should use Husky IVO servers for XProtect open platform; and, when you are deploying XProtect Rapid REVIEW, you should install the right Seneca Analytics Series server to provide the proper processing and throughput needed.
Seneca and Milestone recommend this hardware for three very important things. One is performance, which is essential with analytics. You should make sure you're optimizing the performance of the server tied to the level of performance of analytics that you need.
Secondly, the servers are built to order with readily available components. Michael Pilato is the Strategic Development Director at Seneca. Pilato says, "Because we build to order, we don't suffer from a lot of the supply chain issues that people have been running into, because we can shift around based on components that we have versus previously built servers that are on the shelf.
Finally, Seneca provides first level, second level, and third level diagnostic support. They back that up by deploying Dell with the onsite next-day warranty services. So, the support is a high priority and customers appreciate that. Milestone appreciates it as well. Nieweg says, "Being channel-centric, Seneca works really well with the way Milestone goes to market. Anybody that's a Milestone reseller, couldn't go wrong relying on Seneca hardware for their analytics series servers."
If you would like to learn more about XProtect Rapid REVIEW or Seneca Analytics Series servers, please contact one of our security experts. We have tools that will help you decide which server configuration you might need for your deployment project.
Milestone Systems is a leading provider of data-driven video technology software in and beyond security that helps the world see how to ensure safety, protect assets, and increase business efficiency. Milestone enables an open platform community that drives collaboration and innovation in the development and use of network video technology, with reliable and scalable solutions that are proven in more than 500,000 customer sites worldwide. Founded in 1998, Milestone is a stand-alone company in the Canon Group. For more information visit: https://www.milestonesys.com/.
Ready to see what we have to offer with smart video technology? 
book a demo