November 20, 2020
Make-up manufacturer Art Cosmetics is using an innovative video surveillance solution to ensure growth and competitiveness and secure its 10 sites in Italy's Bergamo province.
In the cosmetics industry, safety and security are paramount. For Art Cosmetics, they're a critical piece of their infrastructure.

"We handle approximately 5 million kilos of goods per year. These products, because of their size and type, are exposed to theft and resale on the black market. Theft would cause huge economic and operational damage to us and our customers," says Giorgio Gerli, Chief Information Security Officer of Art Cosmetics. Originally, Art Cosmetics used an older video surveillance system to monitor products. This wasn't enough, says Gerli.

"In our industry you have to be prepared for sudden peaks in demand and very high congestion and concentration in a short period of time when you have to sort large volumes of goods," he says.

The solution to this wasn't to simply add new video cameras to the existing system. A new video surveillance strategy was needed, and outdoor devices would be the only visible part of a complex architecture.

To create a new strategy, Art Cosmetics relied on the expert advice of its partner, Just It, which supported the company both in the analysis phase and in commissioning a new system.
The value of partnership
Based on an analysis of the company's requirements, 240 video cameras were installed and managed through XProtect™ Corporate, Milestone Systems' open platform.

"Milestone was selected because of its ability to manage such a large number of video cameras and because its software is extremely user friendly. Two external security firms provide our system management and monitoring of the images captured by video cameras. So it was imperative to have a product with high performance and intuitive operation," says Gerli.

Gerli says that Art Cosmetics was searching for more than just technology. They wanted a reliable partner who could quickly react and support the staff operating the video surveillance system.

"Milestone was the one who could guarantee all of these services," he says.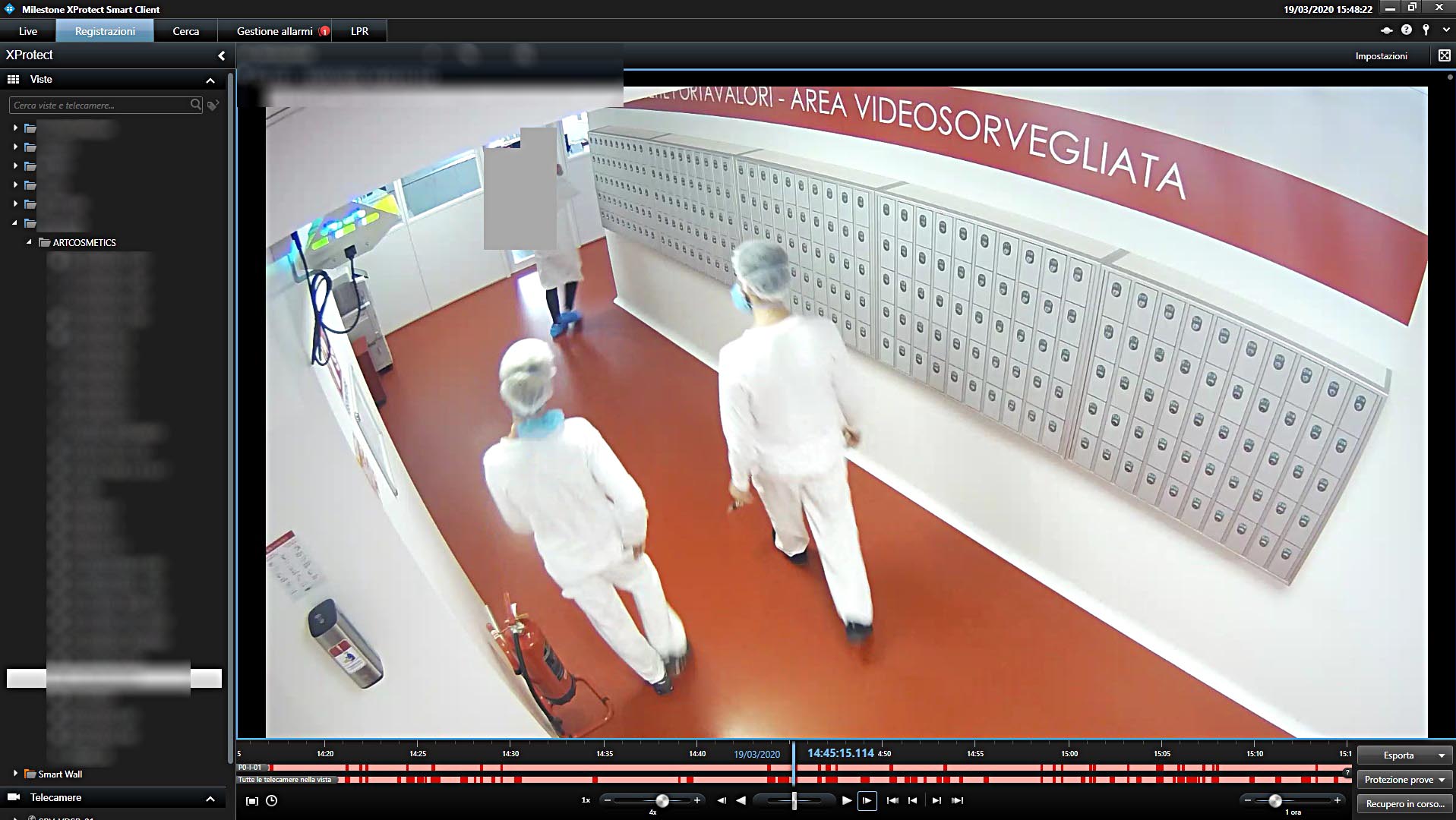 More than video surveillance
It didn't take long for Art Cosmetics to discover the system's potential beyond traditional video surveillance. It is now also being used for number plate control and for monitoring shipments.

"We record incoming trucks, both before the products are picked up, and at the time they are taken charge of," says Gerli.

At the request of their customers, Art Cosmetics built a configuration that monitors the transfer of products and lets them document the status and quantity of products when they leave their facilities.

"This can potentially lead to huge savings in terms of time and money. If the goods show damage upon delivery, we can prove we are not responsible for them or can track the products if they were accidentally loaded onto the wrong truck," says Gerli.

The company is testing other ideas, too, including the integration of fire safety, access control and intrusion detection systems with the Milestone platform.

A trash compactor will also be installed and integrated to certify that the disposal of production waste is in compliance with environmental regulations.
About Art Cosmetics
Established in 1990, Art Cosmetics is based in Italy and has a leading international position within the manufacturing of make-up products for major industry brands. Recently, Art Cosmetics also opened new sales branches in America and Asia.