Video technology for education
A sense of safety and security is the cornerstone of educational institutions. Milestone video management software helps you provide it.
See what a Milestone solution can do for you
.


Ensuring students and staff can thrive
Educators, administrators and security staff can better protect people and property with a customized video solution driven by Milestone video management software. This easy to deploy, user-friendly technology enables you to not only respond swiftly to incidents such as theft, vandalism, bullying, or violence, but also anticipate and in some cases, prevent them.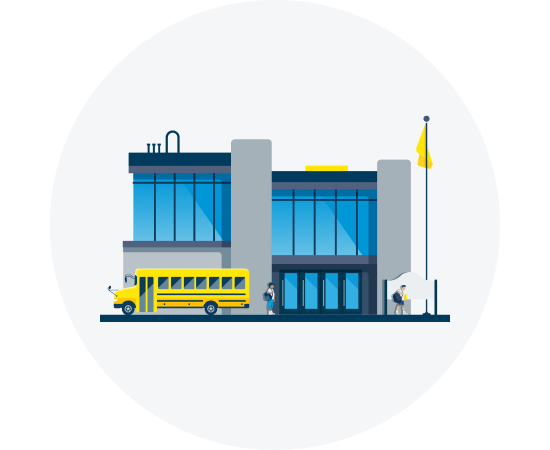 Customized solutions for schools and higher education
Customize ideal solutions
The open platform flexibility of Milestone's on-premises and cloud platforms ensures you can build and tailor your ideal video security solution.
The centralized interface removes the silos between departments, and it is intuitive enough for any staff member to use.
Gain invaluable insights with behavioural data, while streamlining campus operations with functions such as License Plate Recognition.
We're trying to move the whole university toward an efficient, full centralization of all cameras and surveillance recording systems. It requires a great deal of coordination ... on a very big university platform.
Michael Blumenson, Head of Digital Surveillance Solutions, University of Buffalo, USA.
Insights and customer stories
See how Milestone has helped educational facilities around the globe.
Safeguard students with new techniques and technologies
Discover techniques and technologies to help keep your K-12 campus safe. Download this eBook to learn about innovative video analytics, how to improve after-incident investigations, technology that can alleviate common challenges, such as vape detection, video verification, and more.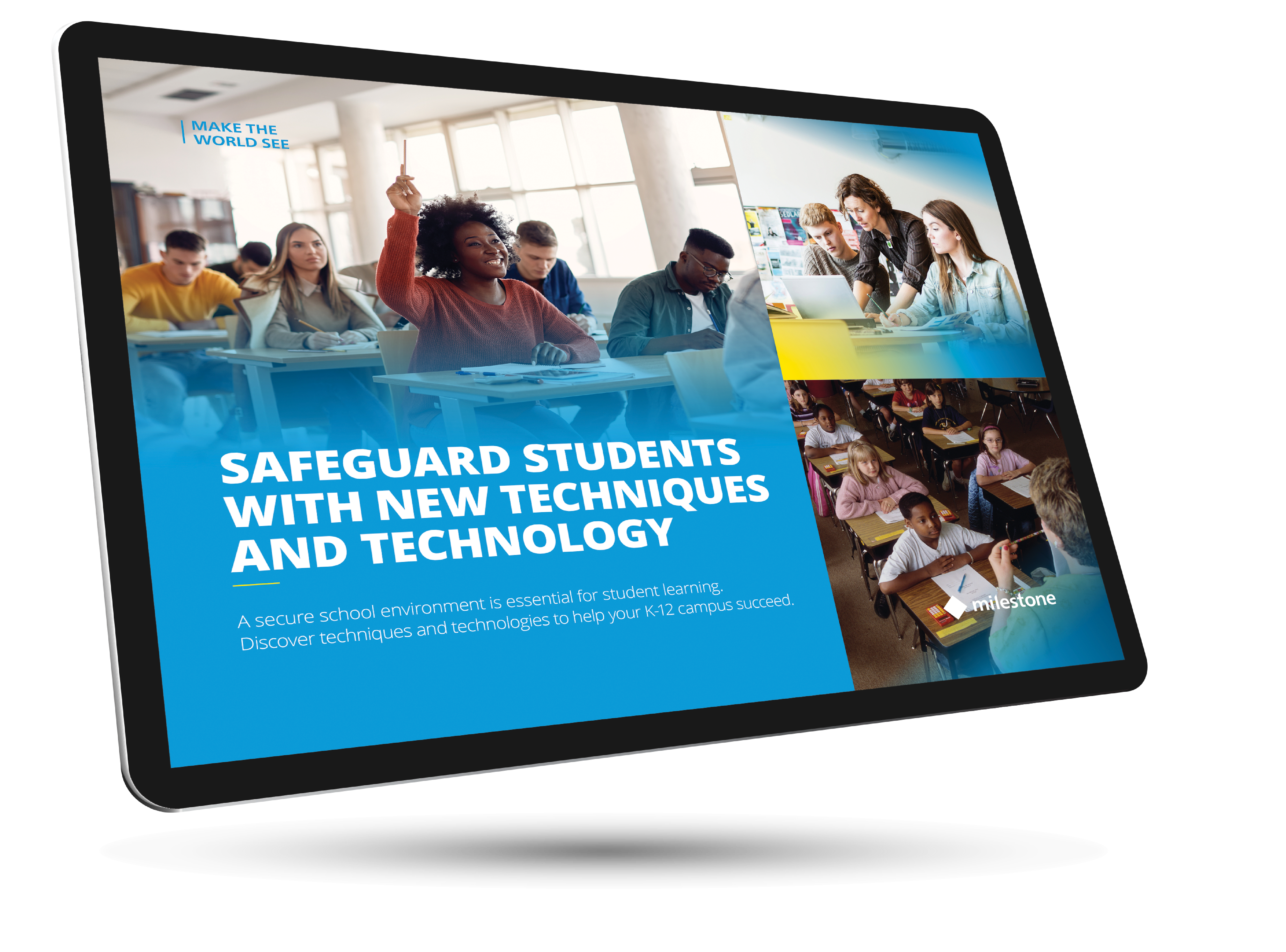 Interview: Safeguard Students on School and University Campuses
Download the full interview to learn about today's most prevalent video technology solutions for education campuses and hear how they are being used to keep student, staff, and property safe.
Level up your campus safety
Move your campus from prepared to proactive with innovative video solutions. Download our higher education eBook to learn about optimizing your security plan, new technology that solves for evolving challenges on campus, and how to leverage your security tools to improve operations.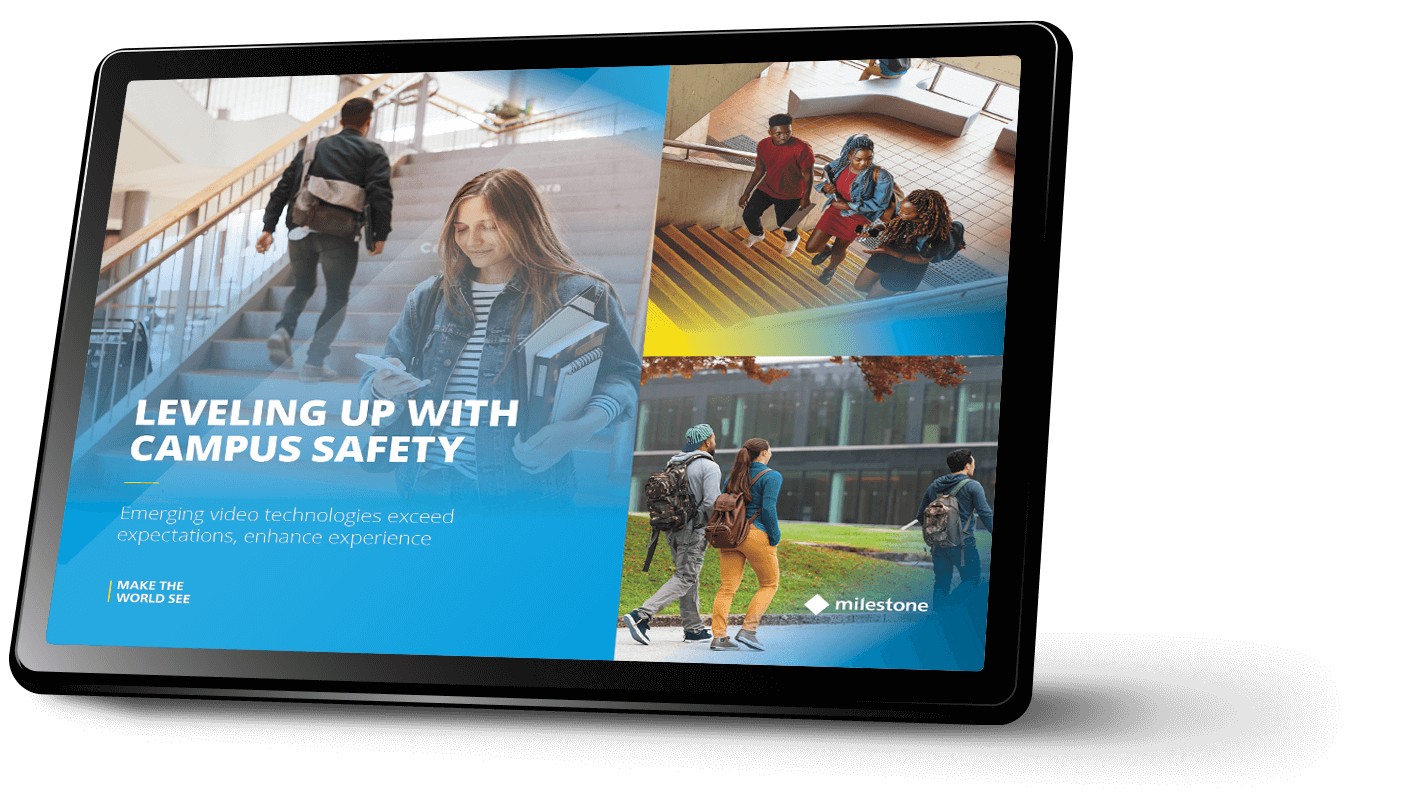 Millions of dollars in grant funds are left unclaimed yearly. Let us help you secure yours with Milestone's Grant Program, designed to help you find and match with eligible grants, manage the grant lifecycle from application to completion, provide financial assistance during the process, and more.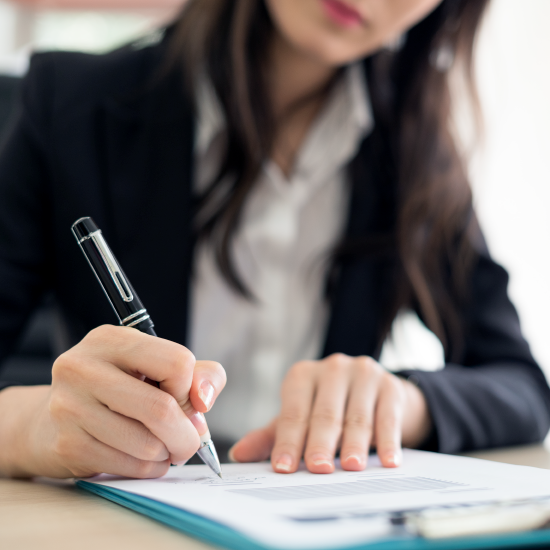 Video technology for primary and secondary education (K-12)
Discover how you can provide a safe and positive environment for students and staff with video technology that's easy to use.
Get the Milestone advantage
Rely on Milestone video technology, with solutions proven in 500,000+ customer sites and 25 years of experience in the industry.
Global partner network
Access the expertise and support of our 11,000+ resellers and integrators worldwide.
Open platform
Get a totally configurable solution with the near-limitless possibilities of our open-platform software.
Future-proof investment
Add and remove devices as your needs evolve with our simple per-device license model.
See Milestone in action with a demo that's customized to your business and needs.