The Tratec Norcon Modbus Server provides an open interface between Milestone XProtect VMS, using the proprietary Milestone Integration Platform (MIP) and an existing or new SCADA or PLC system. Interface to the universally standardized Modbus protocol is supported by the vast majority of OPC servers, SCADA and PLC systems available, enabling low cost and hassle free integration of Milestone XProtect VMS into your automation systems.
Using the Modbus Server provides full flexibility in selecting automation systems, as it supports both new and pre-existing installations.
The Modbus Server provides runtime feedback of camera statuses and alarms, allowing for trigging pre-defined events and operation of individual cameras – all configured and maintained in Milestone XProtect VMS.
The Modbus Server is provided as a single installer file for Windows, and will run on both 32 and 64 bit operating systems. It is easy to configure and setup the Modbus Server using the provided user interface application.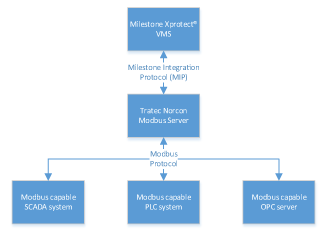 Other details
Last update: Mar 15 2018
Tested products by partner
XProtect® Professional 2016 R3
XProtect® Professional 2016 R2
XProtect® Professional 2016
XProtect® Professional 2014
XProtect® Expert 2016
XProtect® Expert 2014
XProtect® Corporate 2016 R3
XProtect® Corporate 2016 R2
XProtect® Corporate 2016
XProtect® Corporate 2014
XProtect® Enterprise 2016 R2
XProtect® Enterprise 2016
XProtect® Enterprise 2014


Milestone Systems MIP SDK integrations are designed to be forwards and backwards compatible. We recommend that all integrations should be tested with the latest XProtect versions and Husky products in a non-production environment. Please use the partner's contact details to directly request a more detailed compatibility report.

Supported viewing clients
Partner Client (Necessary software is included in installer)
Product languages
English
Industry
City surveillance, Critical infrastructure / Utilities, Manufacturing and industrial
Solution availability
Eastern Africa, Northern Europe, Southern Europe, Western Europe
Integration type
Component Integration
Solution type
Facilities Management: Building management system (BMS), Fire and alarm Systems, Smart home, Supervisory control and data acquisition (SCADA)

Documents and whitepapers
Download setup guide
Tratec Norcon is a leading technical solutions company, with vast experience in automation for offshore, industrial, transport and municipal applications. Tratec systems comprise of control systems, alarm systems and equipment for process automation.
How to buy
Directly to end customer
Contact information
Tratec Norcon AS
http://www.tratec.no
For technical assistance: norcon@tratec.no / +4738152600
For sales assistance: norcon@tratec.no
Disclaimer
The information in the Solution Finder has been derived from third-party sources and is provided to you "as is" by Milestone Systems. Milestone does not accept any responsibility or liability for the accuracy, content, completeness, legality or reliability of the information contained in the Solution Finder.