Patient observation is a mundane yet necessary part of clinical practice. However, patient monitoring creates a unique set of challenges that clinic administrators must consider:
Staffing Shortages – Busy hospitals are often understaffed, impacting the patient monitoring service level.
Auditing Patient Monitoring Activity – Ensuring patient care and protecting patient privacy is a concern, and having auditing tools available helps administrators track staff activity.
Staffing Shortages
Staff observation of patients is an ever-present challenge in healthcare facilities these days. With staffing shortages and a need for an adequate workforce, it can be challenging to give the one-to-one care many patients require. The World Health Organization (WHO) estimates that by 2030, there will be a shortfall of 10 million health workers across the globe.
When clinicians try to balance staffing shortages while at the same time limiting the spread of contagious infection in the clinic, it can be challenging to balance providing high-quality patient care with limiting patient contact.
Video-based patient monitoring is a newer technology that is helping clinicians to address staffing shortages. Remote patient observation via video allows healthcare providers to monitor patients remotely from a centralized location, enabling them to keep an eye on multiple patients simultaneously while reducing the need for constant presence at the bedside. Video monitoring means patient sitters can be free to focus on other forms of critical hands-on patient care.
Healthcare professionals are turning to XProtect® and XProtect® Hospital Assist by Milestone Systems to answer staffing shortages without breaking the budget or compromising care in the clinic. XProtect Video Management Software (VMS) and Hospital Assist solve problems the staff is experiencing in patient care facilities while extending the capacity of limited hospital staff.
XProtect VMS and XProtect Hospital Assist provide video-based patient monitoring tools that take patient privacy considerations seriously and allow hospitals to comply with patient privacy regulations optimally. With built-in encryption and role-based access to the VMS, it is possible to ensure that video archives are protected end-to-end from unauthorized users.
Milestone's XProtect Hospital Assist presents a reliable solution as an additional observational tool in patient care. It employs proven methods to supplement patient care, rapidly alerting the care staff when specific criteria are met, such as in the case of a patient fall. Hospital Assist is explicitly for hospital units caring for patients requiring round-the-clock or situational observation.
XProtect Hospital Assist enables dedicated remote patient observation, thereby assisting nursing staff to enhance efficiency, respond swiftly to incidents, and boost overall patient care quality. Many hospital security teams might already be utilizing XProtect VMS to maintain security. Hospital Assist expands XProtect's utility, enabling simultaneous observation of multiple patients. It safeguards patient privacy, decreases unnecessary patient room visits, and optimizes staff resource allocation.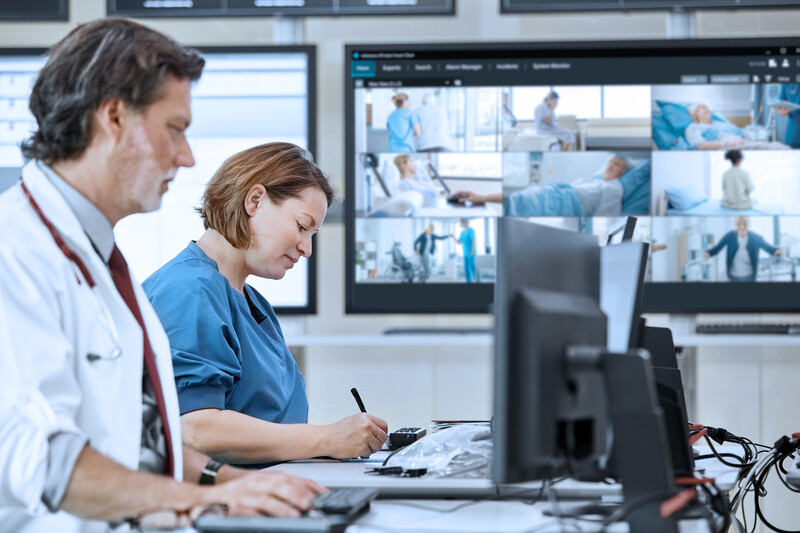 Auditing Patient Monitoring Activity
By addressing multiple challenges related to patient care, XProtect Hospital Assist equips nursing staff with innovative, patient-centric tools, leveraging video technology to observe patients more effectively. Preserving patient dignity and privacy is integral to delivering top-tier care. Hospital Assist addresses this with several features offering patient observation functions:
PRIVACY BLUR
The Privacy Blur feature allows live video to be blurred when patient observation is unnecessary to ensure patient privacy. The blur level is adjustable and can be added and removed in real-time, providing high flexibility. The Privacy Blur function also features an automatic timeout setting, which can turn off the blur.
FALL DETECTION
Fall incidents involving patients can lead to severe complications such as fractures, lacerations, or internal bleeding. These incidents can extend treatment periods and escalate fall-related expenses. To help counter this, XProtect Hospital Assist includes automatic fall detection alarms powered by artificial intelligence. This feature enables nursing staff to respond and assist patients who have experienced a fall swiftly.
TWO-WAY COMMUNICATION
The nursing staff can offer increased social interaction and promptly engage with patients requiring attention. The team can consistently interact with patients via live video and two-way audio.
STICKY NOTES
In the fast-paced environment of a hospital, where there is a continual influx of inpatients and staff shifts rotate regularly, having a comprehensive patient summary is crucial. XProtect Hospital Assist facilitates adding in-video Sticky Notes to each camera view, displaying basic patient information. Such data could include patient names, consultation schedules, or other details, which streamline workflows and make staff shifts more manageable.
A Result-Oriented Solution
Bottom-line-conscious hospital administrators are increasingly turning to technology to solve their staffing challenges. When it comes to patient monitoring, a centralized, remote monitoring station makes sense by getting eyes on several patients at once and increases responsiveness. Milestone's XProtect and XProtect Hospital Assist bring proven solutions to the healthcare environment. These existing systems and video-based patient monitoring, provide a complete solution that makes a difference in healthcare clinics worldwide.
If you're want to learn about XProtect Hospital Assist, please visit our website to discover more. You can request a demo with one of our team members and we can offer solutions for your hospital or clinic, no matter the size of your organization.