現在、ご希望の言語に対して、対応中です
私たちは、milestonesys.com上のすべてのページを多数の言語で表示が出来るよう、日々努力しております。しかしながら、この作業には時間を要します。当社の幾つかのページは多言語での表示が可能です。また当ページ同様、ご希望言語に対して、対応中の場合もあります。
ご理解いただきありがとうございます。
ALCEA
French manufacturer of a supervision and access controle solution.
ALCEA designs and develops its own supervision system ALWIN with utmost attention, to secure buildings, companies and large institutions. ALWIN ensures their safety through different modules : access control, intrusion detection, video protection, visitor management, key management and technical management.
Technology Partner
Milestone Partner Program Tier
What we do
See how our products and services can help solve your challenges
Awards and recognition
We have been recognized with the following industry award(s)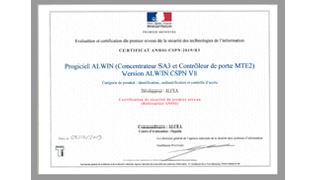 ANSSI Certification
The national cybersecurity agency of France has certified and qualified ALCEA's solution ALWIN to be highly secured ensuring end-to-end encryption of all involved equipments and easy to install.
ALCEA
Located at:
---
91140 Villebon-sur-Yvette, France
フランス