Faxaports

The Associated Icelandic Ports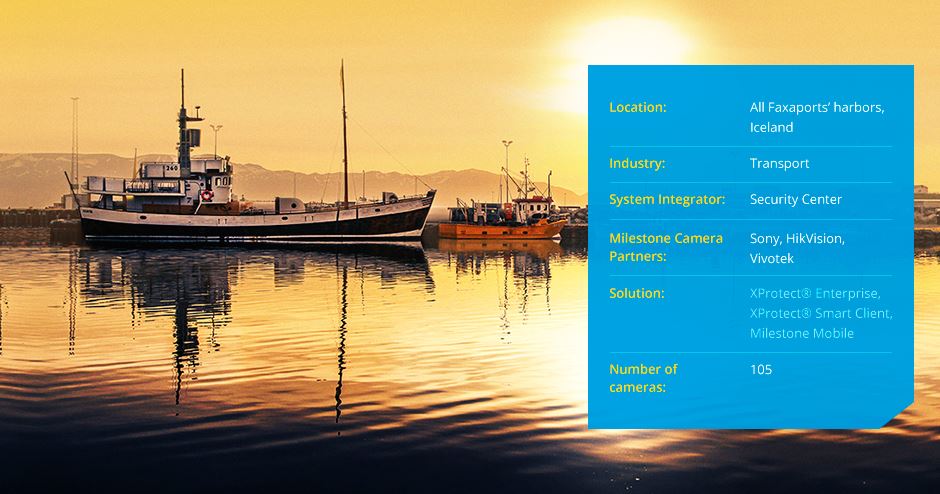 The Results
Faxaports has freed up 1,000 man-hours per year

Securing Iceland's busiest ports
Faxaports includes Iceland's main ports for import and export, moving thousands of containers
every year, to and from international destinations. The majority of all goods imported to the
country pass through Faxaports' harbors and the number of ships increases each year.

With the huge number of people passing
through the harbors it can seem like an impossible task
to have an overview of everything at the same time,
but we made it possible with Milestone.
Hallur Árnason, Port Security Officer at Faxaports


Their business needs

Milestone meets their business needs

Ensure the security of all ports

Securing the entire harbor: Through the XProtect
Smart Client, personnel can maintain an overview of
the entire harbor and address incidents as they occur

Prevent thefts and vandalism

Keeping an eye on things: Patrolling guards use
Milestone Mobile to maintain an overview of the
entire harbor while patrolling a specific area

Improve service quality

Improving service quality: Faxaports uses video footage
to analyze which situations create problems, identify the
causes and provide this feedback to quality improvement
programs

Reduce accidents caused by harsh
weather conditions

Preventing accidents: XProtect helps personnel be
proactive, enabling them to keep an eye on cargo handling
in real-time and intervene before accidents occur

Conduct insurance-related investigations

Handling insurance claims: The XProtect Smart Client
makes it easy to review video footage related to
insurance claims and export video needed for evidence
or investigations.


Milestone video management software
is built with an open platform. That makes it easy to integrate
with other systems and allows us to design a solution
for our customers that is perfectly aligned with their needs.
Ómar Rafn Halldórsson, Product Manager at Security Center