Nous poursuivons notre apprentissage de votre langue
Nous travaillons dur pour que toutes les pages de milestonesys.com soient disponibles dans autant de langues que possible. Mais c'est un processus qui requiert du temps. En attendant, un grand nombre de nos fonctions sont déjà proposées en plusieurs langues. Certaines pages, comme celle-ci, ne sont pas encore disponibles dans votre langue.
Merci de votre compréhension.
XPROTECT® AU SERVICE DE L'ÉDUCATION
Protéger nos étudiants et notre personnel
La sécurité représente la pierre angulaire des établissements d'enseignement. La technologie vidéo de Milestone vous aide à la garantir.
Découvrez ce qu'une solution Milestone peut faire pour vous
Créez des environnements plus sûrs et plus productifs
Grâce aux solutions de technologie vidéo Milestone personnalisées, les éducateurs, les administrateurs et le personnel chargé de la sécurité peuvent assurer la sécurité des personnes et des biens en toute efficacité. Non seulement vous serez équipé pour réagir rapidement face aux événements tels que les intrusions ou le harcèlement, mais vous pourrez également les prédire et les éviter.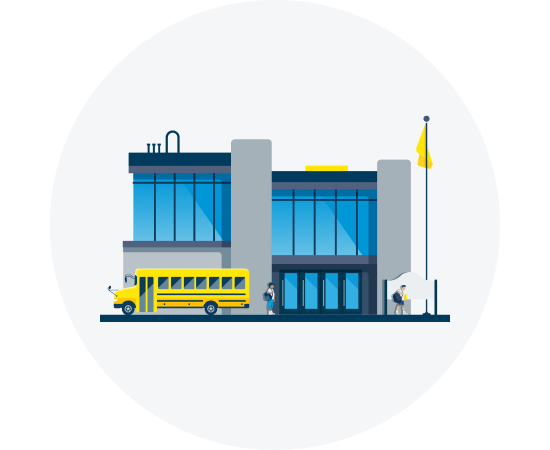 La technologie vidéo au service des écoles et universités
Des solutions sur mesure idéales
La flexibilité de la plate-forme ouverte des environnements Milestone sur site et dans le cloud vous permet de concevoir la solution idéale à vos besoins.
L'interface centralisée élimine le cloisonnement entre les départements et son caractère intuitif facilite son utilisation pour tous les membres du personnel.
Voyez au-delà de la sécurité
Recueillez de précieuses informations grâce à des données comportementales, tout en simplifiant les opérations avec des fonctionnalités comme la reconnaissance de plaque.
We're trying to move the whole university toward an efficient, full centralization of all cameras and surveillance recording systems. It requires a great deal of coordination ... on a very big university platform.
Michael Blumenson, Head of Digital Surveillance Solutions, University of Buffalo, USA.
Insights and customer stories
See how Milestone has helped educational facilities around the globe.
Protéger les étudiants grâce aux nouvelles techniques et technologies
Découvrez les techniques et les technologies qui vous aideront à assurer la sécurité de votre campus, de la maternelle au lycée. Téléchargez cet e-book pour en savoir plus sur l'analyse vidéo innovante, sur la manière de faciliter les enquêtes après incident, sur la technologie qui peut atténuer les défis courants, tels que la détection de la vapeur émise par les cigarettes électroniques et la vérification vidéo.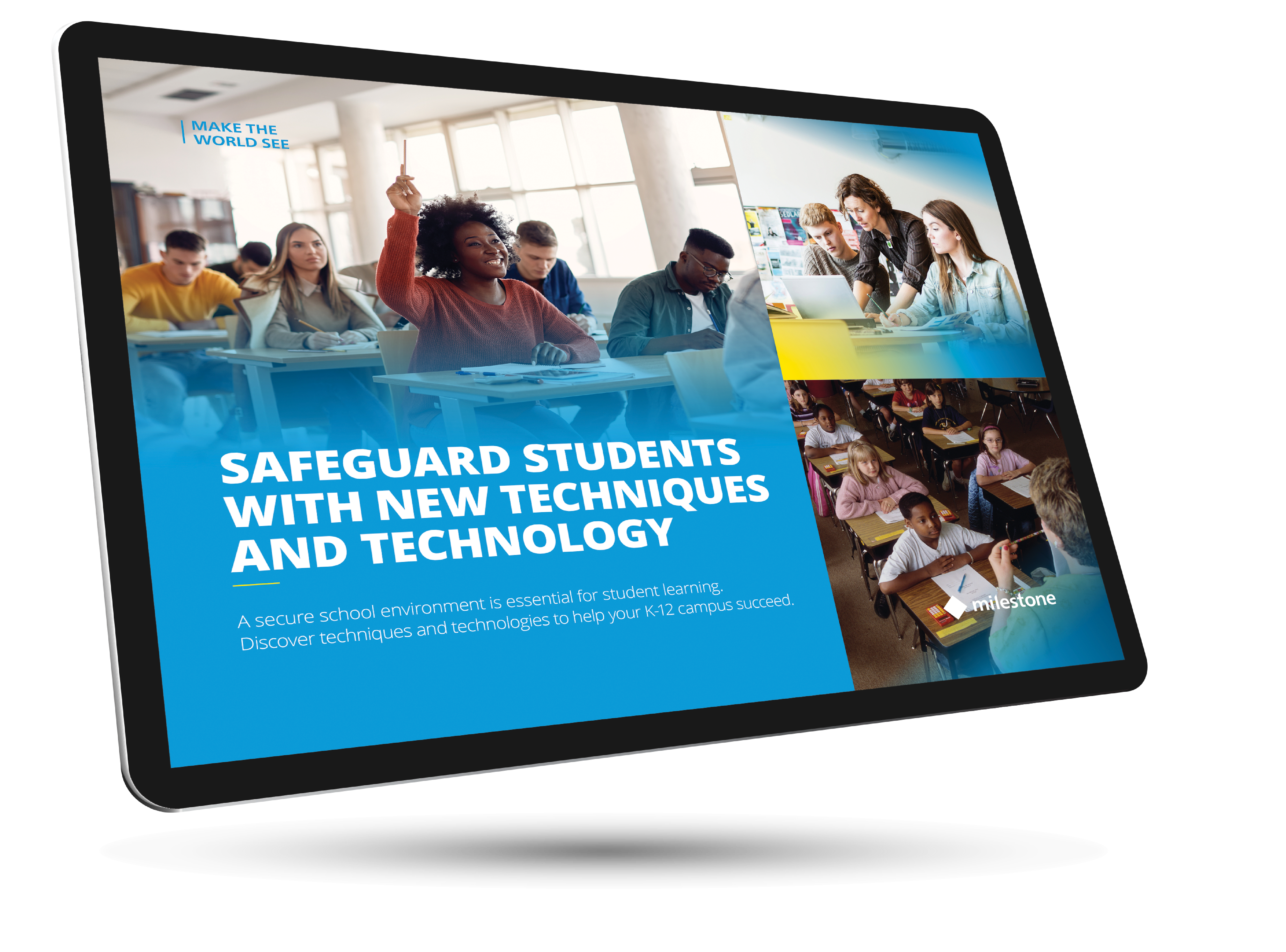 Interview: Safeguard Students on School and University Campuses
Download the full interview to learn about today's most prevalent video technology solutions for education campuses and hear how they are being used to keep student, staff, and property safe.
Renforcez la sécurité de votre campus
Faites passer votre campus du stade de la préparation à celui de la proactivité grâce à des solutions vidéo innovantes. Téléchargez notre eBook sur l'enseignement supérieur pour en savoir plus sur l'optimisation de votre plan de sécurité, sur les nouvelles technologies qui permettent de relever les défis en constante évolution sur les campus et sur la manière d'exploiter vos outils de sécurité pour améliorer les opérations.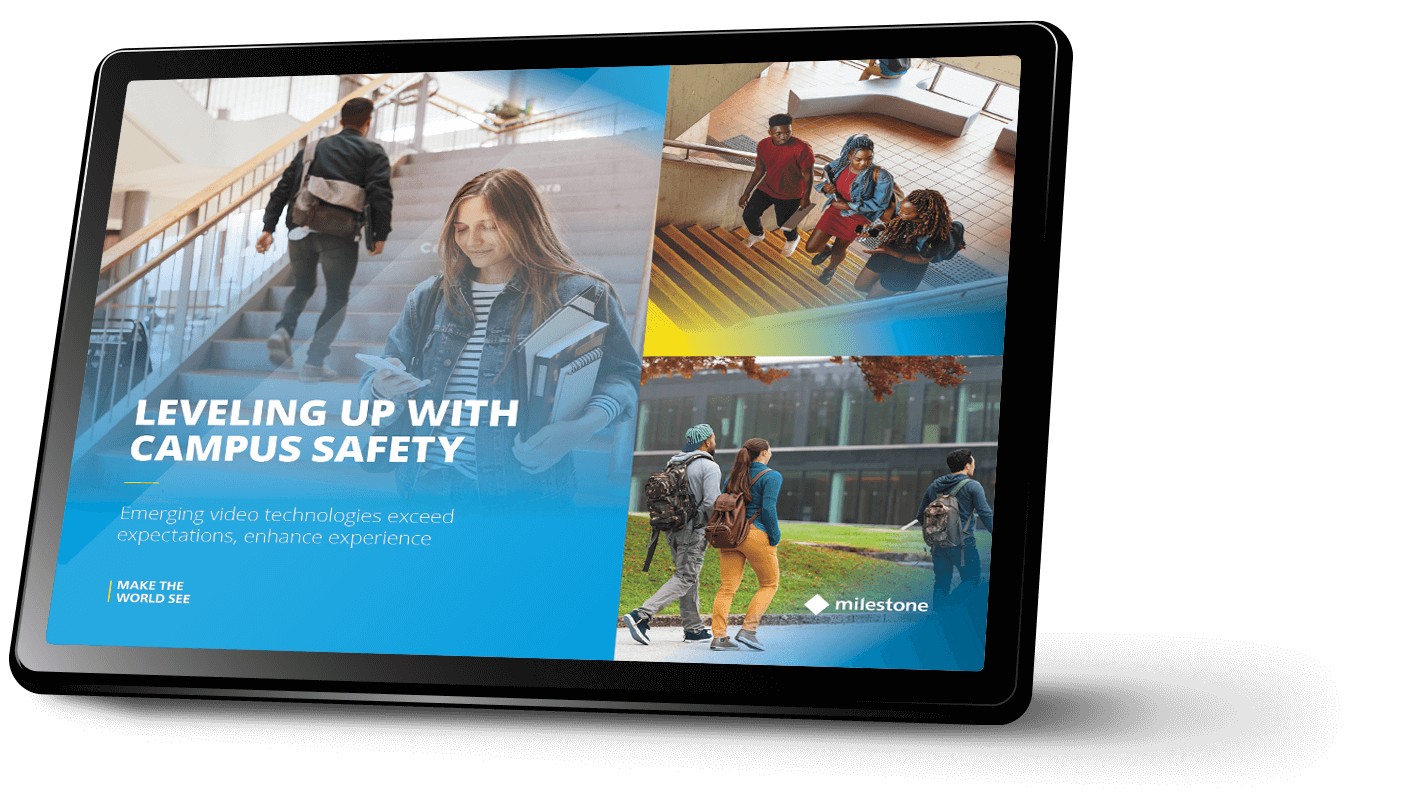 Millions of dollars in grant funds are left unclaimed yearly. Let us help you secure yours with Milestone's Grant Program, designed to help you find and match with eligible grants, manage the grant lifecycle from application to completion, provide financial assistance during the process, and more.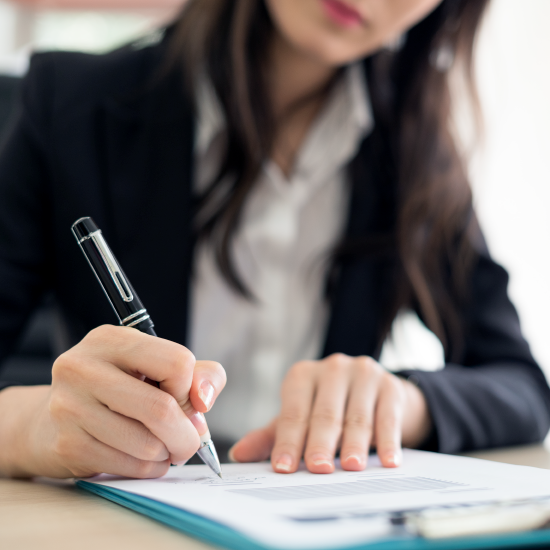 Video technology for primary and secondary education (K-12)
Discover how you can provide a safe and positive environment for students and staff with video technology that's easy to use.
Profitez des avantages de Milestone
Faites confiance à la technologie vidéo de Milestone qui bénéficie de 25 ans d'expérience dans le secteur et dont les solutions sont utilisées avec succès sur plus de 500 000 sites clients.
Réseau de partenaires mondial
Profitez de l'expertise et de l'assistance de plus de 11 000 revendeurs et intégrateurs à travers le monde.
Une plate-forme ouverte
Profitez d'une solution totalement configurable grâce aux possibilités quasi illimitées de notre logiciel à plate-forme ouverte.
Un investissement à l'épreuve du temps
Ajoutez et supprimez des périphériques selon l'évolution de vos besoins grâce à notre modèle de licence simple et par appareil.
Réservez une démo individuelle
Découvrez Milestone en action avec une démonstration conçue spécialement pour votre activité et vos besoins.