mars 09, 2021
3-dimensional video surveillance project announced winner of Milestone Systems' Kickstarter Contest
Hrvoje Bilic and his team at Croatian startup 3visionD have been voted the winner of Milestone Systems' annual Kickstarter Contest. The Milestone Community Kickstarter Contest is an annual innovation competition designed to inspire coders, developers, individuals, and organizations to develop innovative new applications and functions that can plug in to Milestone's XProtect® video management software product family.

This latest edition of the Kickstarter Contest kicked off in October 2020 at Milestone's Developer Conference and concluded at Milestone's' community event MIPS that was held virtually from March 1-3, 2021.

Innovators from around the world submitted their ideas to the contest, and three made it to the final: Brothers Andres and Ahti Nurme, founders of Green Computing, proposed a solution that would make animal crossing safer for both drivers and animals. Christophe Zoghbi, a software engineer from Zaka Inc., submitted his idea of building a voice-activated virtual assistant, Roze, that will enable customers to query their video analytics databases using natural human language, and finally Hrvoje Bilić and the 3visionD team submitted their 3-dimensional video surveillance project.

A judging committee of Milestone executives, together with Milestone partners and customers attending the MIPS conference, voted for their favorite idea. The winning project was 3visionD's visual sensor technology. The solution is a software add-on to Milestone's XProtect® that enables any camera to be turned into a visual sensor that can be used to identify the geographical coordinates and height of an object. This enables tracking etc. based on the position info. As this is a software add-on, end-users can use the solution to enhance their location and tracking capabilities with their existing hardware.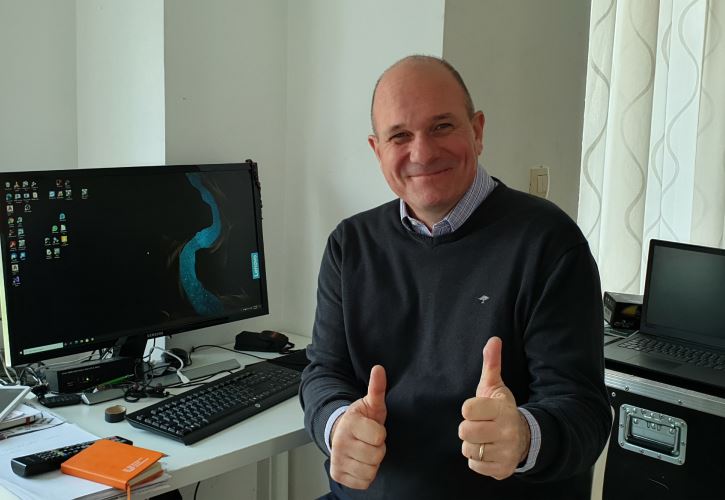 Hrvoje Bilić
Milestone awarded Hrvoje Bilić and the 3visionD team a $10,000 cash prize and $55,000 in development and marketing resources. They will be working closely with Milestone to finalize the winning project in the coming year. This includes completing the integration with the Milestone Integration Platform Software Development Kit (MIP SDK), getting the integration certified by Milestone and bringing the solution to market.