décembre 31, 2020
"The oak fought the wind and was broken, the willow bent when it must and survived." This quote by author Robert Jordan has pretty much summed up 2020 for my team and me. While the year has been a hard-fought battle, it has taught us the importance of being nimble and has built a resilience that will not easily be broken. I firmly believe that this newfound spirit will persevere, even as we tackle the coming challenges in the year ahead.
2020 has truly pushed our resolve to be a people-first organisation and our concept of an open culture to its peak. Staying true to the course, we've been able to remain agile and adapt to the global situation as it continued to evolve rapidly.

Looking back at when COVID-19 first made waves, I am proud of how quickly the team stepped up to ensure that all employees were safe and well-equipped to work remotely. Our priority was to ensure the safety and well-being of our employees, service partners and the communities in which we operate.
Leveraging the power of 'Open' towards resilience and growth
The culture of openness has been vital to the work we do. With collaboration and innovation being a core part of our business model, we had to ensure that the same openness and collaborative culture continued to be reflected, as we worked remotely.

Our greatest strength is our people. We have a passionate team, we trust each other to do the right thing, and we encourage everyone to continually challenge the status quo. Our open culture promotes transparency, honesty and provides an incentive for each employee to constantly do better.

Having a 'people first' culture has encouraged our team to provide transparent and honest feedback, which we take very seriously. It inspires us to set the bar higher and take greater ownership of our work, especially at a time when physical interactions were not allowed. Our team has given a lot to ensure that it was business-as-usual and that our customers remained supported.

With some COVID-19 social-distancing measures beginning to ease, we were finally allowed limited form of physical interaction as we transitioned back into the physical workspace. While being able to meet each other again has lifted our spirits, there was an overhanging need to ensure that our team remained rejuvenated and that we continued to cultivate personal growth, as a team.

Our APAC team was excited to hit the ground running (literally) for Milestone's 'Grow Together' initiative. As part of supporting the 'physical' energy level of Milestone's 'Energy Pyramid', our team have set a goal to cover 150 Kilometres across the island of Singapore, either by foot or bicycle. We've split ourselves into a 'running' team and 'cycling' team, with sub-groups of three in each team to accomplish our goal by mid-2021. I'm a firm believer in putting action to words and have provided two bicycles to encourage team members towards adopting a healthier, more sustainable option of getting around.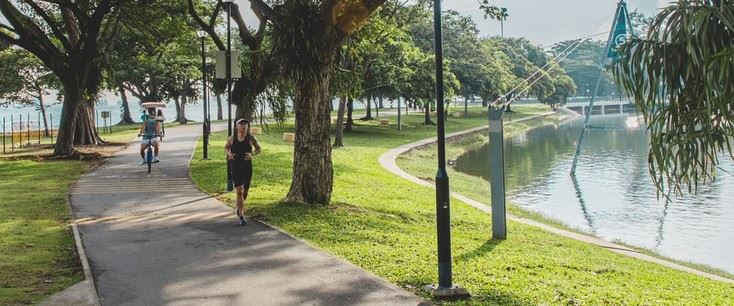 Forging ahead into the new normal
Even during the pandemic, we foresaw the need to shore-up on infrastructure that will enable us to springboard the business to growth and success in the new normal. We've expanded and renovated our physical office in Singapore, in anticipation of team growth. Staying true to our roots as a technology company, we've also deployed solutions, such as our facial recognition and temperature checking access control system, to ensure employees can return to work safely.
We've also conceptualised and developed an Experience Centre, located in our Singapore office. Equipped with cutting edge technology – such as our customizable smart map display, which can be integrated with various analytics, facial recognition solutions and more – the Experience Centre will serve as a platform for us to better engage with our customers and demonstrate the top-of-the-line video solutions that we have to offer. Beyond this, we also encourage our partners to use the facility as a platform to engage with customers using our Milestone ecosystem. This helps them showcase the unmatched possibilities of video solutions available today.
As we welcome the new year, we want to not only gear up for opportunities to come, but also encourage and inspire the wider video community to look beyond present barriers and see the inevitable need to prepare themselves for change.
Our goal is to ensure that the culture of openness is continually engrained, not only in the solutions we provide, but also in the way we work and communicate with each other as well as our various stakeholders and partners. I believe that this will keep us agile and will allow us to continually push the boundaries of innovation, no matter what lies ahead.
This article was originally
published on LinkedIn.