Keep your casino running smoothly, compliantly, reliably and safely, while ensuring exceptional guest experiences. Improve the odds in your favor with XProtect.
Experience Milestone in action
Leverage XProtect for your casino
If you work in casino security, surveillance or operations, you know the daily challenges. It's critical your video technology not only satisfies compliance requirements but also helps you keep a sharp eye on guests and employee safety — while delivering a world-class guest experience. XProtect is a powerful video technology solution that's easy to use with features that are ideal for casino needs. It builds on years of experience, security and reliability to help ensure compliance and gaming transparency.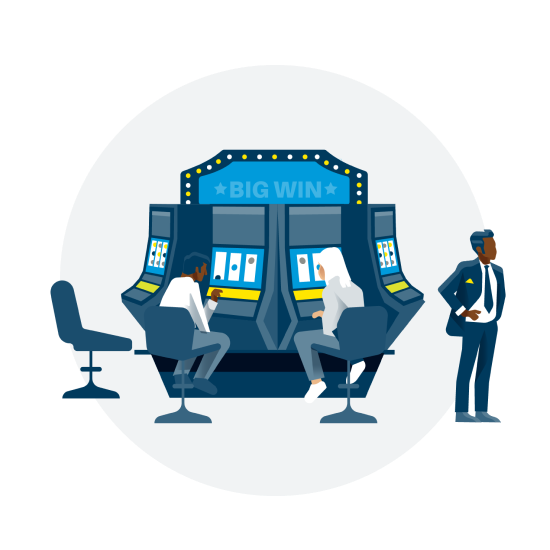 XProtect – a single solution meeting multiple needs
Our proven video technology platform can help. Our software platform is always on, always analyzing, and always ready to sound an alarm if anything needs your attention. And all in just one connected and easy-to-use system.
The power of XProtect
With XProtect you get a versatile video technology solution, built on years of experience, security and reliability. The open architecture allows for endless possibilities to add features and future functionalities via our Technology Partners and third-party vendors. These can help you to ensure compliance and gaming transparency, improve efficiency, and deliver a world-class guest experience, all with relative ease.
Compliance — keep your casino running smoothly and reliably
Casinos are among the most strictly regulated businesses. From investigating player disputes to enforcing compliance, gaming control boards need full visibility and the footage must be preserved for days. With XProtect you can easily monitor and manage installations — as well as integrate diverse devices, cameras and sensors. This gives you a lot more flexibility to upgrade your installation without compromising on compliance.
Smooth operations — incident handling made easy
When dealing with incidents, casino surveillance, security and hospitality personnel must work together to coordinate a quick response and minimize the impact. XProtect delivers a superior real-time operator experience, allowing an instant video replay to confirm an incident, and then immediately logs the incident reports. Evidence can be exported and stored in different formats so that all relevant parties promptly receive an accurate report.
Smart data — drive business with exceptional guest experiences
Extraordinary guest experiences are key to generating business and loyalty in this competitive industry. Get the edge and drive more revenue using real-time analytics and data-driven decision-making. XProtect supports features like heat mapping and occupancy statistics that deliver insights on how guest movements onsite. This optimizes operations and staffing decisions, such as if new tables are needed.
"When there's a camera outage at a table or in the cage, you have to get the coverage resumed within minutes or close the area. So, reliability and consistency are critical."
– Major casino, Colorado, US
Fully configurable and future-proof
XProtect's open platform architecture allows you to tailor, scale and update it as your needs develop, and new opportunities arise.
Reliable performance and safety
As well as minimizing downtime and improving ROI, our platform gives you further peace of mind with GDPR and FIPS 140-2 compliance.
Collaborative and service-minded
Build the best-performing video solutions using the products, services and expertise of Milestone and our global partner network.
Responsible and people driven
Employ video technology ethically and compliantly while exploring new ways to improve people's safety, happiness and health.
See Milestone in action with a demo that's customized to your business and needs.