toukokuuta 18, 2020
The use of mobile, body-worn cameras from Zepcam greatly contributes to the improvement of supervision and enforcement. This is what Hylco Wijnants, Director of the Regional Monitoring Room (RTR-NL) says. Co-founded by several cooperating municipalities and the police, this foundation processes fixed and mobile camera images of police and other emergency services, municipalities and business parks using the Milestone Systems video management system.
The location in the headquarters of the Gelderland South police station (Nijmegen) suggests otherwise, but the Regional Monitoring Room (RTR-NL) is a foundation which is separate from the police. The foundation of RTR-NL was established in 2010. RTR-NL closes contracts with municipalities, industrial parks and emergency services (ambulance, police, fire department) to collect, store, and unlock all images from fixed, moving and mobile cameras. The images are used in the context of maintaining public order, detection and 112 reports.

Unlocking means, among other things, that camera images showing an incident are transmitted live to the emergency room - such as emergency services (police, fire brigade, ambulance) - in the district office of Gelderland-Zuid. So the foundation RTR-NL creates an Integral Common Operational Picture to serve all involved emergency services. By doing so RTR-NL realizes an actual shared integral situational awareness for the Gold, Silver, and Bronze command line. Additionally, images are stored so that they can be used for supporting evidence and for visual assistance in investigating cases. Municipalities, companies and police can share camera images in this structure where this is deemed necessary for supervision, enforcement and detection.
Deployment of fixed and mobile cameras at Vierdaagse van Nijmegen
At the Vierdaagse - the world's biggest hiking event - in Nijmegen, fixed cameras have been used for quite some time. Since a few years also Zepcam's body cams are being used. These bodycam images are watched live by the control room.

According to Wijnants, the Vierdaagse is a unique event with an integrated approach where many other municipalities are also sending representatives to view the performance. "Camera surveillance and mobile cameras clearly help prevent or minimize incidents during the celebrations." During the Vierdaagse, the center of Nijmegen is divided into a number of areas all led by a separate operational commander with a team of 8 to 10 police officers. In each zone, at least one police officer is present with a 4G bodycam.
Daily stream of images
Of course, the Vierdaagse is only one event. Monitoring supported with cameras is a daily phenomenon. In the video control room of the RTR-NL at the police station in Nijmegen, video clips from fixed cameras come from all sorts of municipalities and business areas. Video feeds from mobile cameras can be added to that.

Everything is being processed, saved and passed through the Milestone Systems video management system. Police officers, like Hylco Wijnants who are seconded to the foundation RTR-NL, see which images should be forwarded to the Emergency Service Control Room. Of course, it may also occur that a 112 call enters the control room, which then requests the RTR-NL to forward specific camera images.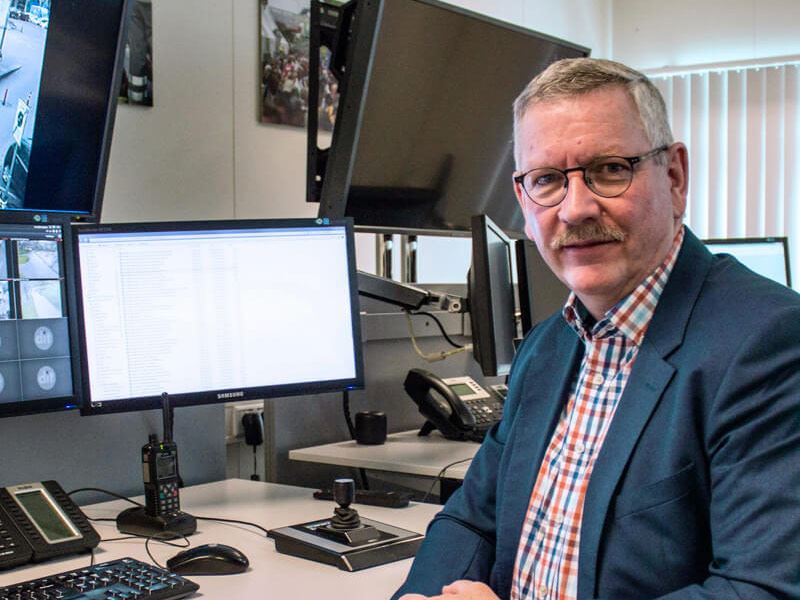 Flexibility by Milestone Systems
The flexibility of the RTR-NL is not only being an independent foundation, but also for municipalities and business areas. The ICT infrastructure is set up in such a way that work can be done brand-independent based on the Milestone Systems video management system. "Of course, we have certain technical requirements, but also a very open framework. That's a big advantage of the Milestone systems video management system. One can easily join us based on the Milestone Systems open video management platform."
Difference between fixed and mobile camera images
What is the big difference between fixed and mobile camera images? Wijnants sees the flexibility in employability as one major advantage of mobile cameras, where the disadvantage of the lower quality of images streamed via a mobile or wireless network is no longer valid.
Immediately intervene thanks to live bodycam images
An example of the supporting evidence of mobile cameras is of a police action where somebody involved in a fight filed a complaint against a surveilling police officer. From the images of the mobile camera it was obvious that the man himself caused the incident. When the man wanted to continue his accusation he was confronted with the camera images.

"Another good example took place during the Vierdaagse, when someone became unwell. A biker who was near the incident was sent on it. He had a mobile camera on him with which the images were sent to the control room. The centralist of the Central Ambulance Post in the Common Security Control Room of the Security Region was asked to co-operate by watching the images. He could then indicate that the man that became unwell had to be taken up immediately because he could otherwise die. This would not have been possible with the use of a portable phone, but only by the combination of an integrated control room and mobile camera deployment."
About Milestone Systems and Zepcam
Zepcam is the European leader in live bodycams and mobile video. Milestone Systems is a global industry leader in open platform IP video management software. Thanks to the integration of Zepcam and Milestone Systems customers can not only watch fixed cameras via Milestone XProtect®, but also real-time images from mobile cameras and body cams.
This Customer Story is written by Zepcam.
Explore our body-worn universe
here
.