Varna and Burgas airports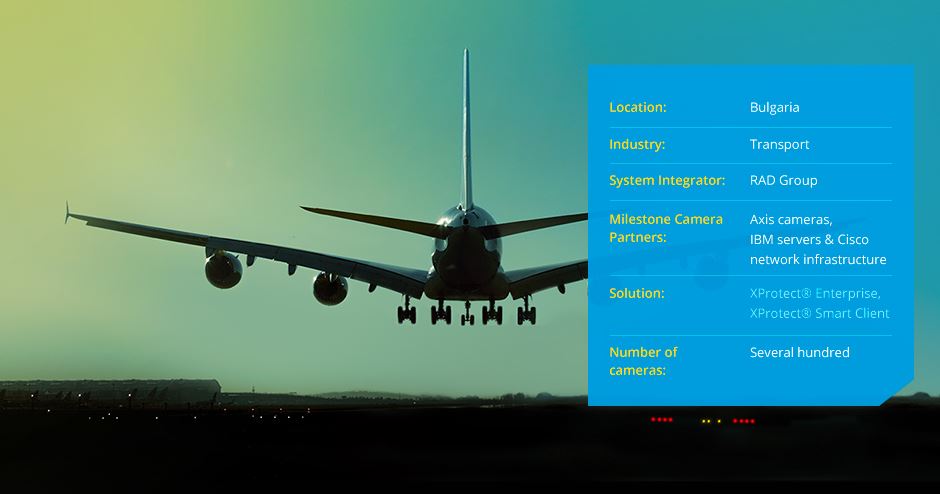 The Results
Milestone's open platform enabled the airports' to use their existing Cisco network
infrastructure, saving them both time and money during the implementation process.
Using XProtect's unique archiving capabilities and their IBM storage haradware, they
are able to meet their 30-day video retention requirement.

Making the jump from analog to IP with Milestone
The Varna and Burgas airports serve as gateways to the popular Bulgarian Black Sea tourist region. Their prime location at the heart of the "Summer Capital" of Bulgaria ensures them a steady flow of charter passenger traffic. The Fraport Twin Star Management consortium will be investing in the development of both coastal airports over a 35-year period, positioning them to take advantage of the surrounding business communities.


With the implementation of Milestone XProtect® Enterprise at both airports,
Fraport gains […] unified video surveillance systems at both airports and
centralization of the software, hardware and communications; surveillance
and control of technological processes in airport servicing – runway, apron,
fuel farm, security checks, passenger and baggage flow.
Hristo Botev, Head of IT, Fraport


Their concerns

How Milestone helps

30-day video retention requirement

Meeting video retention demands: Milestone's unique archiving technology allows them to archive their recorded video on the IBM storage hardware that provides large, cost-efficient hard disks, and simultaneously operates with the live video running on faster performance disks


Moving from analog to IP

Managing migration: Milestone's open platform lets the airports migrate existing analog cameras to the network solution over time

Managing runway traffic and maintenance
on the apron

Improving operational efficiency: Airport personnel use Milestone surveillance to monitor and manage baggage and food supply movements, vehicle traffic on the apron and refueling activities to ensure aircraft are serviced properly

Controlling passenger flow in terminals
and customs areas

Remote simultaneous monitoring: Using the XProtect Smart Client, operators view both live and recorded video from both airports via control rooms with 12 37" screens. Fraport personnel can view and manage their surveillance centrally for both airports, or locally at each airport