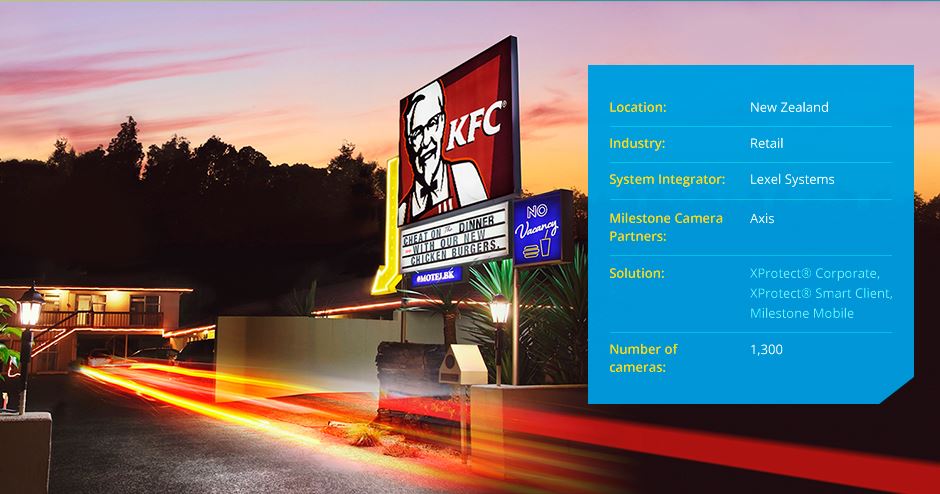 The Results
Restaurant Brands experienced an increase in their net profit almost immediately
after installing the Milestone video management system. They have been able to
identify staff theft, manage the quality of food production and ensure staff safety

Helping fast food chains ensure food quality
Restaurant Brands is the parent company for Starbucks, KFC, Pizza Hut and Carl's Jr in New Zealand. The
company has around 180 store locations, employs over 4,000 staff and serves over 60,000 customers daily.


The Milestone solution has made day-to-day operations much
easier. Prior to this all managers were only able visit one or two
stores at a time, but now they look remotely at the foyer area of
their stores by using the XProtect Smart Client interface.
Geoff Holten, Commercial IT Manager, Restaurant Brands Limited (RBL)


| | | |
| --- | --- | --- |
| Their business needs | | Milestone meets their business needs |
| Operational efficiency | | Improving operational efficiency: Using the XProtect Smart Client, managers can keep track of peak hours and check the restaurant's performance during these hours. They can remotely monitor their branches, see how many customers they have, how many cash registers are open and how many employees are operating them |
| Staff safety | | Keeping staff safe: Milestone Mobile enables IT management and supervisors to remotely check the stores 24 hours a day, so they can react quickly if a staff member's safety is in danger |
| Quality assurance | | Ensuring food quality: Staff use the Smart Client interface to make sure food is prepared according to restaurant standards |
| Loss prevention | | Preventing losses: Milestone helps managers identify the thieves and dishonest staff and provide video footage as evidence to law enforcement |


We are also using the Milestone solution to ensure the quality of the food that
is made. Now we can go and have a look at how the pizzas are made at Pizza
Hut or see if standards are followed when breading chicken at KFC stores. This
is all about securing the quality of our products, making sure our staff are safe
while working with the hot deep fryers, and managing waste and staffing levels
Geoff Holten, Commercial IT Manager, Restaurant Brands Limited (RBL)