Utah Transit Authority (UTA)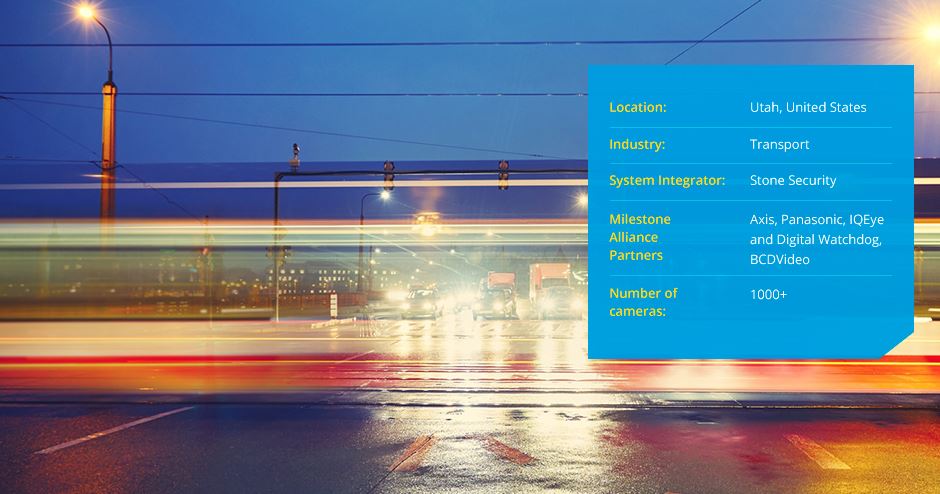 The Results
Switching to Milestone has allowed UTA to put more cameras on platforms while centralizing the
control system. The security cameras are accessible by dispatch, commuter and rail control centers and
other authorized users. Milestone reduces the time spent by UTA employees attending to security issues
and significantly improved video quality makes it easier to monitor and investigate incidents.

Milestone makes system expansion easy
The UTA employs 2,000 staff and transports approximately 12,000 passengers daily. It services 1,300
square miles (3,600 km2) and covers seven counties with 90 miles of commuter rail and 50 miles of light
rail. The transportation network also includes fixed route buses, paratransit buses and vanpool services.

I would say that this year alone Milestone has already saved us
tens of thousands of dollars. We are moving to a time where the
system will actually pay for itself.

Lamount Worthy, Video Security Administrator, UTA


| | | |
| --- | --- | --- |
| Their concerns | | How Milestone helps |
| System expansion | | Flexibility: The flexible storage options give UTA the ability to change servers over time, as their needs grow |
| Multi-vendor support | | Vendor-neutral solution: Milestone's open platform enables UTA to take a "best of breed" approach to building their surveillance system, employing cameras from a diverse range of manufacturers to create a system that best meets their needs |
| Conducting investigations | | Securing the evidence: Using Milestone's Evidence Lock function, UTA can secure and encrypt video recordings, including authenticated time stamps, for use in investigations |
| Centralized system | | Centralizing the control system: Milestone's centralized management enables UTA to deploy a wide range of cameras in key locations and manage these centrally. Staff can also access video remotely, so they can investigate alarms no matter where they are and determine the appropriate response |


The system supports many different kinds of cameras. Milestone
marries two critical components for them: a centralized system
and a lot of diversity in its deployment.
Brent Edmunds, Co-founder and President, Stone Security