March 08, 2021
The COVID-19 pandemic impacts daily operations in myriad ways – and patient care is a critical focal point. Nemours Children's Health System has leveraged Milestone video technology to get things done in new ways with a focus on remote working and virtual rounds to support physical distancing, reduced contact and efficient use of Personal Protection Equipment (PPE).
Remote Working Challenges
Nemours Children's Health System has over 8,000 associates, of whom maybe 400 a day were already working from home pre-COVID. As of September 2020, this swelled to average about 3,000 remote associates doing so. Previously in one day they would average 400,000 meeting minutes -- now it's over a million meeting minutes a day!

With hospitals and smaller clinics throughout Delaware and Florida, this rapid ramp-up was quite a challenge from an infrastructure and system support perspective. "We were going from zero to 60 really fast. We've had to be very agile to be able to accommodate that accelerating remote workforce," says Joe Summanen, Technical Architect at Nemours Children's Health System.

Many sites were shut down upon the pandemic, but some employees still had to go into work to fill the hospital roles, so the tech team had to service both on-site and remote needs. It was also demanding to get everyone back to speed who had lost appointments and to accommodate new roles and physical guidelines.
Solution for Safe Interactions
As COVID scenarios caused radical changes, Nemours began building out new integrations and procedures to enable remote conditions. The open architecture of Milestone's video management software (VMS), which they had installed earlier for security, has enabled many new applications beyond that.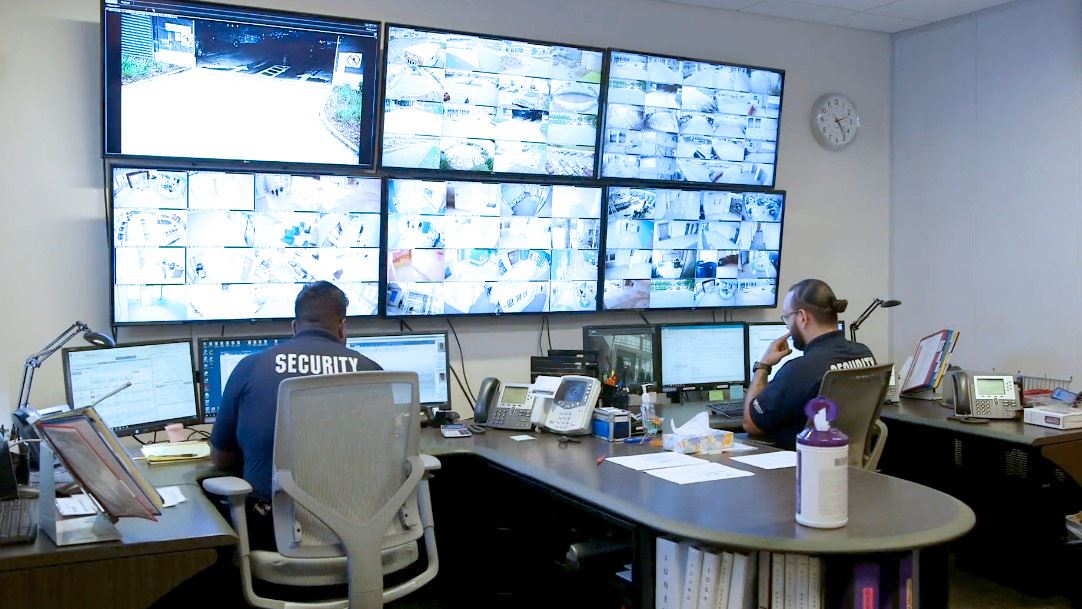 In March 2020 there was a massive rush of everyone being sent home to quarantine. Summanen says:
Two new regional network Citrix farms were set up for Florida and Delaware, and they implemented the Milestone XProtect software client within those environments. Nemours providers were then able to 'video in' to check on their patients, have voice calls and communicate with the families or other clinical staff to complete patient rounding virtually.
Virtual Patient Rounds Coordinated Care
Nemours reduced contact to maximum three people rounding per patient: the resident, one bedside nurse and a parent, spaced 6 feet apart. The attending physician, additional resident staff and students can be at workstations elsewhere – on site or at home. The team of specialists and caregivers take part live on their devices, allowing the larger group to remain involved, including physicians, pharmacist, social workers, dietitians and others.

Everyone is separate but connected via the secure connection and able to interact with each other, at the same time. Pre-COVID, the care team would round throughout the day as their schedules allowed, so having the live Milestone video was a positive outcome for virtual cohesive care coordination.
Video Preserves Personal Protective Equipment
Another benefit of implementing remote video rounding was the reduction in use of PPE resources. With the option to round virtually, Nemours was able to reduce the number of times that certain clinical staff needed to go in and out of each patient room – which would require using new PPE supplies every time.

Providers can round from anywhere, look in room to room, and oversee all the patients on the Milestone screen at one time or consecutively.

Instead of entering the rooms, the nurses, residents and attending physicians now minimize exposure and PPE use – especially for such duties as additional check-ins with each patient. The virtual video telemedicine decreases risk of infection to patients and staff, while saving resources and time.
It's About Clicks and Efficiency
When providers are not physically in the hospital to see patients, they can now check in on a child or family with video.
Video's Role in Safe Waiting Lines and Family Behavior
Anyone who has children knows they don't follow social distancing very well. In a hospital setting, this means clusters of families. Video monitoring analytics are useful for people spacing and counting to alert if there's more than the defined threshold of individuals.

Summanen says they are relying more heavily on certain analytics not implemented before, and the Milestone open platform integrates with these.

In the main lobby, people register to check into the hospital, be scanned and asked questions. Since it's pediatrics, there's always going to be families with maybe multiple siblings and the adults. These groups with small ones must stay six feet apart for the pandemic's preventive physical distancing.

In order for the registration staff to manage the people coming in the building, Nemours has added little orange dots wrapping around the hallway for people to follow and keep distances. Using video analytics from Axis, Nemours can also receive alerts about how long visitors are waiting in line, and when to send more registration staff to assist.
Better Patient Care with Flexible Video
When it comes to video technology, COVID has created an up-tick of needs. Summanen states that safer care essentially is trying to isolate patients from the rest of the population, and video helps them to mitigate social interactions with staff, patients, and families.
Nemours recently increased the number of Axis video intercoms outside patient units, which are integrated with Cisco Call Manager. Together with the Milestone video management client, the nursing and clinical staff can now view and control door releases from inside the units. If Nemours' needs to update or alter their visitor policy, they can quickly adapt with the tools they have in place to ensure the needed spatial buffer for the patient and their families.

"We can now better control the flow of people using our VMS integration and Axis video intercoms. They allow us to remotely validate visitors and open doors."
New Norms for a Change of Culture
Everyone is experiencing a new normal that will impact not just the next six months but also the coming years – fundamentally changing many aspects of the way people do business and interact with community. Technology plays a big role in that.
Milestone also interviewed Joe Summanen, Technical Architect for Nemours. Hear what he has to share about integrating the Milestone video open platform with other applications:
Nemours Childrens Hospital has 2 Command Centers Reacting to Video Alerts from Milestone
Nemours Cardiac Division Uses Milestone Video Integration for Sharing Remote Scans
Nemours Childrens Hospital Handles Critical Needs with Milestone
Nemours Childrens Hospital Develops New Applications with Milestone Video's Open Platform