February 12, 2021
The novel Corona Virus-19 epidemic is impacting daily operations everywhere -- including city administrations working to protect citizens. The City of Calgary discovered that their technology proved even more valuable in the crisis. Using their Milestone video management platform for new applications ensured fast response to the suddenly changing events.
The City of Calgary has a department called the Calgary Emergency Management Agency. They were well prepared for a flu-like pandemic, having run tests and best practices to ensure that the city was capable of handling such an event – which then did occur in the spring of 2020.
They already had a process in place with steps to follow as guidelines, and standard procedures on what to do. The city also had
Milestone's open platform video management software (VMS)
to connect data from all city locations and systems for central overview and control.
Milestone Partners with City of Calgary, Integrating systems on VMS for efficient operations - YouTube
Public Site Closures Overnight
One of the first pandemic challenges the Tech Ops team faced was at the state-of-emergency declaration. The City announced lockdown for every public facility from any access, whether a hockey arena, a pool, or city hall.

With 900 sites in the city that have access control against intrusion, there were a lot of locations to check - and city staff who usually worked in recreation and other facilities could not come into work to do it. Security operations stepped in and guard staff looked through the Milestone camera views to determine if locations were secure.

"We used the Milestone video system to check out all of our facilities remotely and sent our mobile patrol out to sites to make sure they were locked down safely," states Alex Lee.
Multi-site Remote Monitoring for COVID Compliance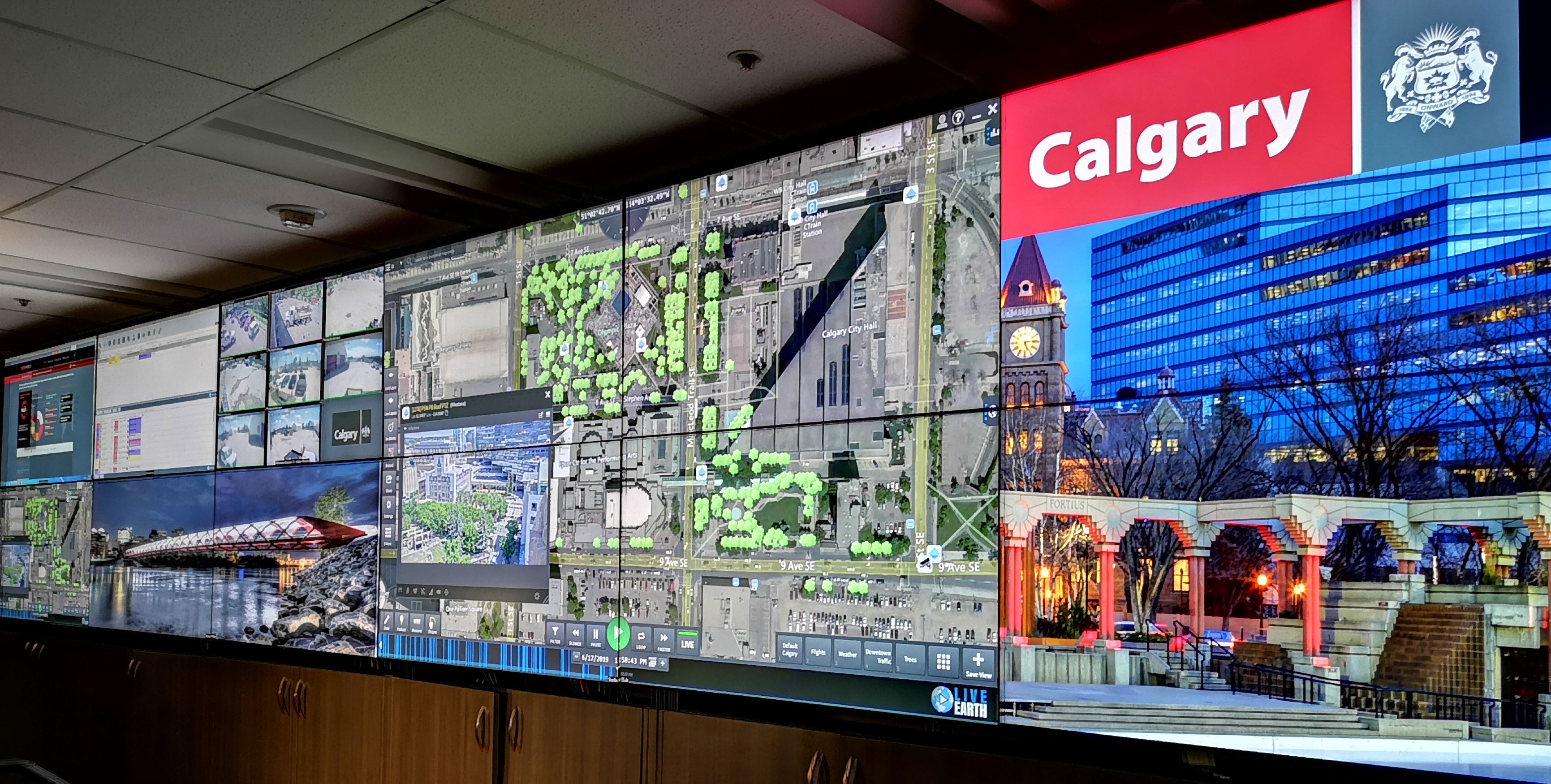 He says that the XProtect web client has been a huge benefit for responding to the many requests to see their sites. Access is not allowed to any of the recorded footage, but they can check live camera views of their property.
E-Learning Saved Hundreds of Hours
The business units given access to the surveillance system asked: "How do I use this XProtect video software?" The online Milestone learning videos have saved the city's Tech Ops department hundreds of hours of training, reports Alex Lee.

"We just sent out a link for them to watch those quick videos on the Milestone website, to learn how to use the client systems and access the camera views," relates Alex Lee. "For about a month solid at the start of the lockdown, we were getting requests left, right, and center. To train that number of users at the same time on how to use software, as you can imagine, would be quite hectic. To have access to the online learning portal has been of paramount importance for us and something that really sets Milestone apart from a lot of competitors."
Video Analytics Ensure Social Distancing, People Capacity, Flow and Separation
As Calgary has been lifting out of quarantine, they are opening up more public facilities for use. They implemented a slew of new procedures around the social distancing rules put in effect, where Axis video analytics with Milestone mapping functionality help manage the physical distances.

Lines were painted six feet apart and adherence is checked with the Milestone video monitoring to ensure that social distancing is actually occurring while people are waiting in queues at the facilities. If a camera shows that people are not physically spacing, the guards can be alerted to correct it.
Customizing COVID Video Analytics and Rules for 900 Sites
Calgary's Tech Ops team is working with the Corporate Analytics and Innovations business unit, who are custom-building video analytics specifically for more types of pandemic issues. There are hundreds of sites around the city, and every facility has different standard operating procedures.

As hockey arenas, pools and recreation facilities open back up, there are certain rules they must abide by including entrances and exits or people capacity. People counting could be a useful tool for the city to ensure that they are not over-filling places and upholding the limits for public safety.
Distancing and Loitering Analytics for Public Spaces
"We are using the Milestone open platform software development kit (SDK) and Axis Communications' SDK for building and testing custom analytics specifically for social distancing and loitering," says Lee.

For example, the city owns its downtown convention center. When the state of emergency was declared, the huge indoor spaces were no longer being put to use. All the conferences got canceled, so the space was donated to help shelter the city's homeless population. Beds were set up in the centers and physical distancing protocols were established.
Turning Problems into Benefits with Unlimited Flexibility
Alex Lee feels it's been possible to turn the challenges of this pandemic to advantage, being able to find the solutions to evolving needs. His team has proven they can help by utilizing the corporate security technology to leverage the city's investments further for the good of the public.

"We can help the city overall rather than looking at the video and just thinking 'This is for security.' Well, no. This is also for social distancing. This is also for queue management. The VMS platform continues to have so many more useful applications. It is technology supporting the people every day, and how we can be ready for the disruptions of tomorrow," concludes Lee.


See the short videos:
Milestone VMS as best fit for Calgary's future-proof security software platform. - YouTube
Calgary Proves Multiple Returns on Investment in Open Platform Video