July 13, 2020
On-premises or cloud might seem like a black or white question. However, a world of opportunities lies in the space between these two choices.
How many cameras are connected to each recording server, what compute power is needed for video processing, and where is the sweet spot between retention time and storage capacity? These are only a few of the questions we must answer when designing a video surveillance system. Adding the customer's specific requirements, existing hardware, and available budget to the equation, forces System Integrators to face complex design problems they are often expected to solve. Although technology today offers solutions that solve most of these problems, solving them in an installation distributed across multiple cities, countries, or continents is a different ball game.
Various solutions available today, help us deploy and maintain large and federated systems on-premises. Yes, on-premises systems offer a reliable and secure solution when deployed right, but are also static, perpetual, and rigid, which can make them difficult to centrally manage. As operations expanded geographically, central management became an important aspect that pushes hardware, networking, and budgets to their limits.
Cloud computing introduced new opportunities for our industry. The technology stack that until now was embedded in devices, clients, and servers, could now be replaced with cloud computing and applications provided by Cloud and video Software as a Service (vSaaS) providers. With much of the friction handled by System Integrators removed, the result is a system that is elastic, metered, and flexible.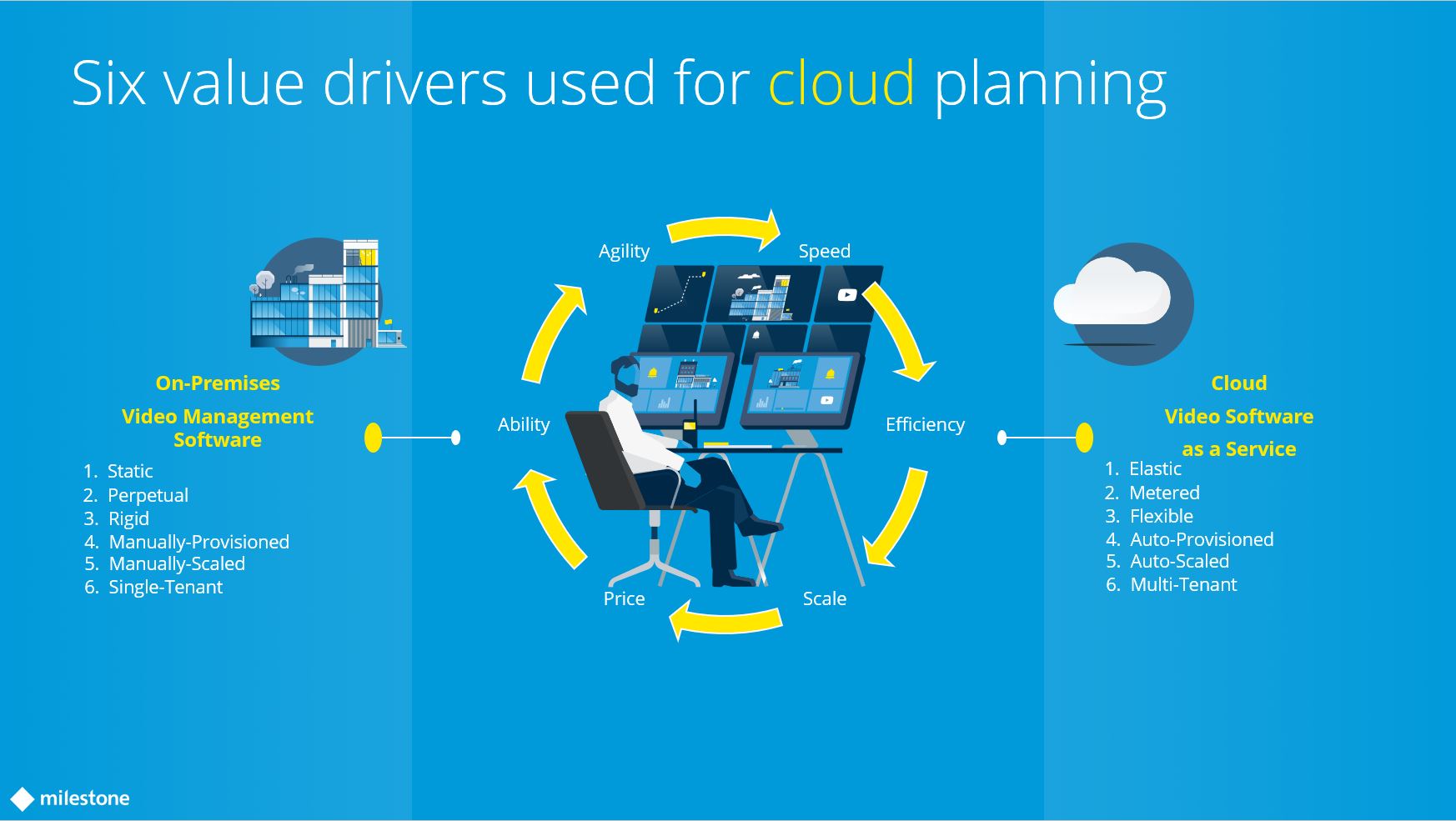 With two technologies in mind, the question is inevitable. On-premises or cloud - which solution fits which customer? A definite answer to this question could potentially simplify the way we work, but when it comes to potential, the opportunities lie in the space between the two choices. On-premises, hybrid cloud, Infrastructure (IaaS), Platform (PaaS), or Software (SaaS) as a Service. No matter what the solution is, one thing is certain – to match the right customer with the right solution we must understand the true nature of the customer's operation.
Every customer installation is different. Some look for an elastic solution that can be scaled easily, while others are interested in a solution that is static and that can be provisioned manually. It is imperative to discuss the differences and similarities between the two technologies with the customer, to identify the desired outcome and how to achieve it. Discussions around the level of agility, speed, efficiency, scale, price, and ability, can help you map the customer needs and where on the spectrum he is situated: closer to on-premises or to cloud.
Cloud computing unlocks great opportunities. A system that until recently was limited to one deployment choice, can now be deployed in multiple ways – the decision is yours. Expanding your skillset with new deployment options will allow you to scale your business, optimize your services, and provide your customers with new experiences.
In addition to XProtect on-premises, Milestone Systems now offers a cloud deployment alternative running XProtect on Amazon Web Services (AWS). You can find more information about the solution, as well as free online courses on our website.
To learn more visit:
XProtect on AWS