Ready to enroll in the Milestone Channel Partner Program?
What is the Milestone
Channel Partner Program?
Our Channel Partner Program rewards our partners for their increasing
commitment to Milestone products and services. As your business with
Milestone grows, so does your partnership level in the program.
And the higher the level, the greater the rewards for you and your business.
Why become a channel partner?
Unleash Milestone XProtect®'s full potential
---
Build best-performing video management solutions with access to a broader portfolio, starting with XProtect Professional+. Base your installation on features designed for larger installations and multiple locations.
Accelerate your business
with partnership planning
---
Boost your knowledge with project pricing, business reviews, tender management, and eLearning courses.
Explore the power of community
---
Find new business opportunities, access the best-proven technology and establish growth partnerships by joining a worldwide community of Milestone Technology Partners who work to complement XProtect's open platform with add-on applications, hardware and services.
Grow your business with Milestone
As your commitment to Milestone grows, so does our commitment to you. Our Channel Partner Program
is a tiered loyalty program that rewards partners based on their level of engagement
with Milestone products and services.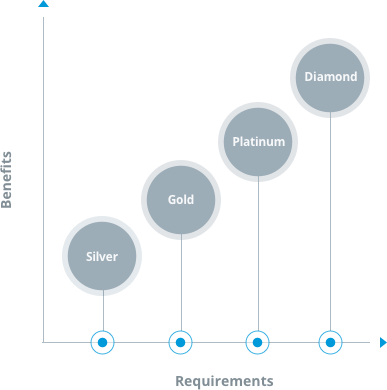 It takes hard work to move up the ranks in the Milestone Channel Partner Program.
Luckily, as the level of requirements increases, so do the rewards.
How it works
You deserve to be recognized
Being a Milestone Channel Partner means being able to work toward a variety of tier based
rewards. The higher your commitment to Milestone, the greater the access, service, and recognition you will receive.
Silver


Gold


Platinum


Diamond
XProtect Professional+ Access
Gain access to the best-performing recording server in the industry. XProtect Professional+ is designed to boost the overall performance of your hardware – saving you time and money.

Manage unlimited sites, servers, cameras and users from one location and advance incident response through multi-layered maps and full alarm management. Edge storage also helps minimize the risk of lost video.
Milestone Discount Program Membership
Channel Partners are automatically enrolled in a tired discount program based on their loyalty to Milestone.
Show your customers the value of a Milestone system with access to demo licenses and seal the deal by running a proof of concept with our demo software.
Our regional and global promotional campaigns are designed to boost your business. Gain access to these attractive deals as a Channel Partner.
When engaged in larger project bids, registered partners can register projects for approval for additional discount.
Prioritized Technical Support
Milestone triages support cases based on their severity and partner classification. You will gain faster access to support as you move up the ranks in our Channel Partner Program.
Listing on Milestone's Where to Buy Site
Gain exposure when you are listed in Milestone's Where to Buy directory. All partners at the Gold level and above are listed in this virtual directory - and the higher your ranking in the partnership program, the higher your appearance in search results.
Full Product Portfolio Access
Milestone Gold Channel Partners and above receive access to Milestone's full product portfolio. This includes exclusive rights to XProtect Expert and XProtect Corporate, Milestone's more comprehensive and advanced products.
Our Global Bid Desk helps you understand whether or not your solution will comply with bid requirements and how it might stack up against others. We can also create automated requirement responses and executive summaries to allow for faster response time.
Annual Milestone Business Review
As a Platinum partner, you will receive an annual strategy discussion about our partnership. This will include a comprehensive business review that will help you plan for the future, align on shared commitments and accelerate your business.
Milestone Partner Loyalty Box
As a small token of our appreciation for your commitment, Platinum partners and above receive an annual gift box. This box includes two tickets to the Milestone Integration Platform Symposium which is held in multiple locations throughout the year. You will also receive a selection of promotion materials.
Annual Milestone VIP Round Table Summit
Each year, we invite our most loyal Diamond partners to an exclusive VIP event with Milestone executives. Here, partners will gain access to Milestone content that has not previously been shared publicly.
Reliability and trust are important to us
Milestone Channel Partners stand out as our most trusted and reliable customers. To keep standards high, there are several requirements for the Milestone Channel Partner Program. Requirements are tier-based and increase as partners move through the ranks of the program.
Silver
Gold*


Platinum


Diamond
Approved Milestone Reseller Application
Before joining the Channel Partnership Program, partners must become approved Milestone resellers.
Apply here.
Introductory eLearning Courses
While not a requirement, we recommend that all partners participate in our free eLearning courses to learn more about how to be successful in our Channel Partner Program.
Milestone-Certified Design Engineers
Milestone-Certified Design Engineer (MCDE), which certifies that he/she is able to design highly-complex Milestone IP surveillance systems.
Milestone-Certified Integration Technicians
Milestone-Certified Integration Technician (MCIT), have proven ability to install and configure moderately complex XProtect Advanced VMS installations with 100-500 cameras, a single management server, and features like a Milestone Interconnect connection to a remote site.
Milestone-Certified Integration Engineers
Milestone-Certified Integration Engineer (MCIE), have proven ability to install and configure complex XProtect Advanced VMS installations with 100-10,000 cameras.
Yearly Revenue Requirement
Platinum and Diamond levels carry a yearly revenue requirement.
Yearly Base License Requirement
Platinum and Diamond levels carry an annual base license requirement.
To become a Diamond Channel Partner, you must receive an invitation from Milestone.
We're launching a new Milestone Partner Program in July
Discover why being Milestone partner will soon be even more beneficial for you business.