7月 14, 2021
With nearly 50,000 spectators on race days, and more than 70,000 attending the Firefly festival, the Dover International Speedway's video surveillance system is an essential tool, accelerating efficiency, safety and security for the fans.
Dover International Speedway
Kent County, Delaware, United States
25 AXIS network video cameras
Avantech, a Division of Cook and Boardman Group
Challenge: Help keep up with the crowds
The Dover International Speedway hosts thousands of NASCAR race buffs, and even more throng to the summer Firefly concerts. Managing these crowds makes their video system a management must-have to enable the venue's security team to efficiently provide safety and security for everyone.
During non-event times, the Public Safety Office checks the camera views proactively to monitor activity around the clock. Avantech consulted with the venue to implement an open platform system that would always have the ability to upgrade, adjust, and expand security as the crowds and traffic ebb and flow.
Solution: Eyes on the grounds
Milestone XProtect video management software
AXIS pan/tilt/zoom (PTZ) and 360° multi-image panoramic cameras
Video access via smartphones and mobile devices using Mobile Client
Video archived to Milestone Husky network video recorders (NVRs)
A multi-monitor workstation has been set up at the Joint Operations Center where the camera feeds are constantly monitored live. On event days, the center includes people from law enforcement agencies, diverse medical teams and the Delaware Division of Transportation (DOT).
The XProtect Mobile Client lets operators respond to integrated access control requests, and they routinely push video from smartphones and mobile devices to the system. All video is monitored live then archived to a set of Milestone Husky NVRs.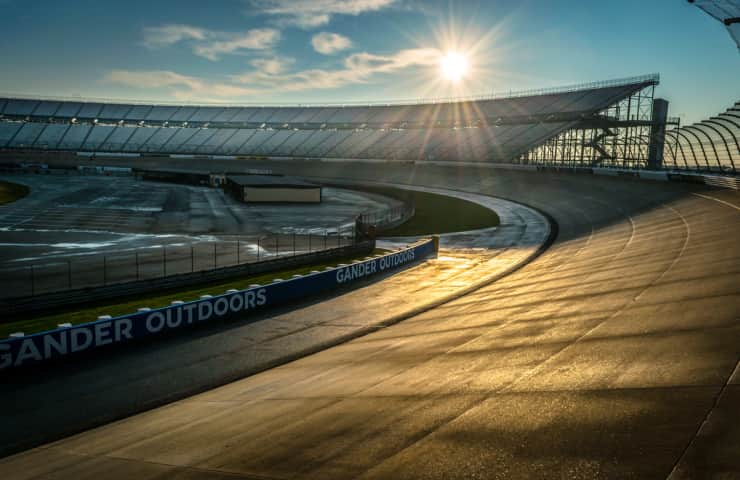 Result: Revving up safety
The XProtect Mobile Client enables fast reactions to incidents by pushing live GPS-enabled video from a mobile device's camera back to the XProtect system from anywhere. This allows security staff to walk around the entire complex while streaming real-time video back to the team in the operations center for timely, informed decisions.
Cameras covering the entrance gates give a full view of patrons coming in, checkpoints, ticket scanning and traffic flow. During times of congestion, venue staff can see waves of people coming in real time and open more gates. From a resource deployment standpoint, the video system therefore ensures that everyone is moving through as efficiently and safely as possible.
Security staffing for the speedway ranges from three people for day-to-day routine operations, to 1,200 during music festivals. By taking advantage of the Milestone open platform software, the Joint Operations Center can share video feeds with agencies including internal security, law enforcement, EMS, all partners working the festival and the local DOT. This ensures that everyone can collaborate to help deliver an enjoyable and safe event for the fans.
Crossing the finish line
During one race, the monitoring staff saw a medical emergency and responded right away to send the medical team. The size and slope of the stands were challenging but the live video was a huge benefit in getting the right people to the right spot as quickly as possible — much faster and more effectively than radio patrol trying to verbally communicate the complex situation.
When the races or concerts are over, the system helps to optimize the exiting of thousands by monitoring area capacities for over-crowded spots or bottlenecks. Staff can make real-time adjustments and share relevant information with neighboring businesses.
The security team also reviews video post-event as a way to evaluate performance and improve operations, looking at everything from security improvements to marketing and sales, vendor and concession stand positioning, parking and crowd control. The Milestone system allows the complex to serve up safety and entertainment on one ticket.
About the Dover International Speedway
The Dover International Speedway's high-banked, one-mile concrete oval racing track is known as "The Monster Mile".
Number of races: 6 thrilling NASCAR races yearly
Size of complex: more than 800 square acres of grounds
Summer concerts: the 4-day Firefly Festival plays 100+ bands on 6 stages
Ready to see what we have to offer with smart video technology? 
Book a demo