11月 10, 2021
Milestone Systems, the creator of XProtect® Video Management Software, and Stone Security, a Utah-based security integrator providing security integration services, are demonstrating significant success in collaborating to bring world-class security solutions to their clients worldwide.
In 2005 Stone Security was founded with law enforcement and technology professionals to provide security integration services in Salt Lake City, Utah. Stone Security has since grown to serve clients in many countries, with branch offices in Denver, Las Vegas, Southern California, and Mexico City. Their goal is to build credibility as experts in the physical security industry. In addition, they have won several high-profile awards in the security technology marketplace, making them well-trusted and sought-after security integrators.
Sweeping up Security Industry Awards
Stone Security won SDM Magazine's 2020 Security Integrator of the Year Award and the Security Vanguard Award for 2020, selected by Security Business Magazine and Security Technology Executive. Each of these awards is highly valued, and no other integrator has ever won both awards in a single year. This feat, along with many other awards, speaks to the company's reputation and the staff's credibility as experts in their field.
Much of the success that Stone Security achieves points to the leadership's decision to focus its business model on collaborative partnerships, as described below:
Milestone Systems - XProtect VMS
LenelS2 - Access Control Products
Axis Communications - IP Network Cameras
Brent Edmunds is CEO of Stone Security, and he has been with the family-owned company since the early days. Edmunds says, working with Milestone has been "a really good partnership since the beginning. We have tackled a lot of business together."
Building a Business Model for Success
Early on, Stone Security adopted a practice of deploying Axis IP network cameras exclusively. However, their efforts in building integrations that integrate seamlessly gave them an edge in designing security systems with fewer problems and solid results their clients find dependable. T.J. Nagy is Milestone's Global Partner Manager for Stone Security. He says, "Stone Security focuses their energy on becoming really good at one thing, Axis cameras, Milestone's XProtect VMS, and LenelS2 software for access control. So, we trust them. It is the biggest difference in working together towards mutual success."
Milestone Systems has provided Stone Security with open platform video technology, combining the best security and video surveillance tools into one system for management and reporting. Furthermore, XProtect VMS is a world leader in unifying video surveillance, security monitoring, property access systems, and more into a single solution that keeps business assets, people, and property safe.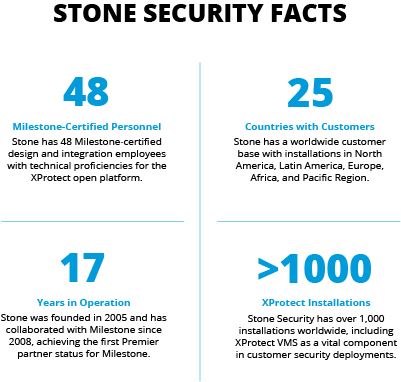 Scaling for Projects of Any Size
Andy Schreyer is the Chief Sales Officer. Schreyer points out that Stone Security works with many businesses and government organizations. The company works hard to be available to its customers. Due to the long-term relationship with Milestone, Stone Security can foster its unique business approach.
Schreyer continues, "One of the best parts about Milestone is that we can use it for a multi-tenant housing project or a major jail. We can use Milestone for really any type of vertical. So, it doesn't restrict us from going after more business."
Stone Security is Earning Their Customers' Respect
As a Milestone Premier Partner, Stone Security has earned a level of credibility that brings direct benefits to its clients. Stone's installation technicians are fully-certified in Milestone's products. In addition, Stone Security keeps clients current on Milestone Care Plus software maintenance and support. Furthermore, Stone Security streamlines the support process for their clients by keeping their technicians trained. Support teams have dedicated access to higher-tier assistance from Milestone.
Stone Security leverages its relationship with Milestone to excel in several vertical marketplaces, including education, healthcare, and city municipalities. The leadership at Stone Security has tried to keep their client portfolio diversified. Furthermore, they have done an excellent job of taking the lessons they have learned with existing clients and applying their knowledge to new clients.
Milestone's open platform and diversity of implementations give Stone Security precisely what they need to approach many clients with a customized solution that works well and integrates seamlessly with the rest of the security infrastructure.
Get in Touch
Learn more about how the Stone Security and Milestone partnership can generate value for your business on our website, or contact our security experts to set up a meeting and discuss how we can deliver a solution that fits your needs.