enero 12, 2022
Do you know what you are looking for in Video Management Software (VMS)? If you've tried finding the right video technology and you're disappointed, you're not alone. There are dozens of companies in the marketplace offering VMS technology, selling network video recorders, and looking to establish themselves in a crowded industry.
However, there are limited options in the physical security industry for software that are genuinely accessible using open platform video technology. In addition, you want a video technology that is reliable, scalable, and innovative. So how can you achieve your goals with so many options available?
Reliability
Look for a company that stands the test of time. Find a company that has overcome obstacles to stand by partners and customers day in and day out. You want to partner with a company that wants to succeed and, yet, has your success in mind as well.
When the company you've depended on for your video surveillance needs isn't delivering, Milestone Systems will be here. We continue to withstand the test of time. Since 1998, we've progressively improved XProtect to go beyond your standard VMS. That's why we call it open platform video technology. You can do so much more than monitor your video cameras with XProtect.
We partner with industry leaders like Dell Technologies to build dependable video appliances for our Husky IVO series of hardware. Milestone is also building a community of technology partners that deliver the best-in-class security and operational products that reliably integrate with the XProtect® open platform. In addition, our team tests the integration of these converged systems to ensure the deliverability of features your customers require.
Scalability
A company with technology that scales alongside your customers' needs will adjust to changes in the marketplace. You want to partner with an agile company, developing new features and adapting as new technology emerges. While your customers desire a firm foundation in dependable equipment in their network hardware, they also want the flexibility to adjust as their company and needs grow over time.
Milestone's open enterprise software development delivers a solid foundation of dependable functionality with extensive basic capabilities. XProtect VMS already does what the competition promises in their product. But what happens when you need features that extend beyond basic functionality? That's where the open platform shines.
The real difference is in the partnerships we form with 3rd-party technology companies. Integration experts at Milestone work closely with our technology partners to ensure their product features work inside XProtect. If you need advanced video analytic capabilities, we've already done the hard work in advance to make sure the functions are tested and proven.
These are challenging times in the security industry. So many companies are selling out, leaving security partners with questions. Products that are available today may be riding into the sunset tomorrow. In addition, more new startups are getting into the industry than ever before.
We have a solid, tried-and-true product that stands toe-to-toe with the competition. If you need features and technology that are cutting-edge and tailored to meet your exact needs, Milestone Systems is already working on features that the competition can't touch.
Innovation
When you connect XProtect VMS with other industry-leading security applications, you may be able to accomplish things you could only dream about previously.
If you want access control events to communicate with XProtect, associating cameras with door events, we have that ready to go for your upcoming project. On the other hand, If you want to gather evidence for criminal investigations, we already have an entire suite of products proven to fit and work well inside XProtect.
Whether you want forensic video search tools, license plate recognition, object detection and tracking, or incident management, we have solutions proven to work in real-world applications. The applications are limitless.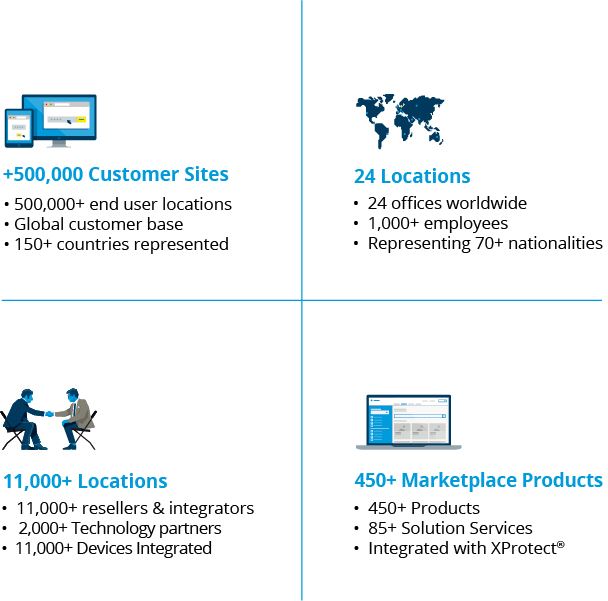 Your Ideas Make a Difference
Inclusion of your ideas matter, and as a customer, you want to know your concerns count. So whether you are looking for video technology features in software or have challenges that demand a proven solution, at Milestone Systems, we believe that your feedback matters.
Customers and partners continually provide ideas to improve XProtect, and we listen. We take your good ideas and incorporate them into the software over time to build our newest integrations. We could give many examples of significant product advancements coming directly from customer feedback.
Your System Tailor Made To Meet Your Needs
When you choose Milestone, you purchase a solution that's been tried and tested by thousands of developers in over 500,000 customer sites worldwide. You get a solution you can deploy with confidence that it will work. That is the power of our open platform community. We partner with hundreds of technology partners that develop their product to work with XProtect video technology. You can learn more about the limitless solutions we offer in Milestone Technology Partner Finder, a place to compare hardware, software, and solutions service partners in our global community.
Customer Support that Lives Up to Customer Expectations
When technical support is a concern, you can count on our team to be in your corner. The Milestone Technical Support team takes pride in achieving an excellent response time when answering calls. The professionals at Milestone achieve a 94% rating in customers reporting their satisfaction level as "Very Satisfied."
If you don't believe us, try us out. We have programs letting you test our software in your environment with your hardware. So give it a try and see how we will work for you. Our team of security experts can give you a demonstration of XProtect and talk with you about your upcoming projects. We want to prove that we will deliver with your expectations in mind.
What Kind of Service Do You Need?
Milestone Professional Services is a portfolio of system deployment and optimization services designed to unlock the full potential of Milestone installations and optimize system performance for a problem-free and stable operation. We'll even help you with system migration – onsite or remotely, depending on your needs.
We want to get you connected to a Milestone expert to talk about your migration to Milestone. We have resources we can provide, including recommendations to make the migration simple. Contact us here to set up a time to learn more information.