XProtect® LPR
License plate recognition
Recognize the power of automatic vehicle identification.
---
XProtect® LPR is license plate recognition software that reads license plate information from vehicles and links the license plate information with video. As a fully integrated part of the XProtect® Smart Client, XProtect LPR has a wide set of application areas, including access control, theft prevention, loyalty programs, toll road and border control. Advanced matching logic makes it possible to compare recognized number plates with pre-defined lists and initiate automated actions, such as opening a gate, thus increasing work productivity.
XProtect LPR is an XProtect add-on product that is seamlessly supported by most XProtect video management software products and Milestone Husky™ NVR units. It has optimized recognition algorithms for more than 100 countries and states around the world.
---

What's new in XProtect LPR 2015
XProtect® LPR 2015 is the new release of the Milestone license plate recognition software.
The new 2015 version provides customizable match list fields and a brand new reporting capability. This not only empowers operators to take the right decisions when granting vehicles access, it also enables easy documentation of recognized vehicles with full details, video thumbnails and license plate close-ups. With its new configuration wizard and extensive localized documentation, XProtect LPR 2015 is easier than ever to install, while high recognition accuracy is insured with a new, snapshot-driven tuning process.
The 2015 edition of XProtect LPR offers extended geographical coverage with 13 new country optimized recognition modules, bringing the total number of covered countries and states to well over 100.
Read more in the XProtect LPR 2015 What's New Brief and the XProtect LPR 2015 What's New presentation.

---
XProtect LPR key benefits
XProtect LPR offers a number of powerful applications for security-conscious environments:
Prevent losses
Are customers driving away without paying for fuel?
XProtect LPR is an ideal solution for gasoline chains. Using negative lists and third-party integrations, the system can automatically close a gasoline pump if a blacklisted vehicle license plate is recognized at any station in the chain.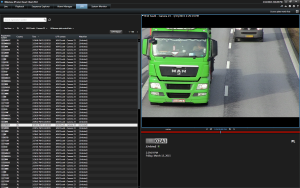 Manage parking
Is this car covered by a parking subscription?
XProtect LPR can help you reduce the costs and time associated with managing parking subscriptions. Instead of issuing toll collection devices or radio frequency identification (RFID) tags to authorized personnel, XProtect LPR can automatically open a parking lot gate when a permitted license plate is identified.
Regulate access
Should this vehicle be granted access?
Use XProtect LPR to optimize your processes by automatically controlling access to protected areas and premises. The software's flexible, user-defined match lists make it easy to add license plates belonging to visitors, temporary personnel and delivery vehicles. Once the pre-defined license plates are identified, vehicles are automatically granted access.
Gather evidence
Where was the car in question?
XProtect LPR can be a powerful tool for law enforcement agencies needing to track the movements of a suspicious vehicle. Each time a vehicle passes by a camera equipped with XProtect LPR, it is registered in the system. Using XProtect LPR's reporting functionality, law enforcement officials can create a report showing all of the movements of a particular vehicle within a specified timeframe. The report includes a video thumbnail of the recognized vehicle, a close-up of the license plate and details about the detection time.
---
XProtect LPR supported license plates
XProtect LPR supports over 100 countries, states and regions around the world and new countries are added continuously. Furthermore, XProtect LPR supports a large variety of license plate layouts: Single-line, Double-line, Black on White, White on Black, Multicolored etc.
Click to view the total list of supported countries and layouts.
---
XProtect LPR compatibility chart

XProtect LPR
License plate recognition (LPR) software reads license plate information and combines it with video to help automate tasks.
✓
✓
✓
✓
✓
✓
✓
* Includes Milestone Husky M50 Hybrid and Milestone Husky M30 Hybrid
---
How to buy XProtect LPR
---

Useful information about XProtect LPR
Here are links with information about the features and benefits of XProtect LPR.