XProtect® Smart Client
Feature-rich interface
XProtect Smart Client is a powerful, easy-to-use client application for the daily operations of security installations.
Designed for Milestone XProtect® IP video management software (VMS) and Milestone Husky™ series, XProtect Smart Client is a powerful, easy-to-use client application for a surveillance installation's daily operations. Its streamlined interface provides intuitive and powerful functions to manage any Milestone installation regardless of its size.

XProtect Smart Client provides an efficient working environment that can be optimized for different tasks and operator requirements. Advanced investigation tools combined with an easy-to-navigate video timeline enable users to examine incidents quickly and accurately. Sophisticated export options, including the Storyboard feature, consolidate relevant video evidence for a complete overview of incidents. XProtect Smart Client is available in 27 languages, allowing users to work with the application in their native language.

Using the Milestone Integration Platform and the unique application plug-in architecture, various types of security and business systems applications can be seamlessly integrated in XProtect Smart Client.
---
View XProtect Smart Client video
Easy to use
Milestone continually strives to make XProtect VMS easy to use, so we offer three flexible ways for users to access surveillance: XProtect Smart Client, Milestone Mobile and XProtect Web Client. Depending on where you are and what features you need, you can choose the mobile device or computer you prefer to use and whether you want to access Milestone surveillance on-site, off-site or on-the-go. And because all of our clients are free of charge, you can use all three or any combination of the clients based on your preferences.
---
Intutive control and unparalleled situational awareness
• Map function: Interactive, multi-layered maps provide a situational overview and control of cameras, devices and other integrated systems
• Overlay buttons: Streamline workflows and improve operator efficiency by allowing operators to control cameras, camera-integrated devices and other connected systems directly from the camera view
• Virtual joystick control: Easily control pan-tilt-zoom (PTZ) cameras from an integrated on-screen window
• Advanced multi-screen handling: Offers a general overview and enables users to efficiently work with many cameras across multiple screens
• NEW - Supports XProtect® Access Control Module: An add-on product that allows operators to monitor and control integrated access control systems from XProtect Smart Client
---
Effective incident response
• Alarm Manager: Single-point alarm function provides a clear and consolidated overview of security and system-related alarms and gives instant access to cameras for immediate detection of incidents
• Bookmarking: Flag video sequences of particular interest and add descriptive notes to easily share information and increase efficiency in investigating incidents
• Independent playback function: Replay events on one camera while simultaneously viewing live video from other cameras in the same view
• Integrated support for XProtect® Smart Wall: Allows operators to manually publish and share cameras on the flexible Milestone video wall solution
---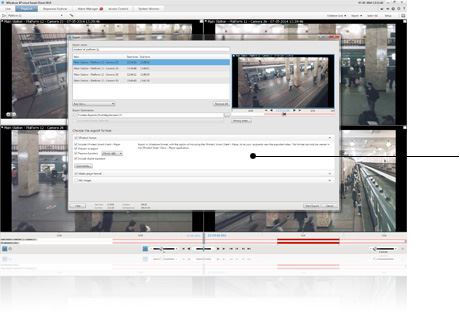 Easy evidence handling
• Integrated video timeline: Easy-to-use timeline with navigation, playback and export controls to simplify the evidence collection process
• NEW - Enhanced Smart Search: Uses motion metadata to quickly and accurately identify sequences with motion in specific operator-defined areas of a camera view
• NEW - Evidence Lock: Users can manually extend the retention time for video recordings by overriding normal video archiving and grooming policies, ideal for installations that manage a high number of investigations
• NEW - Storyboard function: A vital tool that turns video into evidence by documenting a sequence of events from multiple cameras in a cohesive flow that allows for easy, objective and straightforward revision
• XProtect® Smart Client – Player: A video viewer for evidence that has strong password protection and digital signing to prevent unauthorized access to exported video
---
Please click to download XProtect Smart Client for free or download the manual


---

XProtect Smart Client video tutorials
Watch the XProtect Smart Client tutorials to learn more about the features of Milestone's easy-to-use client application. The videos show the basic functions of the client interface as well as demonstrate how to create and modify views, export evidence and view video in live or playback mode.
---

Useful information about XProtect Smart Client
Here you can find brochures, specifications, videos and much more about XProtect Smart Client.
Functionality of XProtect Smart Client is determined by the specific Milestone product.