NEW Arcules eLearning
måndag, 20 april 2020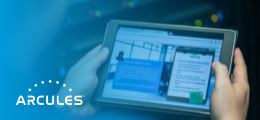 The new course will take you through the key components of an Arcules Video Surveillance as a Service (VSaaS) solution and enable you to communicate the benefits of integrating an Arcules solution into XProtect VMS. Having taken the course, you will be able to identify cases where an Arcules solution is the optimal choice, and where an Arcules solution is not recommendable. The eLearning course covers how to download, install, and connect Arcules VSaaS in Milestone XProtect® VMS. It provides a step by step guide on how to:
Download and install the Arcules Connector plugin
Add Arcules gateways and cameras in the Management Client
Create a Smart Client view containing both Arcules and XProtect cameras
Observe alarm synchronization across Arcules and XProtect products
It also illustrates how an Arcules solution fits into a multi-server XProtect network topology.