Hardware manufacturers gain new benefits through System Builder Program
måndag, 3 september 2018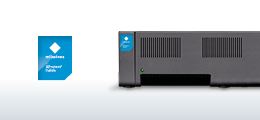 Författare: Toyah Hunting
Partner News
Milestone launches a Community Enablement initiative to support System Builders: empowering all partners to prosper by doing what they do best
The System Builder program was launched in February this year. It lets hardware manufacturers build and distribute hardware with pre-installed Milestone software. In our continued effort to support the partners, we now invite Server Hardware Manufacturers to join the program as Community Enablers.
Together, we can merge our respective strong capabilities and complementary portfolios to span the development and support of Original Equipment Manufacturers (OEMs) who have joined the program as System Builders.
As Community Enablers, Server Hardware Manufacturers will play a key role in providing the essential infrastructure for their OEMs, who bring the final product to market.
DELL EMC first to join
DELL EMC is the first Milestone partner to become a Community Enabler. They will open their surveillance lab facilities to their OEMs prior to commercial release of the product and also execute joint marketing efforts with Milestone.
Got a question about System Builder Community Enablement?