Free MIP SDK eLearning now available
onsdag, 18 oktober 2017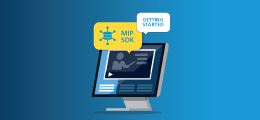 Författare: Megan McHugh
Product News
Learn how to develop plug-in integrations
We have added a new course to our Developing with the MIP SDK eLearning series: Developing MIP SDK Plug-in Integrations.
About the course:
The MIP SDK comes with a robust set of tools to create integrations to the XProtect® VMS suite. This course covers Plug-in integrations, which run directly in the XProtect VMS environment. This course will teach you how to:
Open and run the MIPPlugin template.
Create new types of XProtect VMS items with custom properties.
Create a plug-in that can communicate with an external system, including:

Reacting to incoming commands.
Sending commands.
Incorporating event handling in the rule system and the Smart Client map.

Create Smart Client plugins.
Everything you need to know
We now have three courses available in the Developing with the MIP SDK series. The other courses available are:
To access all our free SDK eLearning courses click here
For all our eLearning courses you need your myMilestone login. Don´t have one yet? Request one here