Powerful IP video management software
XProtect Expert is IP video management software (VMS) for mid-sized and large-scale installations. It is built with innovative technology designed to ensure video integrity, and boost the overall performance of your system with hardware accelerated video decoding.
In addition to camera-based Edge Storage support, XProtect Expert offers reliable, uninterrupted video recording through failover recording servers. The software includes central management of an unrestricted number of servers, cameras and users, making it the perfect choice for companies deployed across multiple locations.
With multi-layered maps, alarm handling and support for an integrated video wall (optional), XProtect Expert is also ideal for installations with active live monitoring such as warehouses and stadiums.
---

Try a free 30-day XProtect Expert trial
Experience all the benefits of XProtect Expert and
try a free trial for 30 days!
---
Powerful central management
• Management interface: A wide range of administration tools help ease the initial configuration and daily administration of large systems that are deployed across different geographical locations
• Device group management: Provides fast and structured management of cameras and other connected devices in large installations
• Configuration reports: System integrators can document system delivery and provide a detailed listing of all configuration settings
• User permissions: Administrators can control user access permissions on the viewing client level, enabling them to more effectively manage installations with multiple users by assigning the exact level of access needed for each user
---
High-performance video recording
• High performance recording server: Building on a native 64-bit windows implementation and an highly optimized database technology with RAM-based pre-buffering, the recording server supports minimum 3.1 Gbit/s recording rate
• Unlimited system scalability: Full flexibility to add additional Recording Servers and expand the system
• Edge Storage: Uses camera-based storage as a complement to the central storage in the recording servers, with flexible video and audio retrieval based on time schedules, events or manual requests, including the ability to combine centrally and remotely stored video using Scalable Video Quality Recording™ (SVQR).
• Reliable video recording: Hot and cold standby failover recording servers maintain video viewing and recording capabilities with minimal interruption in the event of network problems, server failure, loss of power or any other system problems
• H.265: Support for H.265 compression: H.265 has the potential to be up to 50% more efficient than H.264, which translates to increased performance where more cameras can be connected per XProtect recording server.
• Hardware accelerated video decoding: support for NVIDIA© and Intel© Graphics Processing Units (GPU) video decoding allows you to truly maximize the potential of your system. By shifting the video decoding from the Central Processing Unit (CPU) to the GPU you get better performance (more connected cameras per server and smoother video watching of more streams in the Smart Client) without having to purchase new systems. This results in higher performance, a lower CPU load and great savings.
---
Real-time situational overview
• Interactive Smart Maps with building support: the ultimate map function that allows you to navigate between buildings, floors and cameras, all in a smooth interface supporting GIS and CAD drawings as well as major online map services such as Google, Bing and OpenStreetMap. Define your building's layout, upload floor plans, populate cameras and enjoy a seamless user experience while responding to incidents quickly and efficiently.
• Alarm Manager: provides a consolidated overview of security and system alarms for immediate visual verification
• Bookmarking: flag video sequences of particular interest and add descriptive notes, so users can easily share information. Program the system to automatically bookmark certain events so users can quickly locate them during investigations.
• XProtect Smart Wall: advanced video wall solution optional with the software. It enables control room operators to share a wide range of information, including live and recorded video, images, maps, alarms and text messages, to better coordinate response activities
• Privacy masking: make sure privacy is protected and evidence is available when needed with adjustable user-right protected permanent and liftable masks, ranging from a light-blur to a solid grey
• DLNA support: display video directly onto any supported TV screen no computer or software needed
---
Optimize system performance
• Proactively manage your system with System Monitor: Get a real-time overview of system performance with a customizable dashboard, instant notifications regarding server problems and predictive video retention warnings with System Monitor
• Easily expand and optimize your system: Seamlessly adjust the load on recording servers, moving cameras from one server to another in runtime, with minimal interruption to the video stream and no need for camera reconfiguration
• Optimize system security: XProtect Expert includes several security measures for high-risk installations. The recording database uses AES256 for encryption and SHA-2 for digital signing. Use our System Hardening Guide for best practices regarding secure system design.
---

Download supporting or technical product material with detailed information about this XProtect product.
---
View XProtect Expert videos
XProtect Smart Wall
XProtect Smart Wall is an advanced presentation application that enables organizations to create video walls that meet their specific security demands. XProtect Smart Wall can benefit your organization in three key ways: by increasing operators' situation awareness, by providing tools that improve decision making and by creating a more cost-efficient security installation.

XProtect: Easy to manage
Milestone Interconnect is a unique system concept that connects all XProtect® VMS and Milestone Husky™ NVRs appliances with XProtect Corporate. Milestone Interconnect is the ideal solution to centrally manage installations for a variety of industries, such as retail, transportation and monitoring stations.
---
Extend your solution
With applications, hardware and services
from our community of technology
partners you can create the exact system
your business needs.
EXPLORE ALL POSSIBILITIES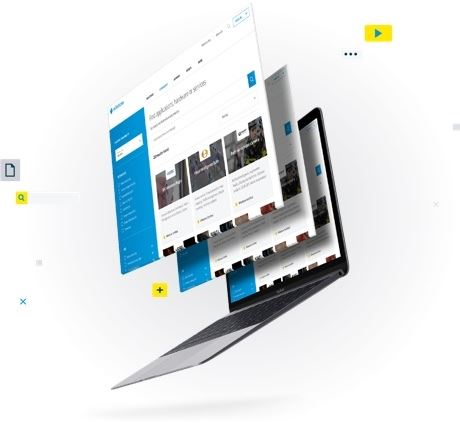 ---
Three powerful ways to view your XProtect Expert system for free
XProtect Expert is easy to use with three free, flexible interfaces. XProtect® Smart Client is the daily client interface for control over the entire installation. XProtect® Web Client lets you view, play back and share video on web browsers and computers. XProtect Mobile is for viewing and controlling video from smartphones and tablets.
---
XProtect add-ons provide you with extra value and functionality
Milestone has developed all XProtect add-on products so that they fully integrate with XProtect Expert. For example, using XProtect® Access Control Module, you can operate and control multiple access control systems from the same user interface within XProtect Smart Client.
Learn more about XProtect add-ons.
---

Milestone Interconnect™ connects remote sites for cost-efficient distributed video surveillance
Milestone Interconnect is a unique system concept that allows all XProtect software, the Milestone Husky™ NVR series and Milestone Arcus™ embedded appliances to be interconnected with XProtect Corporate. Milestone Interconnect provides a cost-efficient and flexible way to gain central surveillance operation across geographically dispersed sites.
Learn more about Milestone Interconnect.
---

Try a free 30-day XProtect Expert trial
Experience all the benefits of XProtect Expert and try a free trial for 30 days!
Need more information or interested in buying XProtect Expert?
Submit your information and you will be contacted by a Milestone reseller.
Where can you buy XProtect software?
Find your local Milestone reseller. Thousands of Milestone resellers around the world can help you find the Milestone XProtect software that is right for you.
---

Get more resources on XProtect Expert
Here you can find brochures, specifications, videos, white papers and much more about XProtect Expert.