Interested in buying Milestone products?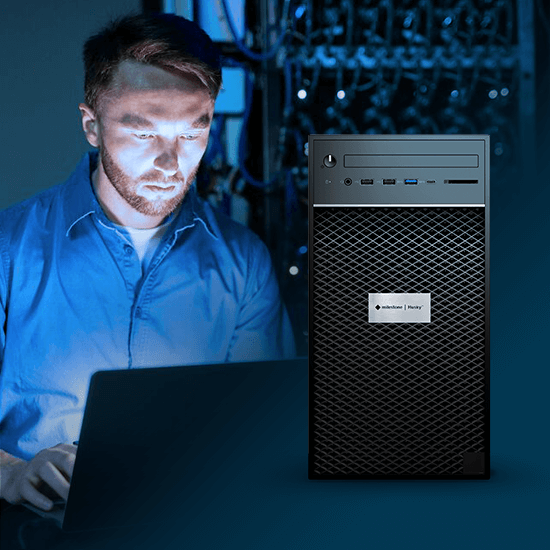 Why Husky IVO 350T?
Start small with room to grow.
Husky IVO™ 350T (Tower) is the ideal choice for those wanting to start small in their video installation while having the flexibility to grow – without the need for a heavy investment in IT resources and rack space. Ideal for retail, logistics and warehousing.
Easy & flexible setup
Set up with just a few simple steps


Greater peace of mind
Avoid extra costs and complexity
IDEAL FOR THESE SOLUTIONS
A simple, competitive solution that's ideal for chains
Single locations with few cameras but that need flexibility
HAVE A CLOSER LOOK
AT HUSKY IVO 350T
Overview of front components and features
Power button
Hard drive activity
Universal audio jack
USB 3.2 Type-A Gen1 (5Gbps)
SD card reader
USB 3.2 Type-C Gen2 (10Gbps) with power share
USB 3.2 Type-A Gen2 (10Gbps) with power share
USB 3.2 Type-A Gen2 (10Gbps)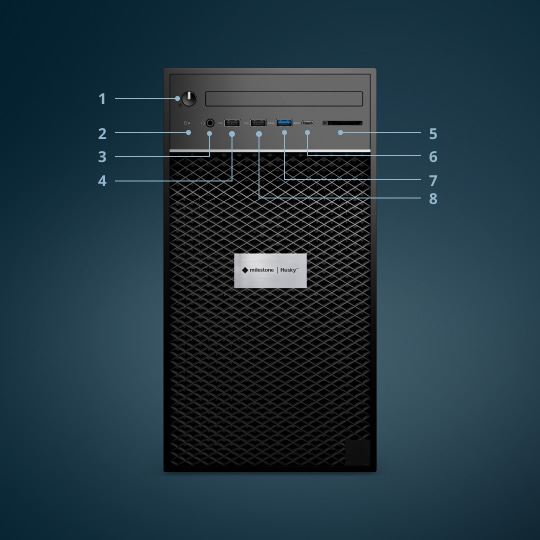 Overview of back components and features
2 x Display Port 1.4
PS2 keyboard connector
PS2 mouse connector
2 x USB 2.0 Type-A
2 x USB 3.2 Type-A Gen2 (10Gbps)
Audio line out
2 x USB 3.2 Type-A Gen1 (5Gbps)
VGA port
Main board RJ-45 port 10/100/1000 Mbps
Power indicator light
Power connection
PCIe RJ-45 port 10/100/1000 Mbps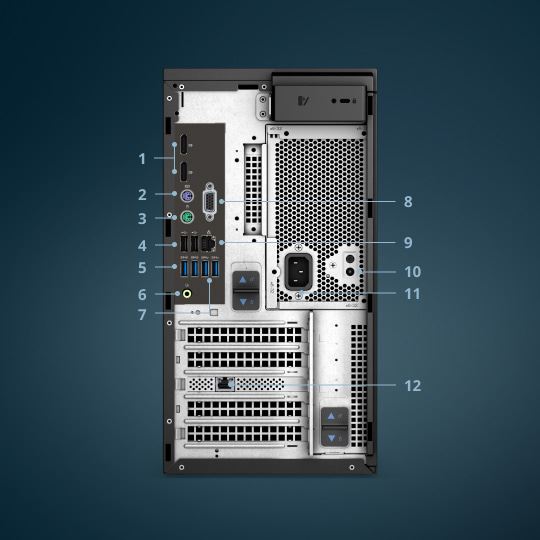 HUSKY IVO 350T FEATURES AND SPECIFICATIONS
• Video throughput of up to 360 Mbit/s
• Supporting up to 50 channels*
• Local storage up to 32TB on 2 internal drives


*Based on a video stream of 1080p, 30 FPS, 5-8 Mbit/s/channel, with video motion detection recording.
• Quad Core CPU
• 16GB DDR4 RAM
• 2 x 3.5" internal hard drives
• Integrated PCIe slots
• Desktop form factor
• 460W up to 90% efficiency (80 Plus Gold)
• BTU rating : 1,570 BTU/h (max. theoretical)
Husky IVO Product Guide
GET HELP TO BETTER CONFIGURE YOUR INSTALLATION
Got a question about Husky IVO? We're here to help.
Want to buy Husky IVO and other Milestone products?
Check out the rest of
the Husky IVO portfolio
This flexible and scalable series has you covered.