How to Become a Diamond Partner
воскресенье, 4 сентября 2016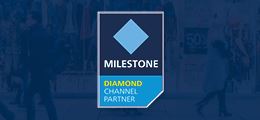 Автор: Toyah Hunting
Partner News
A warm welcome to our new Diamond Partners: Will you be next?
Milestone is proud to announce that 9 resellers have achieved the Milestone Diamond Partner label. The label is our highest partner tier and recognizes an outstanding commitment to Milestone and our core values. Diamond partners are our most loyal partners and act as strong brand advocates in their local markets. Out of more than 11.000 Milestone resellers, the following 12 are the only ones to have achieved the Diamond Partner label:
What is a Diamond Partner?
"Diamond Partners are considered experts within their field and have extensive training in and experience with our entire portfolio. They are able to fulfill installation requests for the most sophisticated, demanding projects", says Morten Rosenkrands, Milestone's Head of Sales Excellence. "We looked at a whole range of criteria when we considered who to move up to the Diamond Level," Rosenkrands continues. "Customer satisfaction – how the reseller meets customer demands and deals with requests and needs in a graceful, punctual and professional manner - is one parameter. Another is how dedicated a partner is to growing a mutually beneficial relationship with Milestone, making a joint business planning effort with us to build relationships with new and existing end-customers."
What's in it for you?
"Diamond Partners get the unique opportunity to join the Milestone Advisory Board, as one of their Diamond benefits. The Advisory Board is the exclusive forum where experts exchange ideas and concepts regarding how Milestone should develop future products and services. Diamond partners come with a wealth of experience that can help Milestone gain insights on how we are perceived by partners in the market, which in turn will validate our strategic direction, " Rosenkrands says. "Milestone can use this input to further deepen and build our product and service offering, which benefits the Diamond Partners and the entire Milestone partner community."
A Diamond Partner's experience
Camsecure, a Johannesburg-based company specialized in surveillance, access control and other electronic security solutions for the top end of the market, has worked with Milestone since 2003. One of the original three Diamond Partners, Camsecure prides itself on large-scale and high-end security implementations.
"Many companies are unfocussed with regards to solutions, Camsecure is all about delivering consistent quality to high-end customers who want the very best," says Camsecure's Managing Director Francois Malan. "We have seen other brands come and go, but Milestone remains a constant."
He continues: "Milestone is one of the pillars on which we have built our business and our relationship has always been a tight one: We've grown the market with Milestone locally and become a global player using the expertise and products that come with the Diamond partnership. We benefit from Milestone promoting us and make sure that we always have the training and skills needed to sell and use Milestone products."
Become a diamond
"Selected resellers receive a personal invitation to become a Diamond Partner," Rosenkrands says. "There is no formal process set in stone for this, each Diamond Partner is hand-picked based on a set of qualitative criteria and existing partners are reviewed on a yearly basis," he continues. "We invite interested resellers in all regions to reach out to their contact person in Milestone to begin planning joint activities and target setting – the first steps towards attaining the Diamond Partner label and benefits."
Find more information about the benefits and requirements of being a Milestone Diamond Partner here