Fortalecimiento de nuestra oferta de producto VMS avanzado
вторник, 4 октября 2016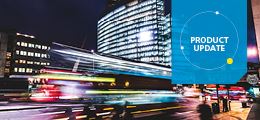 Автор: Kimberly Sallingboe
Product News
Our third product update of the year includes a number of enhancements designed to reduce the overall total cost of ownership for end-customer installations, improve overall system performance and increase operational efficiency and system security.
Reducing total cost of ownership
XProtect® 2016 R3 introduces support for H.265, a video compression standard that potentially will prove to be 50% more efficient than H.264. This increased efficiency translates into concrete savings for XProtect customers, including up to 50% savings on network infrastructure, video storage costs and hardware costs, the latter due to the fact that customers can run more cameras per XProtect recording server.
For resellers, this means they can offer a more cost competitive solution when they offer Milestone, and they can be confident that Milestone installations can efficiently handle the latest, high-resolution camera technology. The rising demands for high quality video will not have to mean a higher TCO for the installation.
Continuing in the vein of reducing storage costs and balancing hardware needs with the desire for high quality video recording, XProtect 2016 R3 also introduces Scalable Video Quality Recording (SVQR). This new, patent-pending capability helps end-customers make the most of camera-based edge storage, and works well for interconnected systems. SVQR enables customers to record high quality video using edge storage and record low quality video centrally. They can then retrieve the high quality video when needed, on an event-driven, scheduled or manual basis. In terms of cost reduction, SVQR significantly reduces the network traffic and central storage costs, as customers can store the high quality video using edge storage and decide when they want to retrieve it. This also provides a secure way of capturing high-quality, pre-event recordings.
Improving system performance
As an additional means of optimizing system performance, XProtect 2016 R3 also includes a major enhancement to the video recording process. The new dynamic pre-buffer capabilitykeeps the video pre-buffer (used for event- and motion-triggered recording) in RAM instead of writing it to the hard drive. This change means a dramatic reduction in the read/write operations to the disks used for video storage. It significantly reduces the wear and tear on the hard drives, extends their lifetime, reduces energy consumption and increases the number of cameras an installation can have per recording server. All of this translates into a dramatic reduction in the cost and effort required for storage maintenance.
Increasing operational efficiency
XProtect 2016 R3 includes Smart Maps, a brand new map function that supports geo-navigation between sites. Smart Maps complements the existing map functionality and operators can seamlessly drilldown into the existing maps. It offers native support for GIS and CAD maps, as well as support for online navigation services like Google, Bing and OpenStreetMap. Integrators can take advantage of the CAD support to import CAD drawings made during the scoping phase of the project directly into the system. The Smart Map environment is easy to use and work with when configuring the system, which should save integrators time when installing a system.
On the customer side, Smart Maps will assist alarm and command centers in navigating to incident locations, enabling a faster incident response. Smart Maps currently supports all cameras known by the system, which means in an installation with Milestone Interconnect™, operators will be able to see all cameras in the interconnected system.
Increasing system security
With increasing concerns about cybersecurity, we are pleased to announce support for Kerberos, an authentication protocol that provides strong, encrypted user authentication and communication flow. This will be a strong selling point when proposing Milestone to end-customers requiring high system security.
In addition to Kerberos support, we have also developed a System hardening guide to help our partners optimize Milestone systems to meet end-customers' cybersecurity needs. The guide outlines best practices for system design, operating system configuration, servers and workstations and the Milestone VMS. It also contains input on cybersecurity policies, risk evaluation and mitigation. Download the guide here.
Find out more about XProtect 2016 R3
Product Update Highlight Recording