IMAGINE THE DIFFERENCE.
INNOVATE CHANGE.
Milestone's Community Kickstarter is an innovation contest to inspire you – coders, developers, individuals or organizations to connect ideas and innovate.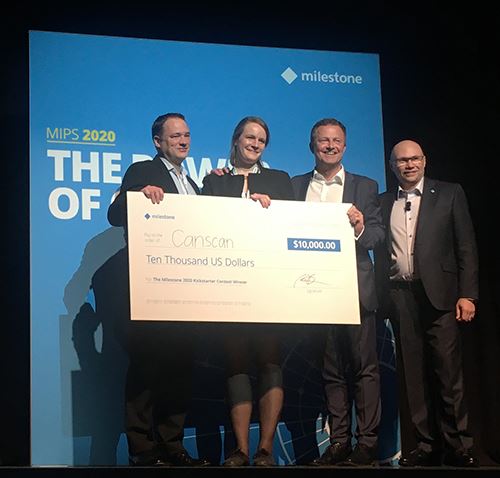 Jennifer Ivens
Representing Canscan, Canada
Jennifer Ivens, founder and CEO of Canscan from Canada is this year's winner of the Milestone Community Kickstarter Contest 2020. Jennifer and her team submitted a project called Virtual Checker and presented it to be the next-level shipping container checking system, powered by artificial intelligence.
Canscan has developed a patent pending system, based on artificial intelligence, machine vision and data analytics that uses existing cameras and infrastructure to automatically inspect shipping containers transiting into or through terminals. The system will automatically clear containers that are fully compliant and can be safely fast-tracked, whilst isolating non-compliant ones that require terminal operators' full attention.
Jennifer and her team were awarded with $10,000 cash prize and $55,000 in development and marketing resources from Milestone Systems. Jennifer Ivens will be working closely with Milestone Systems in the coming year on finalizing the winning project, including completion of the integration with the Milestone Integration Platform Software Development Kit, getting the integration certified by Milestone Systems and bring the idea to market.
Think you might have the idea for the next big thing? Milestone Community Kickstarter Contest 2021 will kick off very soon – so stay tuned!
Have any questions or enquiries? Reach out at Kickstarter@milestonesys.com.
Want to learn more about Canscan?