November 09, 2020
In November 2010, Milestone hired a new CFO. Ten years later, Lars Larsen still holds the position and is just as excited about the journey ahead as he was when he took on the role. I sat down with Lars to hear about his background and his Milestone journey so far.
"I could've just as well ended up being a biologist"
When asked about his dreams as a kid, Lars laughs and says: "That was actually quite a journey!" He explains that he was very interested in nature and animals. "So, my first dream was to become a veterinarian. But then I got quite severe asthma and became allergic to animals, so becoming a vet wasn't really a possibility anymore," Lars says but his interest in nature was still there: "Then I started dreaming about learning how to look after our forests by taking a degree in Forest and Nature Management. That was something I really wanted to do."

But when it was time to choose what to study, Lars had a new plan. "I was very much into biology, micro-biology in particular, and thought I'd register at university to study that. But I had a good friend who was doing research in micro-biology and his research project at the time was closed down," Lars says and further explains: "Times were uncertain in the eighties and many of us were concerned if we'd actually get a job after university."

So, in the end, Lars chose his studies for practical reasons. "I decided to study finance, which I thought would be a safer choice," he says.
Lars graduated with a bachelor's degree in finance, and later an executive MBA, from Copenhagen Business School. During his career he has also taken executive leadership courses at IMD and Harvard. But what was his experience before joining Milestone? "I had been working in large and midsized companies in various sectors. I started out in finance, banking and insurance. Then in pharma and biotech at Novo Nordisk, when Novozymes and Novo Nordisk were still one entity," Lars says. He also worked for Olicom, Damgaard, Navision and Microsoft after its acquisition of Navision, but the last five years before joining Milestone, Lars worked at Carlsberg.
"I wanted to be a part of a growth opportunity"
Back when Lars joined, Milestone had around 200 employees. "Even at that time, the founders of Milestone had decided to invest in developing the leadership team, to an extent that I saw very visionary," Lars explains.
Lars regarded this as a clever vision and something he wanted to be a part of. "Previously in my career, there wasn't a focus on working collaboratively to develop leadership capabilities. It was mostly hardcore business operations at all times, so I was craving to join an organization where the development of leadership and empowerment of employees was high on the agenda," he explains. But being a logical and financial kind of guy, Lars did his research before deciding. "You could say that I did a thorough due diligence. Jesper Balser, one of the founders of Navision, was Milestone's chairman at the time. Having worked closely with Jesper, I knew, and agreed with, his values," he says. "I talked to him to find out if Milestone really represented our values." The growth agenda at Milestone was also important to Lars: "It was very appealing to me. I had made a lot of turnarounds in my career and I got many offers from equity funds after acquiring companies in need for a turnaround, but you can only do that so much. At this point I wanted to be a part of a growth opportunity, which energizes me."

While deciding to join Milestone, Lars also realized another thing that was important for him. "I had always worked for international companies. So, the international angle had always been around me, but I hadn't really considered it as something that I was looking for." At the same time Lars got the offer from Milestone, he was also offered prestigious positions at other larger companies: "But they were all Danish through and through, and I just couldn't see myself working for an all-Danish company. So, at the end of the day, Milestone's global focus was also a key thing for me."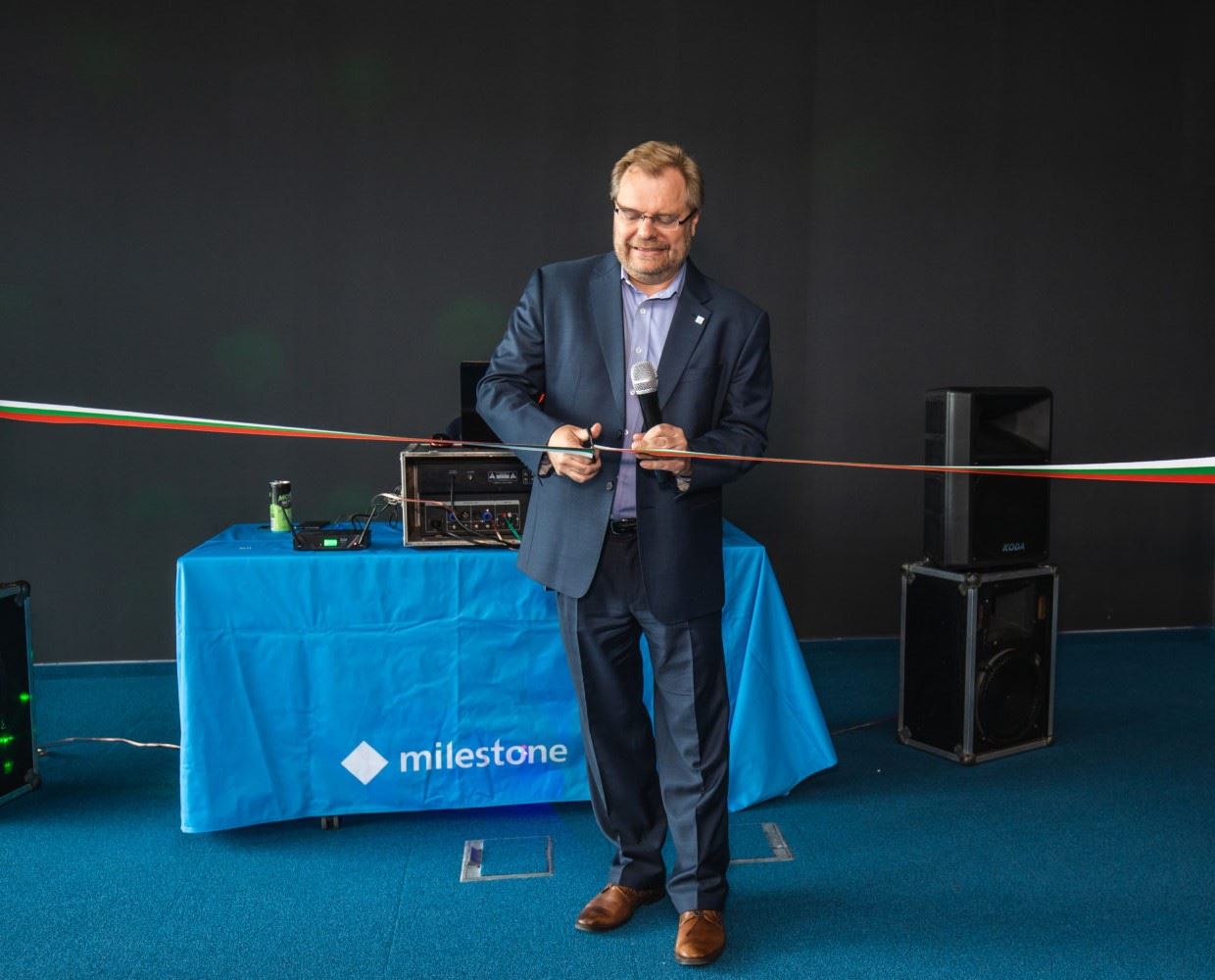 Lars opening Milestone's new office in Sofia, Bulgaria in May 2019
The obligation to stay relevant
When asked if he had any idea how long he would stay at Milestone, Lars explains: "I expected to stay at least five years because I was hired to help mature Milestone, either for an IPO (initial public offering) or to be sold, which later became the case," he says, referring to when Canon acquired Milestone Systems in 2014, less than four years after Lars was hired.

According to Lars, it's not possible to make very long-term career plans. "Personally, I don't try to look more than 4-5 years ahead. I don't think you can anticipate what will happen further ahead or make very long-term career plans," he says.



However, Lars believes that there's a certain obligation related to this for us all: "There's one thing we can all do, and I try to do myself. It is to continue to develop ourselves, to stay fit professionally and make sure that our market value is as high as possible. It's about maintaining our relevance," Lars explains and adds: "I think this is an obligation we all have as individuals and as employees, but also an obligation for leaders to make sure that their team members have the tools and support needed to develop in order to stay relevant and up to date."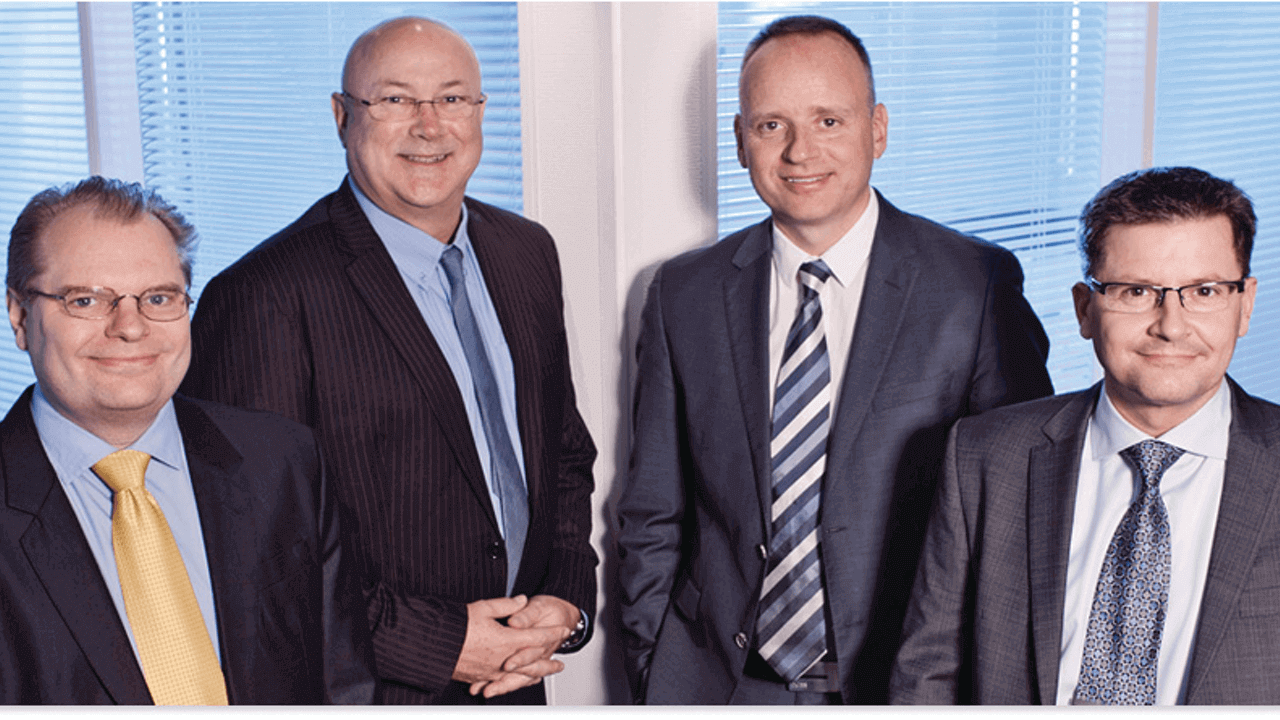 The Executive Management Team in 2014 when Milestone was acquired by Canon. From left: Lars Larsen, Eric Fullerton, Lars Thinggaard and John Blem.
"What have I gone into now?!"
Lars explains that the reasons he's still with Milestone after ten years are mainly the same as why he joined in the first place. "We still focus on leadership and values. We are focused on keeping the entrepreneurial spirit, even though we're a growing company with an ambitious growth agenda. We have a strong purpose and I can still see myself being a part of a company that makes the world see," he says and continues: "We are still an international company, more than 70 nationalities globally, and I'm proud to be able to tell my friends that in the Copenhagen office alone we are more than 40 nationalities." The diversity at Milestone gives Lars pride and energy: "I truly believe that it makes us a better company."



Although all these reasons are still valid, Lars quickly admits that some things have changed in the past ten years. "I officially started on November 1, but a couple of days earlier I attended an offsite budget meeting with the executive management team, or EMT, which was a good way to start learning about the company," Lars recalls. "During the meeting we discussed investments down to pretty small amounts and, at times, we were basically discussing who should get a new computer, who shouldn't and why! Coming from Carlsberg, where we were discussing very large investments, I couldn't help but think "Wow, what have I gone into now?!" he explains and adds while laughing: "Luckily, the EMT isn't discussing these things anymore!"

Lars says these changes, and others, have been a gradual journey. "We've had to continue to let go of some things, and to empower the organization even more, which is something that I've been an advocate for. Now I'm the only EMT member left who has gone through this journey and new members will have a very different experience." However, a successful growth agenda also brings changes: "I think we've gained more professionalism and a growing number of employees calls for increased bureaucracy. But I think it's important that we are conscious about it and choose what works best for us rather than automatically becoming a bureaucratic big business. It's not always easy but I think we are doing it well."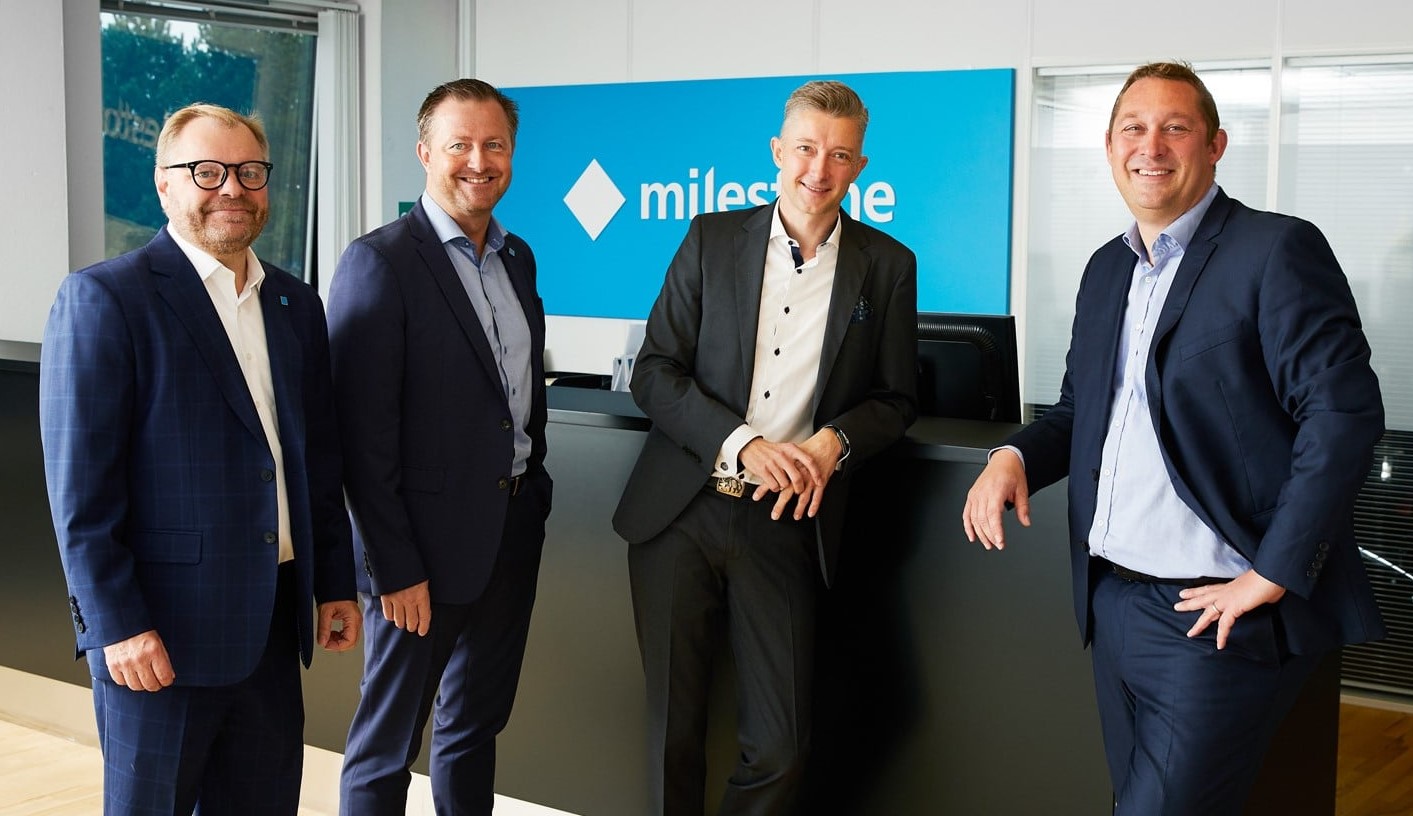 Milestone's Executive Management Team in October 2020: Lars Larsen, Kenneth Hune Petersen, Thomas Jensen and Bjørn Skou Eilertsen
Gunnlaugur Bragi Björnsson
Global Communications Associate
Ready to see what we have to offer with smart video technology? 
Book a demo