April 23, 2021
Autodidact web developer, servant leader, motorbike enthusiast, and child of the sea: Milestone Director of Platform and Architecture, Magnus Rask Detlif, is easy to pin down but impossible to pigeonhole. He wanted to become a ninja but ended up spearheading one of Milestone's biggest strategic initiatives to date. Here, Magnus tells his story about following your heart and starting a new job during the COVID-19 lockdown.
"I was born and raised in Kalundborg, an industrial town on the west coast of the Danish island of Zealand. My childhood revolved very much around sailing. My parents were passionate sailors and that meant that my siblings and I were introduced to the joys of the open sea at an early age. We would get out there on everything from small sail dinghies to wooden schooners.

My family was typical for the 70s, meaning happy and all over the place. As was the trend at the time, my parents divorced, found a new special someone and remarried, which means that I now have an older stepsister and a younger stepbrother in addition to my biological big brother.
The alternative would have been completing the last year of my engineering studies, which included a textbook in German solely about ball bearings, so the choice wasn't hard to make.
"After I graduated from high school, I was drafted into military service and spent the next two years in Sønderborg and Næstved as a sergeant. I then moved to Copenhagen to study production engineering. This was in the late 90s where the internet and the dot com industry was skyrocketing, and my interest soon started to move in that direction. So, when in 2000 I got the opportunity to work as a web developer for DR (a Danish television network), I jumped at it. The alternative would have been completing the last year of my engineering studies, which included a textbook in German solely about ball bearings, so the choice wasn't hard to make. I left engineering behind and have since worked with software development and digital products.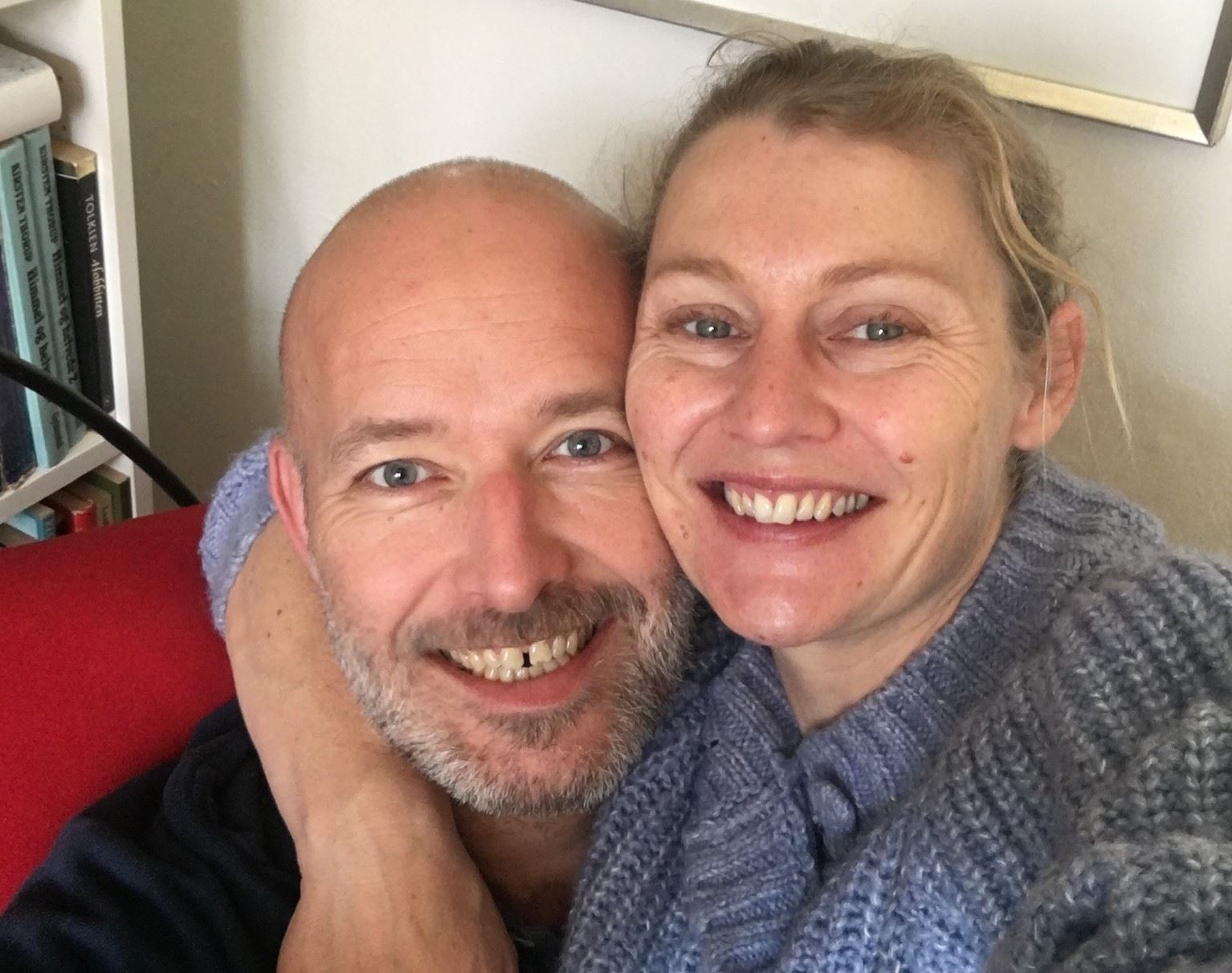 Magnus and wife Katrine. A superwoman capable of solving any problem, according to Magnus.
Today, I live in Svendborg, a nice maritime city on the island of Fyn, together with my wife Katrine and our two youngest children, Anna (13) and Anton (11). The eldest, Emil (23), is studying in Copenhagen. A worthy sixth member of the family is our labradoodle Valdo, my loyal running partner.

When I'm not out exercising with Valdo, I spend my spare time listening to audio books, learning about new gadgets, and enjoying the company of family and friends. I also like to travel. Our family has a house deep in the Swedish forest and an apartment in Berlin that we love to visit for quiet getaways or city breaks.

And then I've had motorcycles most of my life. Not that anything has ever happened, but when you're riding a two-wheeler with a lot of horsepower, it's nice to know you're married to a woman who's part nurse and part superwoman able to handle any situation."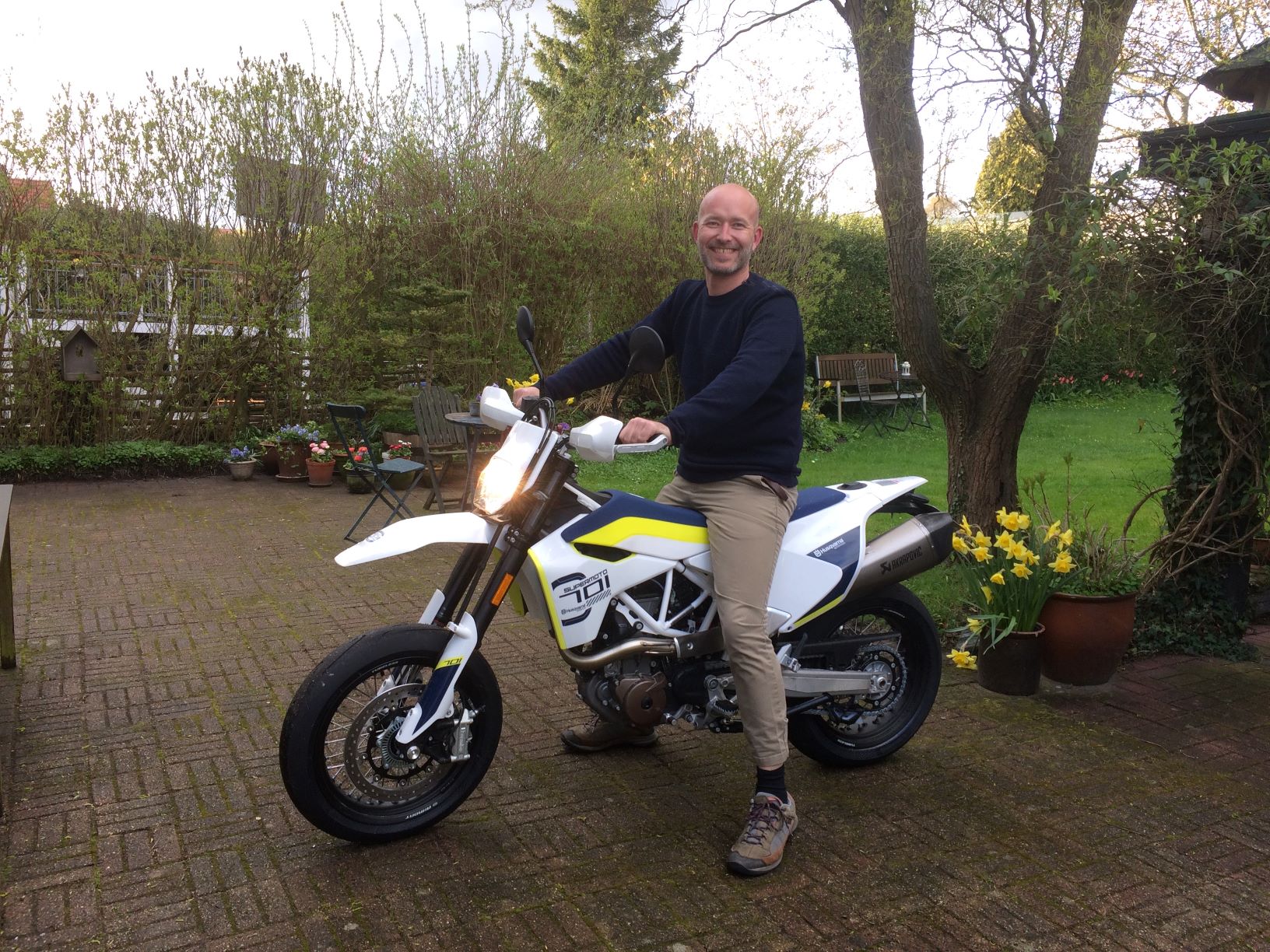 Today, Magnus prefers the open road over the open sea. Here, he poses with his supermotard.
Creating digital products is a bit like building LEGO models.
"I've been working with Software and Digital Products for more than two decades now. I'm an autodidact, I'd say, since it's been learning by doing from day one. My dream wasn't always to work with IT. When I was very young, I wanted to become a ninja. Rentable VCRs had just hit the market and I watched all the American ninja movies that I could get my hands on. Later, I thought about becoming a commercial artist or an army helicopter pilot – very similar trades, right? I wasn't interested in IT at the time, so it was never an option even though both my mother and my stepfather had IT-related jobs.

But now IT is a shoe that fits me very well. I've always been drawn to creativity and I enjoy the relative short path from idea to creation. Creating digital products is a bit like building LEGO models. You need to be able to imagine the outcome you want and then combine the right parts in the right way. I don't code that much anymore, and I sometimes miss the feeling you have when you're in the zone and you're channeling your thoughts into lines of code."
It was an exciting journey and very interesting to be in the center of the disruption of the old value chain of broadcasting.
"I worked in DR from 2000 to 2008 as a full stack web application developer — the last years as a team lead for a media production digitalization project. In 2008, I started at TV 2, the largest commercial network in Denmark. My title was video project manager, and I was hired to modernize and relaunch the streaming service TV 2 Sputnik.

Back then, TV 2 had somewhere between 5,000 and 10,000 subscribers and I had four developers reporting to me. When I left 11 years later, subscriptions had climbed to 600,000 and my department had grown to four engineering teams responsible for backend, frontend, apps, subscription management, logins etc. It was an exciting journey and very interesting to be in the center of the disruption of the old value chain of broadcasting.

TV 2 was a fun place to be with a lot of opportunities. During my 11 years there, I became Head of IT with responsibility for BI, data insight and application development. I was also Head of Contacts, Architecture and Strategy responsible for technical procurement, enterprise architecture and technology strategy. When I left TV 2 to join Milestone, I was Senior Director and technical responsible for the streaming service – now named TV 2 PLAY."
My initial response was: What is Milestone?
"Technology choices, strategy and architecture have been key focus areas in my many different roles. So, when asked if I wanted to join Milestone, it was a clear "yes, of course." Milestone seemed like the right opportunity to try something new where I could learn and grow while using most of my competencies and experience within software development/digital services/video, architecture, cloud transition, management and so on. I also wanted to try working in a company with an international focus and with software as its main product. However, that was my follow-up reply. My initial response was: What is Milestone? I didn't know Milestone from before, so I had to research and learn about this global VMS (video management system) superstar that for some reason seemed relatively unknown here in Denmark.

Shortly after I started my new job at Milestone, COVID-19 hit. The travel restrictions and the working from home guidelines meant that I couldn't go to my office in Copenhagen or visit my cloud teams in Sofia. There's probably never a good time for a lockdown, but this was really bad timing for me.

I spend most days looking at a grid of faces on the monitor in my basement. I balance my time between product architecture, leading strategic initiative and leadership tasks. Daily to-dos include agile rituals, workshops, planning, diagramming, meetings with externals, management meetings, sounding board sessions, meetings with the executive officers and 1:1s. I also have a lot of focus on hiring as we are ramping up more resources for cloud. It is my highest priority to find the right people to be part of this journey. And even though I have a nice home office, I truly miss being together with my colleagues face-to-face.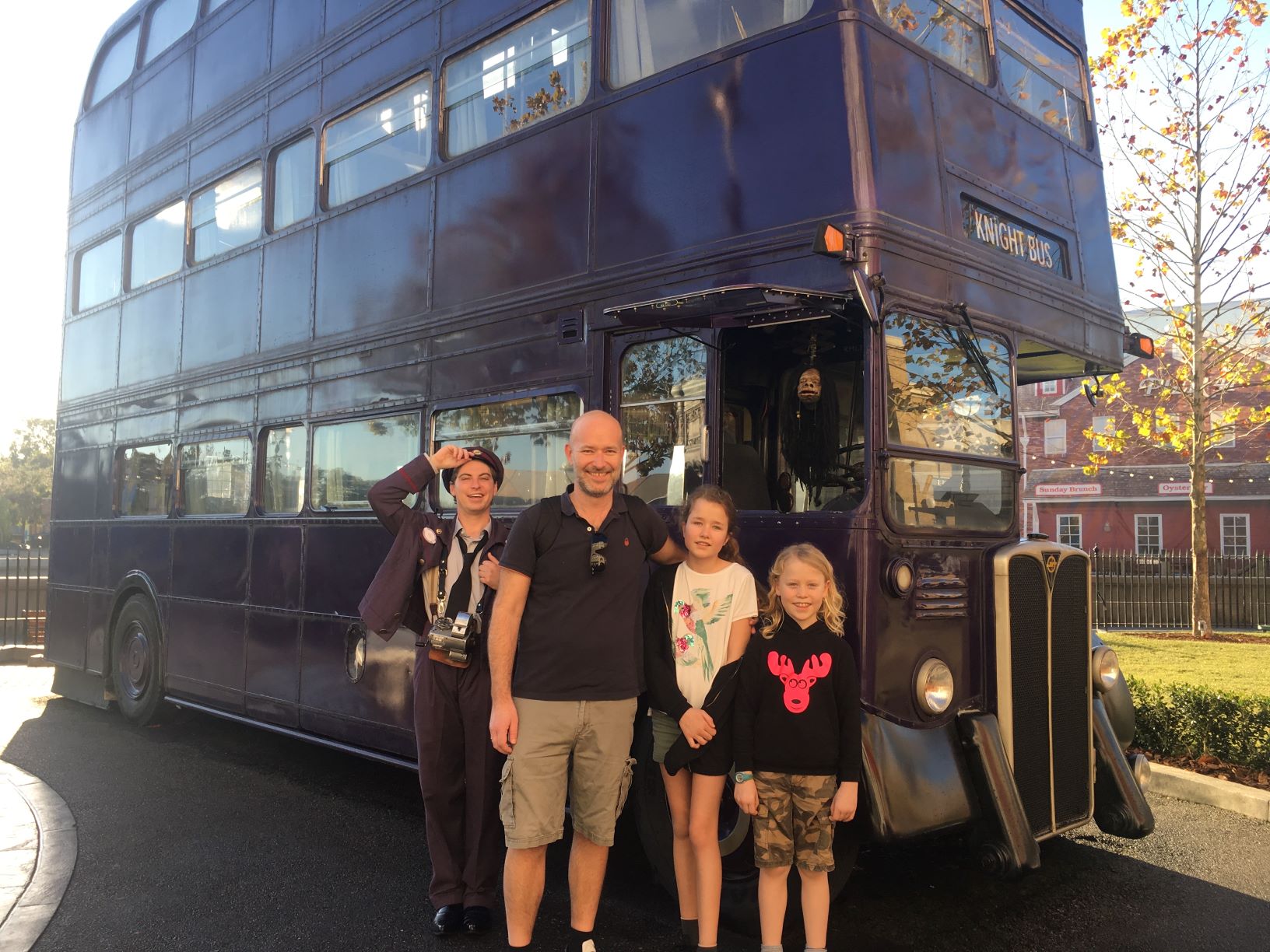 Magnus with Anna and Anton on their way to visit Harry Potter.
But every cloud has a silver lining. On the plus side, I've been together with my family more during lockdown than I've been able to for the past many years. Even with the added stress – my wife has in periods been working in the local hospital's COVID-19 unit and my kids have for the most part been at home – I think we've managed very well. And I've realized that I actually like spending time with all of them, which is very nice to know. Even so, I can't wait for things to return to a 'new' normal."
In the cloud we stand on the shoulder of giants.
"It is sometimes said that cloud is just a computer somewhere else. But it is such much more. With cloud you get scalability, security, a huge set of tools and more. Cloud enables you to serve a scalable number of customers with SaaS (software as a service), which makes development much more agile. You can also receive and react on feedback much faster. The result is better products with less complexity and friction for the customers.

As an example, we achieved a development speed and scalability capability in TV 2 that would never had been possible if we stayed on premise. We had to be able to manage sudden spikes in users during sports games or breaking news stories. We were often looking at increases in users of a factor of more than 200 within a few minutes.

I think it will be difficult for a software company to stay competitive if it doesn't utilize cloud and implement modern architecture and continuously deliver improvements. This is the thinking I'm bringing with me to Milestone. We're on the journey to cloud and it's my firm belief that we all have a role to play.

We have a strong product with XProtect®, our video management software, and we're building the capabilities to connect our offering to the cloud to provide customers with extra convenience, flexibility and value. At this stage, we're focusing on connectivity, stability and security. It's important we provide a foundation that both our partners and end-customers feel comfortable building upon.

Working with cloud and products as a service requires focus on the operations in the early stages of development in order to accelerate the software delivery and get the most value out of the cloud. Reliability, performance metrics, usage tracking, and cynical code are the keys to success."
My most important task is to create the best possible environment for my teams.
"To deliver in your role as an architect, you need to have a wide technical understanding often combined with areas where you have more detailed insight. In other words: You have to be a generalist and a specialist at the same time. Most importantly, you need to be passionate about the product and business as well as the technology.

As a leader, you also need to be able to facilitate, communicate and present. Because the real architecture is actually not created by the architects. It's the result of teamwork across functions. Our colleagues from Engineering, for example, develop the software while our colleagues from Business and from Marketing support the product architecture and direction.

I would argue that my most important task is to create the best possible environment for my teams and colleagues so that they can set the right direction for our architecture and our place in the cloud. It takes a lot of great minds to figure this out. It's not something one person can do.

There are definitely areas of leadership that I find more difficult than others. For example, I am not as good at celebrating and recognizing achievements as I would like to be, and I can get noticeably impatient when I feel slowed down by processes and activities that are not directly helping to get the job done."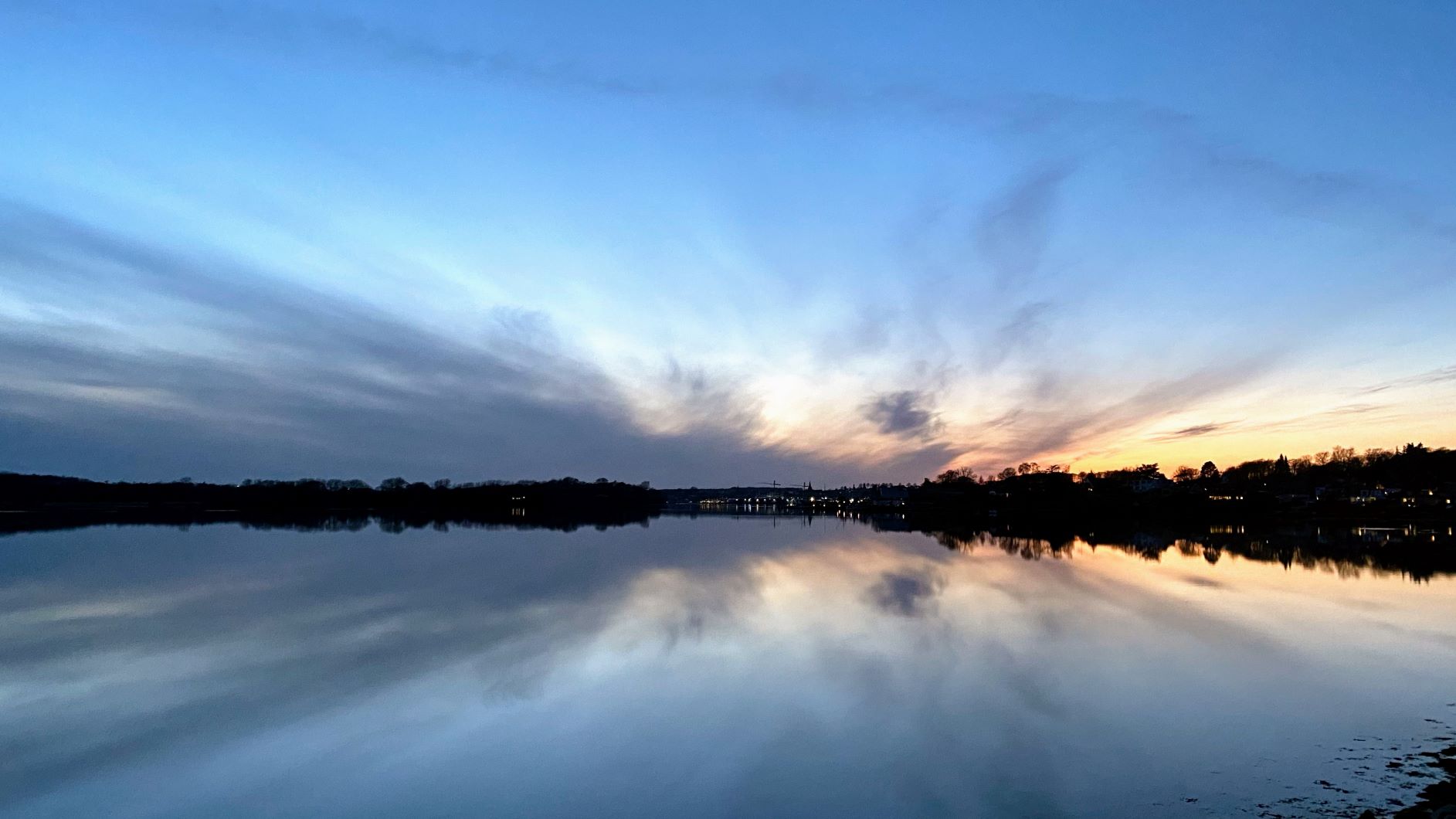 Magnus is an avid runner during lock-down. This photo was captured during an evening jog around Svendborg.
"I was not aware of the strong people first culture when I joined. This has been a very pleasant surprise. I'm still trying to get used to the number of employee awards after 20 or so years in companies with no such tradition. Milestone has a strong culture in celebrating achievements and it's clear that people deserve and appreciate the recognition.

There's a real passion for the product we are delivering. Milestone has a good mix of people, many who have been in the company for several years and know its history. They feel a strong sense of ownership and pride in the product. But we also have many fresh new faces that offer new points of view and bring in a lot of energy.

Milestone is very diverse and it's not unusual to work in teams of five different nationalities. Something I find very inspiring plus it does wonders for the group dynamics."
Ready to see what we have to offer with smart video technology? 
Book a demo