September 30, 2020
On October 1, Thomas Jensen will assume the role of Milestone Systems' Chief Executive Officer. I sat down with Thomas to get to know him, his background and why he's joining Milestone.
"It all started in 1973," Thomas Jensen says when asked about himself and where he comes from. "I was born in Aalborg, in Jutland in the northern part of Denmark, where I lived for four years until my parents decided to move to Randers, a smaller town south of Aalborg." Thomas lived in Randers for the next 14 years and went through his compulsory education. Although enjoying his life in Randers, Thomas always felt drawn to Aalborg. "So, I moved back to Aalborg at 18. First to serve my military duty and after that to study," Thomas says.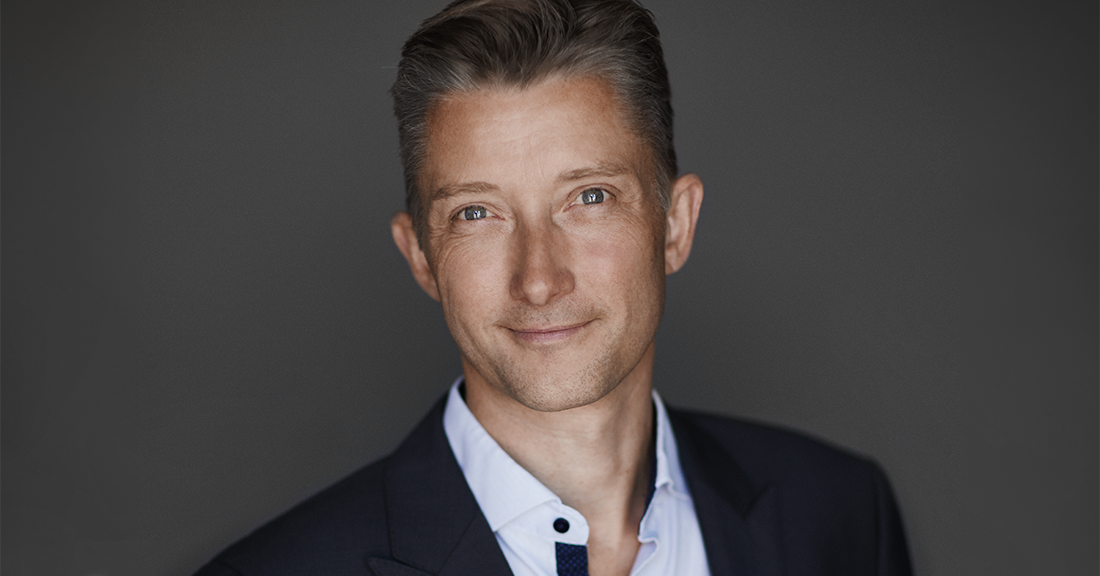 I wanted to become a bank director
When I ask Thomas about his childhood dreams, football is the first thing he recalls although he never became too serious about it. "My tactical mindset may have been okay, but I realized that I didn't have the technical part to match the mindset nor the skills to become a professional footballer. So, I had to get over that dream fairly quickly," he says with a laugh.
But like any other kid, the next dream was soon to be born. "As a kid I also thought I wanted to become a bank director when I'd grow up. So, in elementary school I spent my internship week at a bank. But when I saw that the job was all about financing, numbers and math, it suddenly wasn't as appealing as before and I dismissed that dream quickly as well," Thomas explains.
Having put the childhood dreams behind him, Thomas entered the world of international business as he began studying at Aalborg University. "The first year was an introduction to all the elements of the social science. After that I decided to dive into business studies, doing a bachelor's in economics and then master's in international business economics." But initially Thomas wasn't completely sure which path within social science to take. "I was actually pretty torn. One of the things I really liked during my first year was labor law and the legal part of social sciences. I was very interested in the rationality behind the legal studies and the things that drive society and social studies in general," Thomas says and adds that in the end two main factors affected his decision: "First, I realized that with a degree in social science, most of the jobs would be in the public sector. Public administration is a very important part of our society, but I just couldn't see myself purely working in Denmark. And then it was the legal side. I found it too black or white, yes or no. I never saw a maybe or 'let's see how we can tweak it and find the right compromise.' Reading some paragraphs and making a decision solely based on that goes against my human belief but I still have a great passion for it, and I love a good legal discussion around contracts and such," he says with a laugh. S
o, Thomas also started considering how he wanted to spend his life.
From Aalborg to Copenhagen, via Australia
"After I graduated from university, I moved from Aalborg to Copenhagen. Few years earlier I would have sworn that I would never move to the city and be surrounded by all those Copenhageners, I was too much of a Jutland-boy at that time!" Thomas says and smiles. But during the last semesters of his studies, Thomas realized that being soon to graduate with a degree in international business, he might have to look beyond Aalborg. "International business wasn't big in Aalborg back then, except in fishing or concrete," he says and adds with a laugh "or akvavit!" So, in the beginning of 1999, Thomas moved to Copenhagen, but his international experience had already started by then: "While I was studying I did a job for Nilfisk which brought me to Sydney, Australia, where I worked for six months."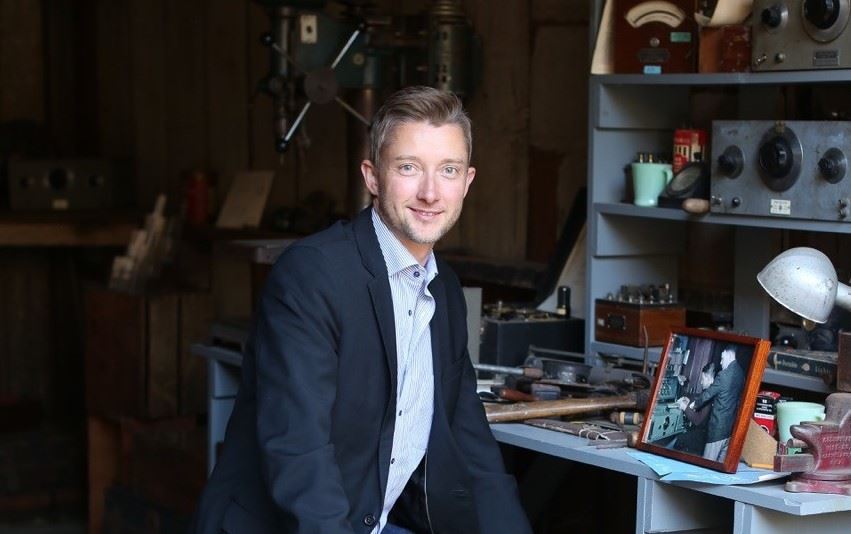 Thomas at the HP Garage in Palo Alto, often referred to as the birthplace of Silicon Valley, where Bill Hewlett and David Packard founded HP in 1939.
After working in Copenhagen, for companies like HP, Maersk and Vestas Wind Systems, for over a decade, Thomas was offered the role as Vice President of Worldwide Channel Sales and Strategy at HP in the United States. "Despite over 15 years of working internationally, my international living really started when HP offered me the position in the US, and I moved to Menlo Park in the Bay Area of California. It's a nice little town, around 60 kilometers south of San Francisco and a neighboring town of Palo Alto, the birthplace of Silicon Valley." After five years in the US, Thomas got a new opportunity and went back to Europe. "Having been in California for five years, I realized that if I was going to go back to Europe at some point, then the job I was offered was ideal," he explains and refers to the position of Executive Vice President of Bechtle, Europe's largest B2B IT service provider. "Bechtle more or less gave me a free rein on where I wanted to live so we've been in Barcelona for the last two years," Thomas says and adds: "I had actually expected to be there for another two to three years, but now I'm heading back to Denmark."
Many things work well in Denmark
When asked how it feels to be moving back to Copenhagen after two years in the Catalan sun, Thomas laughs and answers quickly: "That's a double-edged sword!" But it's clear that he's excited about what's to come. "I'm very motivated to get back to Denmark to work for Milestone, a company I've had a great interest in for a while," Thomas says and explains that he started paying attention to Milestone around the acquisition by Canon Group back in 2014. "Canon is obviously in the same industry as I was when I was with HP, so you could say that I've been following Milestone on the sideline since."
But back to Thomas' feelings about moving back. "Let's put it this way: It's not the weather that brings me back to Denmark and not necessarily the tax level or the lifestyle. Because honestly, if I look at these three metrics, Barcelona is leading by far. But joining Milestone was more than strong enough to bring me back to Denmark," Thomas says and adds with a grin: "Did that answer your question?" Despite some clear differences, Thomas says he loves his home country and that he looks forward to settling back in. "It's a beautiful country. I've enjoyed every visit to Denmark while living abroad and I will enjoy moving back home, and being closer to my friends and family," he says. "However, I also want to maintain the outside perspective. I sometimes have difficulties with the Danish mentality, the mindset that can be explained with the Laws of Jante," Thomas says and refers to Janteloven, a literary element sometimes used to explain the egalitarian nature of the Nordic countries. "It's something that's a part of our culture but my international career has shown me that there is so much more out there, and I believe we should embrace that," Thomas explains.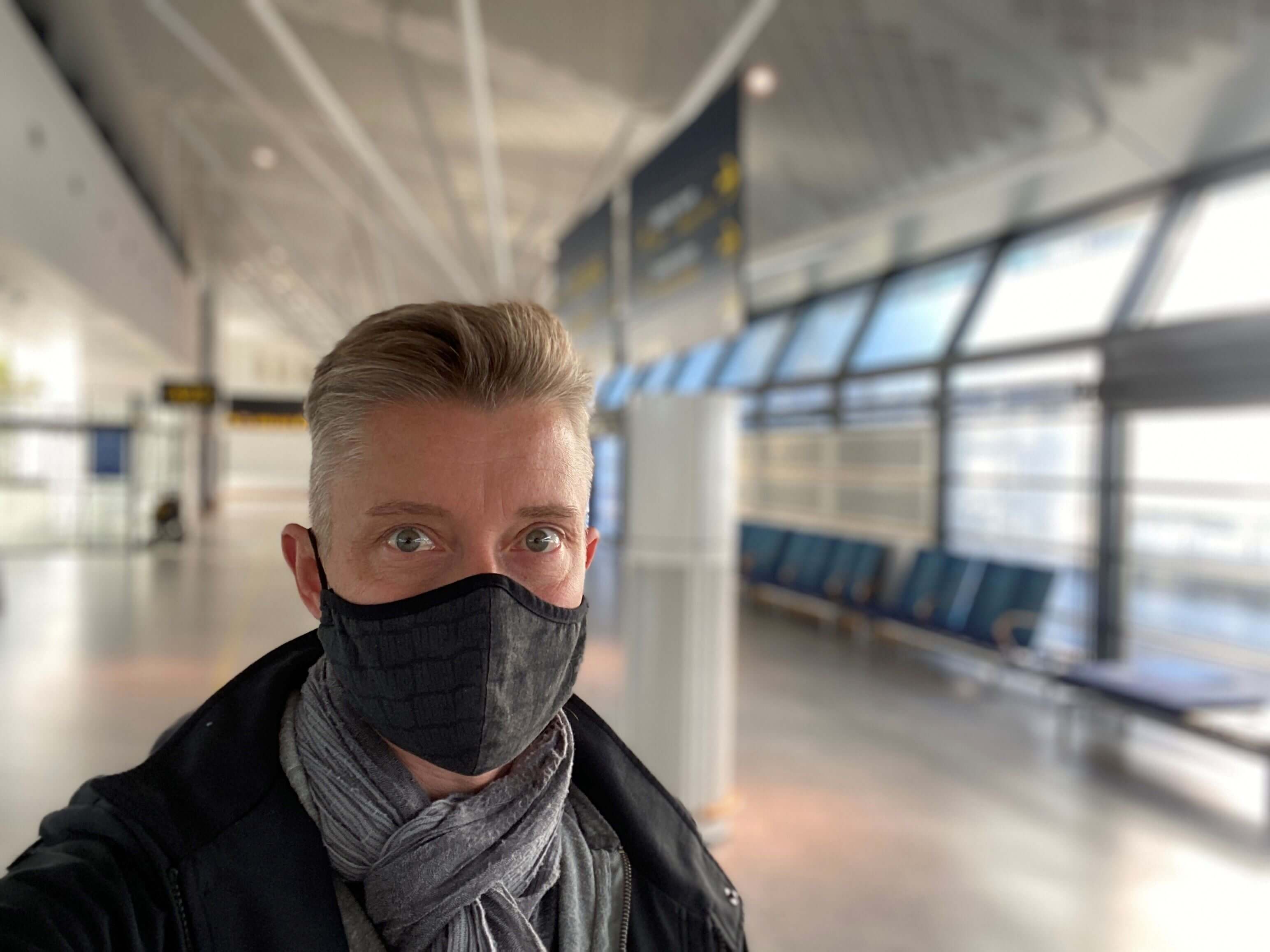 Thomas arriving at an unusually empty Copenhagen International Airport, September 2020.
The past months have forced us all to reevaluate and adjust. Thomas says that COVID-19 has in many ways been eye-opening. "There's no doubt that you realize that many things work well in Denmark and Northern Europe, that might not work so well in other countries," he says. "I've also seen how bureaucracy becomes even harder in times like these, especially when you live in a country where you don't speak the language that well. We tend to complain about the bureaucracy in Denmark and how difficult everything is, but the past months have shown me that it's actually not that bad and I think you can see it clearer when watching it from the outside," Thomas says and adds "On the flip side, I am also surprised to see how 'lightly' the Nordic population has approached the situation. Having lived in one of the hardest hit countries in Europe, you appreciate and reflect more on the need for preemptive measures, like face masks, hand sanitizer, keeping your distance in public, and so on. Since I arrived in Denmark, I've been surprised to experience how hard it is for me to keep distance, for instance in the supermarket, because Danes seem to go about life like COVID-19 never happened."
When asked if any of the recent changes will remain as the world recovers, Thomas doesn't need to think for long: "Some of the impacts are very positive and show us that we can do some things better and more efficiently. However, I also think some things have to go back to the way they were." Thomas says and further explains: "I was used to be travelling 50 percent of my time. Suddenly going from always being on the road, to sitting in your home office all the time was very different for me, but I learned a lot from it." Thomas says that not being able to travel has showed him how he could've been working smarter in the past. "We can do so much remotely. Instead of being on the road all the time, I probably could have limited it to 25 percent of the time. But we also see that the human connection can't be beaten by virtualization," he says. "The relationships and the way that we make agreements and great progress face to face is absolutely crucial," Thomas explains.
To change Thomas' routine even more, he also had an important dialogue going on with Milestone. "In the midst of the lockdown, I spent three months talking to Milestone. It was of course very motivating but also stressful, especially when you reach the point when you know what's going to happen but you also have to keep focusing on your current job until all formalities are in place," Thomas explains. "That being said, if you have to be in a lockdown, and you happen to have a little garden or a terrace, then Barcelona is definitely not the worst place to be."
Balance is to make sure you have time to do what you enjoy
By now, most can agree on the importance of work-life balance, or simply balance. When I ask Thomas about his views on the topic and how he keeps motivated and in balance, he answers quickly: "The thing with work-life balance, and balance in general, is that it's individual. We're all different so for some it's easy to keep balance while others may struggle with it. I get a lot of heat from some of my friends who think I'm in the wrong balance because of my extensive travels, but I think I'm very often in the perfect balance!" he says and chuckles.
Thomas explains how he tries to keep his balance by doing jobs he likes, working out and spending time with Juliette, his daughter who is 11 years old. "For me, balance is doing things I enjoy. I play golf, I love to travel, and I do jobs that I enjoy. I refuse to have a job that I'm not happy with, then I'd much rather move on. But what's most important for me is that I have time for my daughter, and that I can focus on her when she's with me. That way we can do things that she loves to do, as long as it's not always related to modern electronics which she loves more than she should," he says with a smile. "But it's also important to me that I have time to exercise. I typically refuse to do very early morning meetings and some people actually think I have troubles getting up in the morning," Thomas says. "I have no issues with getting up early, but the mornings are reserved to exercise which is a big part of how I keep my balance."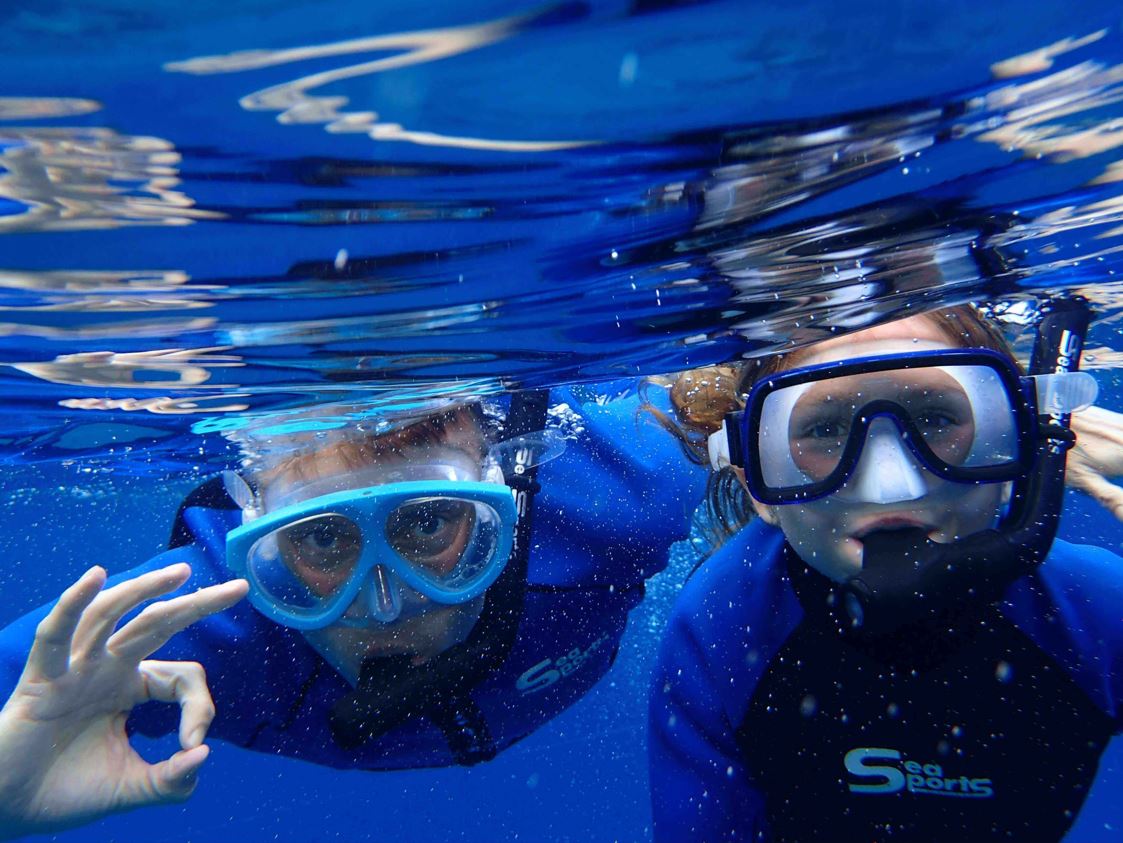 Thomas and his daughter, Juliette, during a snorkeling trip to Hawaii in 2017.
But for Thomas, balance is not only about doing things he enjoys. "Balance is also about selecting and deselecting. I realized many years ago that staying healthy, while doing jobs with lots of travelling and frequent restaurant visits, requires some choices. So, a part of my balance is to deselect some of the things I eat and drink, while still doing things I enjoy. I'm very passionate about wine and I won't say no to wine, so instead I skip some other things," Thomas explains.
The culture is a core advantage
Now to the big question: Why did Thomas decide to join Milestone? "First of all, it's the company culture, and the company position. I like the People First culture. I've been with companies that focus on their people without necessarily being truly People First like Milestone," he explains.
When asked about the industry, Thomas explains that he doesn't necessarily view Milestone only as a part of the video management industry. "First and foremost, Milestone is a software company. I see it as a security company in the surveillance industry with a foundation in the video management sector. For me, the technology of the future is definitely software driven. Security will be an increasing factor, and as a part of that, surveillance will be increasingly important," he says and adds: "With even more focus on data and predictive analytics, artificial intelligence, and so on, I see video management technology as one of the core growth drivers of the future." Thomas also highlights Milestone's importance beyond security: "Climate change, security, urbanization and other global challenges call for innovative solutions, and our technology is an important part of the answer," he explains.

It's clear that Milestone's culture had a major impact on Thomas' decision to take on his new role, but how does he view the company's main advantages? "The culture is a core advantage and a key differentiator for Milestone but our strength in products is a huge advantage as well," he says and Thomas explains further: "With that I mean our understanding of the products we deliver and the strong position we have in the market, a result of Milestone's quality over the past 22 years. If I look at all the LinkedIn invitations I've received and all the people congratulating me on the job while explaining how they've been Milestone partners for ten, fifteen, eighteen years, which says a lot about the brand and the quality of our products."

Thomas also mentions the open platform. "I think the open platform is a very important part as well. We are dealing with sensitive data, and I think it's very important that we have a stance, and drive through an open platform strategy," he says and adds: "But we also have a really big opportunity to drive the public opinion about surveillance and security and take even stronger position. We took part in starting the Copenhagen Letter, and we've done a lot in being open and transparent, with strong ethics and behavior, but I think we should do even more. We need to own the agenda and be a real thought-leader."

When asked about his previous experience and how he thinks it can benefit him as a CEO of Milestone, Thomas mentions diversity and experience from multiple industries. "I haven't spent my entire career in technology. I've been in supply chain, energy, procurement and multiple parts of sales and marketing, which has been the depth of my career, but I've also spent a lot of time in strategy and communication," he explains. "But also, my background in the intersection between strategy and execution. Setting a direction and partaking in driving the execution," Thomas says and adds: "That's something I think is a big asset, because we are going to face a different world, not just because of COVID-19 but also because of security needs and the new trade dynamics in the world."

Thomas also has experience when it comes to channels and partners. "On more practical notes, my last job for HP was running their global channel part and since Milestone is a fully partner driven company, having worked with another very strong channel driven company with thousands of partners is a match made in heaven," he explains.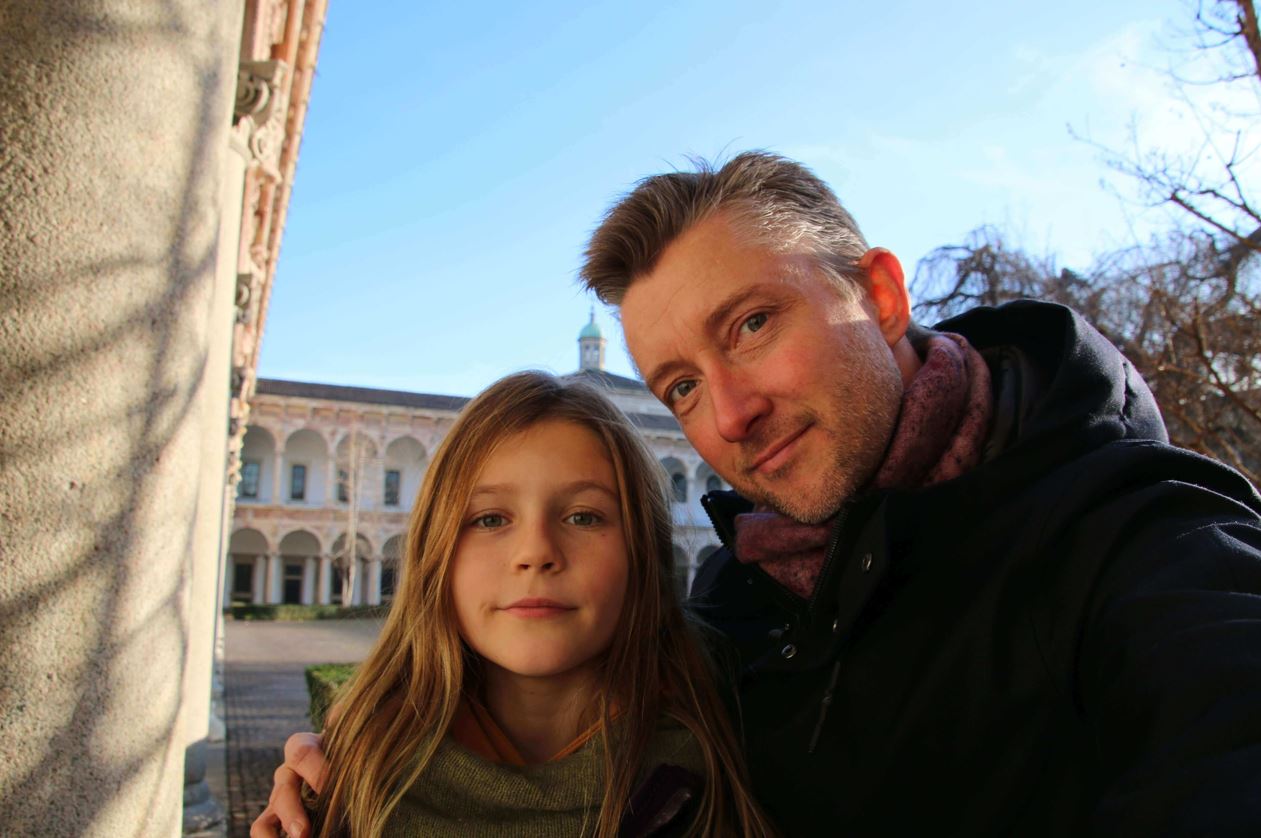 Thomas and Juliette when travelling to Italy in 2019.
The freedom to do your job
No two leaders are the same. When asked about leadership and what kind of leader he wants to be, Thomas doesn't have to think twice: "Generally it boils down to one question: Are you a leader or a manager? It's about if you trust your surroundings to do what they do best or if you control your surroundings to do what you tell them to do. The former is leadership and the latter management," Thomas says and explains that he has always preferred to have the flexibility and freedom to his job without being told how to do it. "Therefore, my leadership style has to be centered around giving the same freedom to others," he says and adds:
When it comes to decision-making, Thomas believes in being informed and direct. "I think the more informed you are, the more diverse perspective you get from your colleagues and peers, the better you are to support the right decisions. And therefore, I'm also fairly direct. I say things the way I see them, and I expect the same of others, regardless of their position or function," Thomas says. "Companies can't afford to employ people that don't fulfil a crucial function. Therefore, I believe that everybody has a voice, function and a purpose. Everybody is important and we're all entitled to our opinion."

Being a leader in a fast-changing world must bring some challenges. When asked about this, Thomas says: "Many things are challenging for leaders today. First and foremost, never in history have we had this many generations within companies at the same time before. That means, we have different generations with different preferences and different expectations." Thomas explains that this new reality brings challenges but also opportunities: "It gives us the opportunity to be more diverse and get more perspectives across the work we do. But we have juggle it, just take technology as an example: The way I use a PC is completely different to the way my daughter uses it. Somehow, we have to capture all of it, because we need the young generation with a different perspective on the future but also the experience of the older generation."

Another challenge according to Thomas is data and technology, which he says can be a catalyst for development in our society but believes can also become an inhibitor. "Everything these days is about data and the development of technological advancements which happens in very different ways. Some years ago, everybody talked about digitization. Now they say digitization is over and it's all about data and machine learning. But at the end of the day, all of it is a part of the journey and we need to find out how to juggle all these elements," he says. "On top of that, there is security and the fact that we expose individuals much more than we have ever done before. Our technology is a part of making that possible and therefore we need to be very, very responsible. At the same time, we're also seeing a huge demographic development in the third world, and rise of megacities, and we must figure out how to operate in a different world. That is a challenge, not only politically but also in regard to how we support the globe to be able to grow in general, not only in the old Western world because distributed wealth contributes to stability across the world," Thomas says before concluding: "And finally it's the environment. Something that is becoming increasingly important to us all and we all need to contribute."
Not replacing someone else
Finally, I ask Thomas about how he sees his new role and focus as a CEO. "My job is not to replace someone else," Thomas answers. "My job is to provide support, together with the rest of the executive management team and our various groups and functions. To tie the knots together and to ensure that we have the right strategic direction and the right foundation to continue our progress."
In line with Thomas' views on leadership, he emphasizes the importance of coaching and mentoring rather than giving commands. "I see myself as more of a coach, rather than somebody who stays on the sideline and tells the team what to do," Thomas explains and adds: "So, I'll be a part of the team, a part of understanding what we have but also to capture what happens in the markets so Milestone can continue to be a successful role model."
Gunnlaugur Bragi Björnsson
Global Communications Associate
Ready to see what we have to offer with smart video technology? 
Book a demo