June 08, 2020
It has been a long and hard-fought battle and will continue to be, even as we enter the next phase of the fight against COVID-19. I am very proud and deeply grateful to our diverse group of frontline heroes who have stepped up during this pandemic. From healthcare professionals, to workers in the transportation, construction and food and beverage industries, these frontline workers have played an integral role throughout the circuit breaker period. The past few months have seen the community coming together, through volunteer activities, advocacy groups, donations and I am very encouraged by these efforts.
In the realm of technology, it is interesting to see how video has evolved and taken on a bigger role in the fight against this pandemic. Video has also provided our frontline workers with some respite by increasing efficiencies and taking on labour-intensive tasks.
Applications such as thermal imaging cameras have been deployed at facilities such as airports, train stations and immigration checkpoints to quickly identify people with fever. Combined with video analytics capabilities, these active assets could process multiple individuals simultaneously, increasing efficiency and reducing manpower requirements.
Other innovative solutions include medical technologies that have been recently installed in the dormitories of foreign workers: such as telekiosks that facilitate video consultations with doctors. These kiosks are connected to devices which can monitor vital signs such as blood pressure, oxygen saturation and temperature. They also provide additional quick support for workers with COVID-19 infection and ensure that they have round-the-clock access to a doctor.
Other notable innovative deployments include
Spot
, the safe-distancing robot that patrolled some of the parks in Singapore. Fitted with cameras enabled by GovTech-developed video analytics, it can estimate the number of visitors in our parks! As it patrols, Spot also broadcasts a recorded message that reminds park visitors to observe safe distancing measures. As the robot is controlled remotely, less manpower is needed for park patrols, helping to minimise physical contact among staff, safe distancing ambassadors and park visitors. The same US robotic firm also produced a similar autonomous robot, teaching it to herd sheep in New Zealand.
Video technology has also allowed for the safe monitoring of infected patients remotely by medical staff. This reduces unnecessary exposure and streamline manpower resources through a centralised management platform, such as a Video Management System (VMS). In fact, some medical teams are starting to do patient rounds by remotely linking up through the VMS – at Nemours Children's Hospital in the US, usual teams of 14 medical experts can now be scaled down to three core members, with the rest of the team participating virtually.
While the discussion around the use of video in the fight against the pandemic continue, they offer us valuable lessons into what can be realistically expected from the use of these technologies and how we can best utilize them to our advantage.
Defining the role of video in pandemic management
A key lesson from the early deployment of video technology during COVID-19 for me is that technology never be taken as a 'one-size-fits-all' solution. What is reasonable to expect is augmentation of the human capability, rather than substitution.
A good example can be seen with the use of thermal cameras – although they can identify main symptoms of the disease (high fever in this instance), there are a wide array of external factors that will affect accurate results. These include visual field and target size, temperature of the environmental, physical exertion and several others.
Nevertheless, it provides for a much safer alternative compared to measuring temperatures manually with handheld devices, given that the latter requires close physical proximity during the temperature-taking process. The use of thermal camera is also less labour intensive, and gets the job done quickly and effectively. Operators are also able to measure temperatures at a safe distance due to its non-invasive application. Layering these capabilities with AI and facial recognition can also zero in on offsetting external factors and provide for more accurate readings. Video analytics can even be used to increase functionality, such as to measure and ensure social distancing between individuals.
At the end of the day, the healthcare professional or human expert still plays a key role in accessing and making effective use of the information provided by these technologies. Understanding the realistic expectations from such tools will help us to better apply them in our management effort.
The role of video in the new normal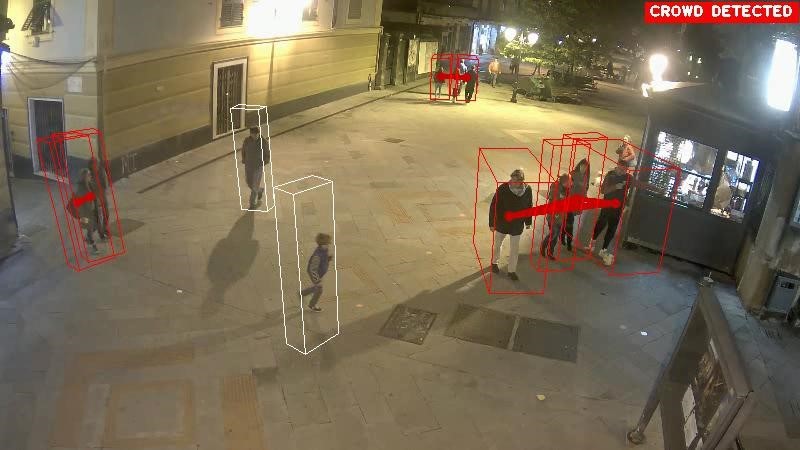 As nations start to ease restrictions and restart the economy, it is undeniable that things will not return to the normality we've been used to.
Many of us in Singapore are anticipating the re-opening of the economy over
three phases
that had been recently announced by the government. However, many businesses, especially those in the entertainment, F&B and retail sector will still have to ensure government-mandated social distancing measures are met, even as they resume operations.
Ensuring compliance with these new requirements will bring about a whole new set of challenges for these businesses; how do we prevent overcrowding? How do we keep track of each individual customer and ensure compliance with social-distancing measures? How should we address consumers should these measures stir up confrontation or incidents?
Modern video technologies have been developed to meet new challenges posed by the new normal.
Combined with an open platform VMS, the power of video provides a whole arsenal for us to tackle the challenges ahead. These include heatmapping and occupancy statistics, crowd counting for public spaces within retail or private sectors, distancing detection or even in the enforcement of one-way direction in retail outlets (such as the ones we see in IKEA).
With an open platform VMS, business owners will be able to regulate access from a centralised location and benefit from statistics and data gathered. An open platform VMS will also allow the integration of other devices such as audio, visual display systems and even mobile devices to help with crowd control. On a larger scale, drones and robots can also be integrated with the VMS to aid with social distancing measures on a national level.
Interestingly, there has also been a shift in public perception when it comes to data privacy because of the pandemic. With the increasing need for provisions such as contact tracing,
The EY Future Consumer Index
found that the public is now more receptive to make private information available if it's for the greater good of the society. Take the
TraceTogether App
in Singapore for example, more than 1,600,000 have already downloaded it to stop the spread of COVID-19 through community-driven contact tracing — even if that means having to constantly share their location with the App.
However, I must emphasize that it is still the responsibility of businesses to prioritize data protection and privacy. Government leaders, technology partners and businesses need to work together to improve and innovate technologies in a way that maximizes the value add of data while respecting individual privacy and at the same time complying with data protection regulations.
Finding the right partner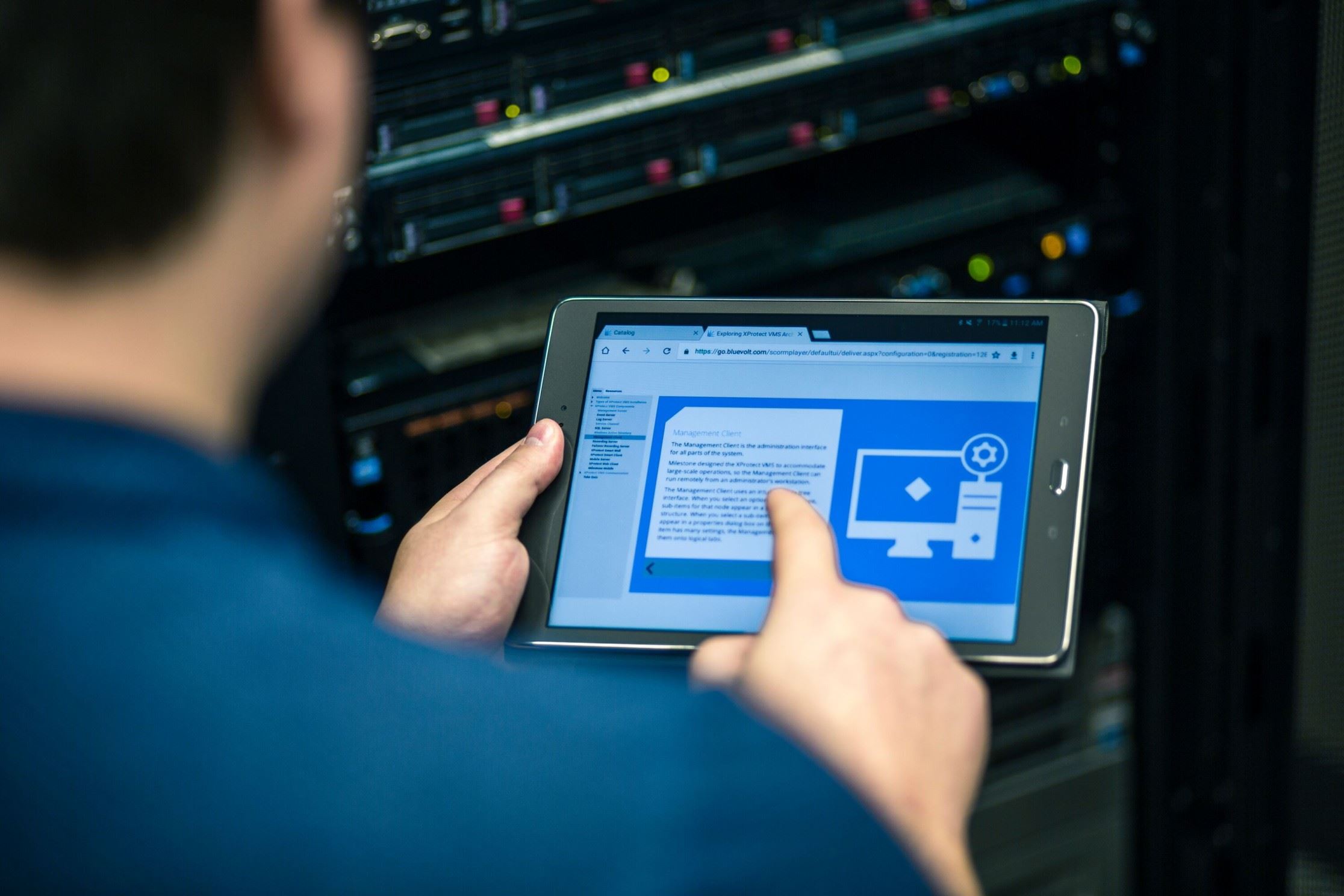 As we learn to live with COVID-19, it will be increasingly crucial for businesses to find the right technology partner to help them design, develop and produce world-leading IP-based video management solutions, and we do this for organizations of all shapes and sizes. Our strong belief in the power of adaptation and flexibility allows for the easiest integration of existing installations with a wide network of cutting-edge and readily available solutions, helping businesses save time and money.

Here, we see how video technologies can help mitigate the impact of the pandemic by helping countries kickstart the economy, whilst ensuring compliance to safety measures. This is in line with Singapore's push for digital transformation, where investing in innovative technology will become a key component for business continuity plans, giving them an edge in seizing opportunities in a post-COVID world.

To do this is to harness the true power of open and we remain committed to supporting frontline workers, businesses, governments and the community in this ongoing battle. Because if we band together as a community, I am confident that we will come out victorious.
Benjamin Low
Vice President, APAC
Ready to see what we have to offer with smart video technology? 
Book a demo