Join Marketplace as a Technology Partner
NETWORK WITH
OUR COMMUNITY
Generate more qualified leads quickly on Milestone Marketplace®.
This unique digital platform is also the place to make connections, promote
your software or hardware solutions, and accelerate your business.
Why join Milestone Marketplace?
As a Milestone partner, you can generate area-specific leads by promoting your products to a more focused market.
Connect with the digital economy
Expand your customer base through get direct access to networking opportunities, faster decision-making and a faster route to sales leads.
Expand your earnings through insights and analytics
Gain an edge with page analytics, available with a paid membership plan and use the insights to tailor your messages for better conversion or searchability.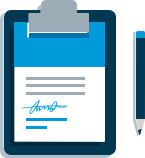 JOIN TODAY - FOR FREE
As a registered Milestone Partner, you can leverage
the Milestone brand and Milestone's global market channel and benefit from a wide range of marketing resources and activities.
Showcase your XProtect-verified product(s) to a global network of partners on Milestone Marketplace.




Not part of the Technology Partner Program, yet?
Find out more about the Technology Partner Program and join for free.
Already a Milestone Technology Partner?
Gain access to Milestone Marketplace, a global platform to market your verified software or hardware effectively. Not verified? Learn more about verification here.
INCREASE VISIBILITY WITH TWO TYPES OF PROMOTION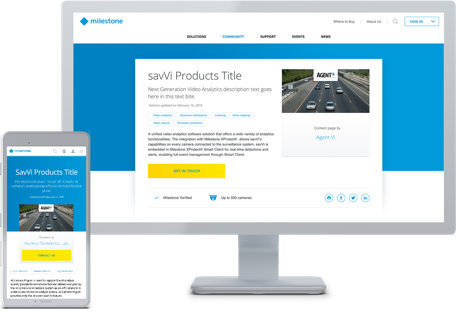 Product Page
Promote your product offering
You know which challenges customers face. We know that you have the products to tackle them. Highlight your product's unique value on Marketplace through these sections:
Company Description
Fields of Expertise
Geographic Areas
Software Suite
Industry and proven installations
Description of the challenges you solve
Service and Support
Other areas of expertise
SEE HOW IT LOOKS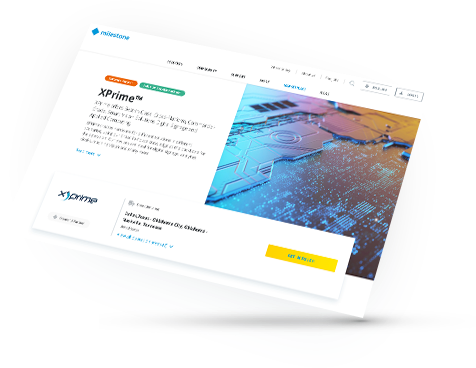 Company profile
Promote your company with an exceptional profile
Customers use Milestone Marketplace to find technology, expertise, and customized solutions. They are also looking for local integrators. Help them find you with sections such as:

Company Description
Milestone partner level and company data
Product and Expertise overview
Description of challenges you solve
Milestone certifications
SEE HOW IT LOOKS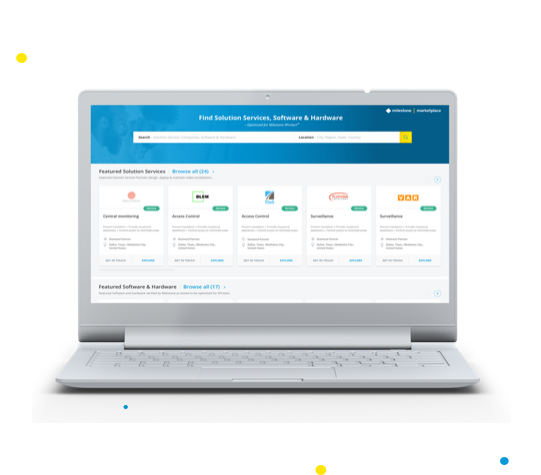 Start your journey today
Explore +2.000 trusted services, companies and products
Explore Marketplace
How do I add a solution or technology to Marketplace?
Once you have joined Marketplace, you can start adding content pages. Just log into Marketplace and follow the steps provided.
How does the subscription model work?
There are three Marketplace membership plans: - START Plan - GROW Plan - EXCEL Plan.
See more details
Can I add more than one solution?
Each membership plan covers one solution. You are free to add as many solutions as you would like.
How can I update my solution page?
You can update your solution page by logging into Marketplace and following the on-screen instructions. For help, go to our support page.
Go to Support
What do I need to get started?
You will need a variety of documentation and information to get started. See a full list on our FAQs page.
See the full list
Which solutions can be added to Marketplace?
Milestone Marketplace showcases hardware, software and solution services that are optimized for XProtect®.
See more examples
Do you want to stay updated about Milestone Marketplace and other news?