Interessert i å kjøpe Milestone-produkter?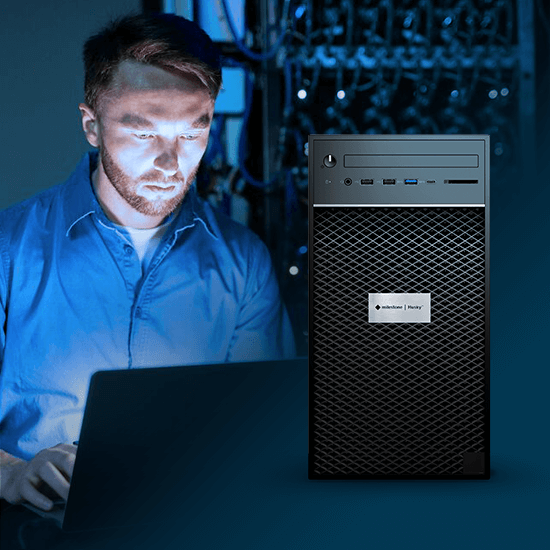 Hvorfor Husky IVO 350T?
Start smått med rom for å vokse.
Husky IVO™ 350T (Tårn) er et ideelt valg for de som vil starte smått i videoinstallasjonen mens de har fleksibiliteten til å vokse – uten å måtte investere tungt i IT-ressurser og rack-plass. Ideelt for detaljhandel, logistikk og lager.
Enkelt og fleksibel oppsett
Klargjøring med kun få, enkle trinn


Mer rolig til sinns
Unngå ekstra kostnader og kompleksitet
IDEELT FOR DISSE LØSNINGENE
Retail
A simple, competitive solution that's ideal for chains
Small warehouses
Single locations with few cameras but that need flexibility
HUSKY IVO 350T FUNKSJONER OG SPESIFIKASJONER
• Video throughput of up to 360 Mbit/s
• Supporting up to 50 channels*
• Local storage up to 32TB on 2 internal drives


*Based on a video stream of 1080p, 30 FPS, 5-8 Mbit/s/channel, with video motion detection recording.
• Quad Core CPU
• 16GB DDR4 RAM
• 2 x 3.5" internal hard drives
• Integrated PCIe slots
• Desktop form factor
• 460W up to 90% efficiency (80 Plus Gold)
• BTU rating : 1,570 BTU/h (max. theoretical)
Husky IVO produktveiledning
FÅ HJELP TIL Å KONFIGURERE INSTALLASJONEN
Dette verktøyet er tilgjengelig med en My Milestone-innlogging, og hjelper med å anbefale det beste Husky IVO-produktet som passer ditt kameraoppsett og dine arbeidskrav – for i dag, og for fremtiden.
Få veiledning
Har du et spørsmål om Husky IVO? Vi er her for å hjelpe deg.
Kontakt partnerne våre
Interessert i å kjøpe Husky IVO og andre Milestone-produkter?
Sjekk ut resten av
Husky IVO-porteføljen
Denne fleksible og skalerbare serien har alt du trenger.