Why Axis Entered the Body Worn Market
fredag, 21 august 2020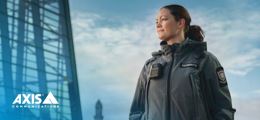 Axis Communications recently entered the market for body worn camera solution. But why did they take the step and how do they consider it adds value to the market? In order to know more we reached out to Axis where Fredrik Andersson, Global Product Manager, and Mikael Ståle, Application Partner, were happy to answer our questions.
A logical business extension with value for partners and customers
"By entering the body worn camera market, which has in part been driven by demands from our partners and customers, we not only found a logical extension of our existing business but also for our partners and customers because video from body worn cameras can be included in their existing video system. Body worn cameras are a natural extension of the Axis vision of innovating for a smarter and safer world — Axis believes body worn is applicable and useful for many areas and use cases," says Fredrik Andersson, Global Product Manager, when asked why Axis decided to launch a body worn camera offer.
Axis' strength in video surveillance, both fixed and mobile cameras, is in creating cameras that are suited for a variety of challenging environments. "Therefore, we know how to face some of the biggest challenges of body worn cameras," Fredrik says and adds: "These challenges can for example be poor lighting, robustness, high-quality images despite the camera's size, on-camera storage or easy operations for officers and investigators."
But the open system architecture also plays an important role. "It allows integration with major video and evidence management systems. So, we are delivering a solution that not only provides highest-quality video and audio, based on our decades worth of experience, but also allows maximum flexibility and integration with existing systems, due to the open architecture," Fredrik explains.
A clear image despite movements or sudden light changes
When it comes to body worn cameras, one could argue that movements of the person wearing the camera or external factors like changes in lighting might have a negative impact on the video quality. When asked about this, Fredrik refers to Axis' experience in developing video surveillance solutions. "Our experience of providing video surveillance solutions that deliver clear images, no matter of external factors, has brought us to develop several features that can be used in body worn cameras as well," he says.
One of these features is wide dynamic range technology: "A body worn camera, constantly moving, is often exposed scenes where part of the image is very dark and part of the image is very bright, e.g. an indoor scene with windows in the background. Normal exposure will not be able to bring out evidence value in all parts of that scene but with WDR technology we can give an even exposure over all of the image and brings out all the details," Fredrik explains and adds: "Also, advanced algorithms help lowering noise levels and increase the image signal in order to display every single detail in the best possible way. These features make it perfect for forensic purposes as it allows to identify important details in a scene."
The Axis body worn camera also features two microphones. "The dual microphones make it possible to reduce disruptive noise, such as wind, to contribute to a better-quality result within a distance of up to 7-8 feet," says Fredrik and explains how it's also possible to adjust factors that ensure a high-quality image, such as resolution, depending on the operational requirements and the area of application. As well as extending battery time from the normal 12 hours to up to 17 hours.
Encrypted data and a storage of choice
The whole Axis body worn solution includes the cameras, docking stations and a system controller. "The system controller optimizes transfer the footage for analysis and storage. First, video footage is captured and stored on camera in the field and later transferred when the camera is placed in the docking station," Fredrik explains.
But videos captured with body worn cameras can be very sensitive. When asked about data protection Fredrik says: "The footage is safe from cyberattacks, tampering and other cyber disruptions. All data is encrypted both at rest and in transfer using AES256 and TLS and in addition, with certain integrations, video data can be fully end-to-end encrypted."
Talking about security, storage and transfer. Video requires investments in storage, either hardware or cloud based. What would Fredrik advise when it comes to storing data in a safe but cost-efficient way?
"We are using Zipstream technology to maximize recording time, minimizing time to transfer evidence material to the management system and not the least demand for long term storage," he answers and further explains: "Zipstream for body worn is a scaled-down version of the normal technology. It uses fewer compression algorithms due to the nature of the constant movement of images recorded but on a fixed camera, Zipstream can reduce the bandwidth even more."
The camera itself features 64GB of internal storage which Fredrik says is enough for around 12 hours of recorded video. Once again, the open architecture gives the user a free hand when it comes to extended storage, or as Fredrik says: "The open architecture of the solution allows our customers to select a storage solution that best serves their needs but another feature that helps limiting the storage space is the optional configuration to record in reduced resolution of 720p."
Learning from both sides
To give a better understanding of the development of the integration to Milestone XProtect, Mikael Ståle explains: "During the whole development process of our open technology-based body worn solutions, we have maintained high ambitions. Our aim is to deliver a best-of-class body worn integration with excellent transfer speeds and strong device integration," he says and adds that to be able to do that, their only way was to use the driver SDK.
Axis was one of the first Milestone partners to develop on Milestone's new driver framework. "This kind of new platform development work always entails learnings from both sides. Milestone was very responsive throughout the entire journey and the issues we have discovered together along the way were all fixed," Mikael says and is clearly happy with the results: "The result is that we've not only delivered the body worn camera integration we aimed for, but also on time."
Further development based on input from users
To optimize the performance of Axis devices in XProtect, a suite of plugins, features and extensions has been developed. "The AXIS Optimizer is assurance that all integrations for Milestone XProtect are designed, tested and validated by a specialized Axis team dedicated to XProtect," Ståle says and to further clarify he adds: "So, in short AXIS Optimizer always offers the simplest way to get the most out of Axis devices and XProtect. Plus, there is no cost involved with using it! The Optimizer is constantly updated and always available as a free download from axis.com."
According to Fredrik the same goes for the AXIS Optimizer Body Worn Extension. "It's just that. An extension that integrates the Axis body worn system with Milestone XProtect," he says and adds: "During the initial release of the Axis body worn solution, the main function of AXIS Optimizer Body Worn Extension is to securely enable connection and transfer between Axis body worn system and Milestone XProtect." But according to Fredrik, the AXIS Optimizer Team will look to further enhance and optimize the performance of managing body worn video in XProtect. "These enhancements are largely based on direct input from customers and users, which is why we recommend installing the AXIS Optimizer," Fredrik concludes.