Our Virtual Coffee Shop Webinars Continue!
onsdag, 22 juli 2020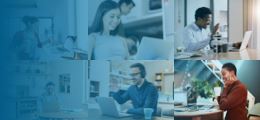 Over the last few APAC Virtual Coffee Shop sessions, we have heard from great Technology Partners from Gallagher to Hewlett Packard Enterprises, Bosch to Cloudian, and beyond. As we continue our APAC Virtual Coffee Shop journey, we continue our focus on our Technology Partners and their integrations with XProtect solution. These solutions create customized solutions by embracing new technologies and optimizing your current assets infrastructure.
Continuing this theme, look out for the 13 August session, where we will be sharing the latest collaborations with our brand-new Technology Partner - AWS Amazon Web Services. As you would have read over the last few months in our Partner Bulletins, Milestone XProtect is now able to be deployed directly from AWS Marketplace. This means that you can automate your OS and VMS installations and launch your pre-configured VMS with just a few links!
Join our APAC specialists as we give you just a taste of how this can benefit your network and storage requirements!
Improving your businesses and your solutions has always been our focus. Be sure to register soon for the XProtect on AWS session and keep up to date on the upcoming new webinar topics each week on our events page!