Work Smarter with Our New Comparison Tools
vrijdag, 21 augustus 2020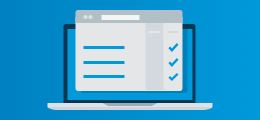 As technology is continuously advancing, it can be a challenge to keep up with all the significant innovations, improvements, and new products that Milestone brings to the market. That's why we are excited to bring you two new digitalized comparison tools, each serving different scenarios and use cases, that will help you work smarter and sell more product updates and upgrades.
XProtect Version Comparison Tool
"What has Milestone released since last time I checked?" "Why should I update my system to the latest version?" "Why should I buy/renew my Care Plus agreement?"
These are some of the questions we hear time and time again. To help answer them and provide you with the right arguments, the XProtect Version Comparison Tool shows the added features over time - per product, per version.
Three times a year, we update the entire XProtect product suite with new features and functionalities to make them better, stronger, and more powerful. Because XProtect customers have instant access to new product updates with a valid Milestone Care Plus agreement, you can also utilize this tool to demonstrate the tangible value of a Care Plus subscription quickly and easily.
XProtect Product Comparison Tool
"What's the difference between Professional and Professional Plus?" "What extra functionality will I get if I upgrade my system to a more advanced product?" "Why should I buy/renew my Care Plus agreement?"
For those of you who have struggled to crawl through the XProtect comparison chart and aggregate all the features to sell a product upgrade; It's finally here! The XProtect Version Comparison Tool is simple, easy to use, and highlights product differences so that you can be a product expert in no time.
Export, print, or share it
Both comparison tools offer the ability to export, print, and share the result list when comparing two XProtect products or versions. This gives users an excellent opportunity to use the tool for more than a quick look-up tool - they can also use it to print out leave-behinds or create documentation for potential or existing customers.