Cloud Labs: hands-on, technische training nu ONLINE beschikbaar
donderdag, 12 april 2018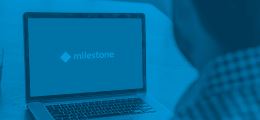 Auteur: Toyah Hunting
eLearning
Cloud Labs: hands-on, technische training nu ONLINE beschikbaar
Nieuw: Cloud Labs, een online versie van onze klassikale trainingsworkshop 'Milestone technische configuratie niveau 1'!
Hoewel we over de hele wereld klassikale trainingsworkshops aanbieden, is het soms moeilijk of onmogelijk om deze workshops persoonlijk bij te wonen. Cloud Labs maakt het mogelijk om technische, hands-on training te krijgen vanuit uw huis of kantoor.
Deze driedaagse workshop is bedoeld voor veldtechnici die verantwoordelijk zijn voor de installatie en configuratie van videobewakingssystemen. Met een combinatie van online tools en Cloud Labs leert u hoe u Milestone XProtect® Corporate VMS installeert en configureert op basis van specificaties voor realistische scenario's.
Tijdens de workshop treden deelnemers op als Integratie Technicus om de verschillende onderdelen van XProtect Corporate VMS te installeren en aan de zakelijke behoeften van de klant aan te passen. Met deze workshop worden deelnemers voorbereid op de online toets voor Milestone Certified Integration Technician (MCIT), die vereist is om verder te gaan binnen het Channel Partner Program van Milestone.
Ga naar de pagina met aankomende trainingen in het Partner Learning Portal van Milestone voor een actuele lijst met onze geplande trainingen.
Meer informatie vindt u hier[MM1] .
Technische videohandleidingen – YouTube
Videohandleidingen op YouTube zijn online beschikbaar en behandelen installatie, configuratie en gebruik van XProtect-clients en -functies.
Deze technische videohandleidingen bieden snel en eenvoudig toegang tot trainingen voor het uitvoeren van specifieke taken met betrekking tot installatie, configuratie en gebruik van producten en functies van Milestone.
Deze set YouTube-videohandleidingen omvat veel taken die ook deel uitmaken van ons bekroonde e-learningprogramma, met het extra voordeel van gesproken instructies en vertaalde ondertiteling via Google Translate.
Momenteel behandelen deze videohandleidingen de installatie, configuratie en het gebruik van XProtect­producten en -functies, maar in toekomstige handleidingen wordt ook aandacht besteed aan ontwerp en probleemoplossing van Milestone-producten.