Nieuwe ontwikkelingen in technische ondersteuning
maandag, 12 maart 2018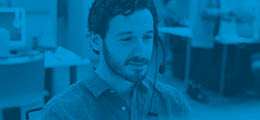 Auteur: Toyah Hunting
Partner News
Lees onze aanbevolen kennisartikelen en hotfixes, maak kennis met ons beleid voor technische ondersteuning en onze Care Premium-support, en schrijf u in voor een webinar.
Gefixt! Oplossingen voor de problemen die u het meest tegenkomt
Soms ontdekken we bugs in onze software en lossen we deze op met een hotfix, voordat we ze in de eerstvolgende van onze drie jaarlijkse updates elimineren.
Wij hebben recent de volgende hotfixes, FAQ's en troubleshooting artikelen gepubliceerd. Klik op de link om te bekijken wat u moet doen als u een probleem ervaart of een vraag heeft:
Milestone Support Gemeenschap en Kennisbank
Met de nieuwe Milestone Support Gemeenschap en Kennisbank-indeling kunnen Milestone-klanten en partners gemakkelijker vragen stellen, antwoorden vinden en ervaringen delen met de Milestone-gemeenschap.
Nieuwe ontwikkelingen
Eén portal voor zowel de Support Gemeenschap als de Kennisbank met een frisse, moderne uitstraling en verbeterde zoekmogelijkheden
Als je een opmerking wilt plaatsen, een post wilt liken, een vraag wilt stellen of feedback wilt geven op een Kennisbank-artikel, log dan in met je My Milestone-inloggegevens
Ondersteunt eenmalige aanmelding met My Milestone en de mogelijkheid om een gebruikersalias aan te maken onder Mijn Instellingen
U kunt de posts in de Support Gemeenschap en relevante Kennisbank-artikelen en -bijdragers bekijken en zoeken zonder in te loggen
Biedt een ranglijst met de meest actieve Milestone Support Gemeenschaps-leden en trending artikelen
Staat het beoordelen en plaatsen van comments bij Kennisbank-artikelen toe met de knop 'Posten': deel uw ervaring met de Support Gemeenschap en geef feedback aan het Milestone-team!
Volg of neem deel aan gesprekken met uw collega's via de berichtenservice
Markeer, meld, deel en sla posts op, deel en upload bestanden, afbeeldingen of code en check hoeveel likes en views uw post heeft.
Blijf op de hoogte via het e-mail- en notificatiesysteem van de Support Gemeenschap (bekijk de beschikbare opties in Mijn Instellingen)
Houd een overzicht van uw activiteiten bij met "My Feed"
Technische support webinars van Milestone


U kunt zich nu inschrijven voor een hands-on demo die door de technische support van Milestone is ontworpen voor partners en Care Premium-eindgebruikers. Krijg volledig inzicht in de ondersteuningservaring: wat kunt u verwachten van de technische ondersteuning van Milestone? Hoe kunt u optimaal gebruik maken van Care en Care Premium? Ontdek de voordelen van Care binnen de technische ondersteuning van Milestone. Schrijf u hier in!
Beleid voor technische support van Milestone
We streven naar het bieden van consistente en voorspelbare richtlijnen voor de beschikbaarheid van productsupport, vanaf de uitgave en gedurende de hele levenscyclus van het product.
Heeft u een vraag over het gebruik van Care Premium met technische ondersteuning?
Hier vindt u de antwoorden op de meest gestelde vragen over Care Premium-support. Raadpleeg de FAQ's over Care Premium-support