Meer camera's in hoge resolutie met minder CPU-belasting
dinsdag, 16 januari 2018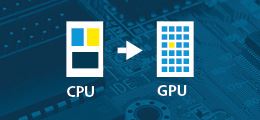 Auteur: Toyah Hunting
Product News
Hoogwaardige prestaties tegen redelijke kosten
Als het om grootschalige installaties gaat, is de mogelijkheid om hoogwaardige prestaties tegen redelijke kosten aan te bieden essentieel om grote opdrachten binnen te halen. Juist hier komt hardware-gestuurde videodecodering goed van pas.
Onze eerste product update van dit jaar biedt hardware-gestuurde videodecodering op de Smart Client via zowel meerdere NVIDIA grafische kaarten als de in de Intel CPU ingebouwd in de GPU. Kortom, meer camera's in hoge resolutie, met minder CPU-belasting. Omdat camera's geavanceerder worden, met hogere resolutie en moderne installaties die meer camera's per server behoeven, is het cruciaal een mogelijkheid te bieden om de CPU zoveel mogelijk te benutten.
Wat houdt reductie van de CPU-belasting in?
Tot nu toe maakte ons VMS alleen gebruik van de ingebouwde Intel-kaart, waardoor alle belasting voor videodecodering in de Smart Client op de CPU geplaatst werd. Door gebruik van meerdere NVIDIA-kaarten met ons VMS toe te laten wordt het mogelijk de belasting van de CPU naar de GPU te verplaatsen. Hierdoor ontstaat de mogelijkheid om meer hoge resolutie camera's op de Smart Client te tonen, terwijl tevens meer HD-schermen als display of onderdeel van de Smart Wall functionaliteit gebruikt kunnen worden.
Dankzij de gereduceerde CPU-belasting kunt u meer camera's per server gebruiken dan ooit tevoren. Hierdoor heeft u minder of minder krachtige servers per installatie nodig. Voor bestaande installaties betekent dit ook dat hetzelfde aantal camera's een lagere CPU-belasting heeft, waardoor de server meer ruimte krijgt voor andere componenten en processen.
2018 R1 biedt een echte manier voor gebruikers om het volledige potentieel van hun installaties aan te boren voor maximale beveiliging met de modernste apparaten.
Er zal meer volgen
Deze functie vormt het eerste onderdeel van ons product-stappenplan met betrekking tot hardwareversnelling, en is geweldig voor klanten die hun middelen beter kunnen benutten.
Bekijk onze volledige Product Update R1 2018
eLearn nu
Verken de XProtect 2018 R1 Update functies om de voordelen beter te begrijpen.