Joint Canon and Milestone events draw crowds
dinsdag, 4 oktober 2016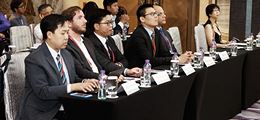 Auteur: Toyah Hunting
Event News
Events in Hong Kong on August 31 and and Singapore on September 2 introduced Video Management and Video Analytics solutions to Canon's customer base, targeting the commercial and enterprise market segments in particular.
Dell participated as the infrastructure partner, whilst other leading video analytics partners such Herta Security, Agent VI, Ganetec and NEC showcased their analytics solutions.
"The response was overwhelming," says Geraldine Chong, Milestone's Marketing Manager in APAC. "In Hong Kong, we had attendees from in transportation, retail chains, financial and educational institutions. In Singapore, representatives from the medical, financial, technology and logistics sectors attended. "Attendees were keen to learn more about how they can optimize their business processes with IP video management and video analytics solutions to strengthen their revenue streams," Chong says. "Participating partners are already talking about creating an event like this with Milestone again," she continues.