Een voorproefje van onze eerste release van 2018
maandag, 8 januari 2018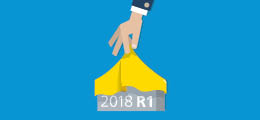 Auteur: Toyah Hunting
Product News
We streven ernaar technisch voorop te lopen en VMS-marktleider te blijven qua prestaties en kwaliteit. Hier is wat u van onze XProtect R1 2018 release van 20 februari kunt verwachten:
Hardware-gestuurde videodecodering op de Smart Client door gebruik te maken van meerdere NVIDIA-kaarten
Toon meer hoge resolutie-streams zonder de CPU extra te belasten
De meeste VMS-systemen maken alleen gebruik van de ingebouwde Intel-kaart, waardoor alle belasting voor de videodecodering in de Smart Client op de CPU geplaatst wordt. Door de kracht van meerdere NVIDIA-kaarten met XProtect te bundelen wordt het mogelijk de belasting van de CPU naar de GPU te verplaatsen. Hierdoor ontstaat een ongekende mogelijkheid om meer hoge resolutie camera's op de Smart Client te tonen, terwijl tevens meer HD-schermen als display of onderdeel van de Smart Wall functionaliteit gebruikt kunnen worden. Dit alles zonder extra belasting van de CPU. Dit is een manier om meer uit een installatie te halen en tegelijkertijd middelen voor andere taken beschikbaar te stellen.
Privacymaskering
Bescherm uw privacy zonder de beveiliging aan te tasten – zonder meerkosten
Terwijl privacyregelgeving op basis van het soort installatie en plaats behoorlijk aan het veranderen is, kan met deze privacymaskering gemakkelijk en economisch de beveiliging gemaximaliseerd worden zonder de privacy aan te tasten. Er zijn zowel permanente als verwijderbare maskers mogelijk, in live en opgenomen streams - efficiënt met aanmeldgegevens beheerd. Er wordt een ongelimiteerd aantal camera's ondersteund en er wordt geen extra belasting op de CPU geplaatst. Zonder extra kosten.
DLNA (Digital Living Network Alliance)ondersteuning II
Carrousel- en regel-gebaseerde video direct op uw TV
DLNA-ondersteuning is een unieke XProtect-functionaliteit die sinds R3 2017 beschikbaar is. Hierdoor kunnen gebruikers hun VMS aan iedere DLNA-ondersteunde TV koppelen om video van camera's zonder computer of Smart Client weer te geven. Dit is vooral handig voor winkelinstallaties die – met minimale apparatuur – op een gemakkelijke, eenvoudige en betaalbare manier video van een bepaald gebied willen weergeven. Met R1 2018 wordt een carrouselmodus geïntroduceerd, waarmee de gebruiker kan schakelen tussen een geselecteerd aantal camera's. Ook kan een op regel-gebaseerde cameraselectie worden gemaakt, waarmee de gebruiker video direct van de camera weer kan geven zodra zich bijvoorbeeld bewegingsdetectie voordoet.
Installatie met één klik
Een gemakkelijke installatie voor het single server installatieprogramma
Single server-installaties kunnen XProtect nu al sneller en gemakkelijker configureren tijdens het installeren. Dankzij automatische apparaatdetectie en bewaartijdconfiguratie kunnen klanten hun harde schijfruimte meer dan ooit benutten.
Legacy Device Pack
Download snellere en meer efficiënte drivers voor vaak gebruikte camera's
XProtect ondersteunt meer dan 6.000 camera's en apparaten. Om grote, langdurige downloads te vermijden wordt het Device Pack nu gesplitst in een primair Device Pack met drivers voor de meest gebruikte apparaten (met maandelijks nieuwe toevoegingen) en een Legacy Device Pack met drivers voor oudere en minder gebruikte camera's. Dit is nog een stapje dichter bij een snellere download en een geweldige gebruikerservaring.