Samenvatting XProtect® 2017: Een geweldig product nòg beter maken
donderdag, 2 november 2017
Auteur: Toyah Hunting
Product News
Dit jaar verschenen er drie Milestone updates. Hieronder de hoogtepunten:
2017 R1 – 15 februari
Benut het volledige potentieel van uw servers met hardware-gestuurde video-bewegingsdetectie (VMD)
Wat betekent het? Het betekent kortweg dat gebruikers geld kunnen besparen omdat ze zonder verlies van kwaliteit meer camera's op de server kunnen draaien. Als video-decodering voor video-bewegingsdetectie van de centrale verwerkingseenheid (CPU) naar de grafische verwerkingseenheid (GPU) verplaatst wordt, kan het 50% meer camera's aan, met dezelfde CPU-belasting.
Hierdoor heeft u een minder aantal, of minder krachtige servers per installatie nodig waardoor de totale systeemkosten lager uitvallen. Voor bestaande installaties betekent dit ook dat hetzelfde aantal camera's een lagere CPU-belasting heeft, waardoor de server meer ruimte krijgt voor andere componenten en processen.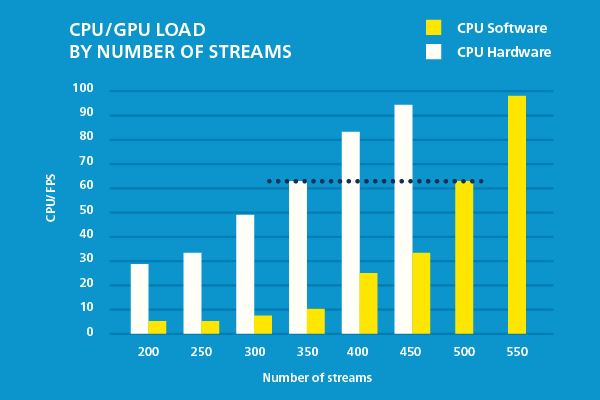 Deze technologie werkt met XProtect Expert en Corporate, en is ideaal voor grote installaties waarbij u uw hardware optimaal wilt gebruiken en kosten wilt besparen. Een praktisch punt: om de kracht van hardware-gestuurde VMD te kunnen benutten is een CPU met ondersteuning voor Intel Quick Sync Video noodzakelijk.
Meer informatie over hardware-gestuurde VMD
Bekijk onze demo over hardware-gestuurde VMD
2017 R2 – 8 juni
Snellere schrijftijd naar disk. Veel sneller!
Onze tweede update dit jaar bevatte meerdere verbeteringen qua snelheid en kwaliteit:
72% snellere schrijftijd naar disk
De gemiddelde schrijftijd voor GOP (Group Of Pictures) toont hoe snel het systeem reageert; vanaf het moment dat een GOP door de camera's is vastgelegd totdat deze volledig is geschreven op de disk. Onze testen laten zien hoe goed Milestone het XProtect-systeem benut: We hebben in 2017 de schrijftijd met 72% verkort, met als resultaat slechts 4,14 milliseconden schrijftijd in 2017 R3!
Bij het schrijven naar disk blijft de hoogste videokwaliteit mogelijk
'Gemiddeld mediaverlies' meet het aantal verloren GOP's tussen het vastleggen van de video en het wegschrijven naar disk. Onze testen laten zien dat XProtect nul mediaverlies heeft. U leest het goed, geen enkel beeld gaat verloren.
2017 R3 – 5 oktober
Snel reagerende smart client met kortere login-tijd
Door de contentgedeeltes van de smart client naar WPF (Windows Presentation Foundation) te verplaatsen hebben we een soepelere, ongestoorde gebruikerservaring bereikt voor het switchen tussen weergaves, het selecteren van items en het navigeren binnen content en aanpassen van vensters.
Ook hebben we verbeteringen gemaakt waarmee de login-tijd voor de smart client verkort wordt: Login-tijd als beheerder (t.o.v. een groot systeem) is gedurende 2017 met 50% gereduceerd; login-tijd als niet-beheerder (t.o.v. een groot systeem) met 15%.
De Management Client is eveneens verbeterd
Login-tijd t.o.v. een groot systeem is gedurende 2017 met 50% gereduceerd. Login-tijd t.o.v. een klein systeem werd overigens met 25% gereduceerd.
Licentieverbeteringen
We hebben de basisverwerking op de managementserver gereduceerd en de SQL database heeft het reactievermogen van de licentiepagina in de Management Client verhoogd. Hierdoor laadt de licentiepagina in de Management Client 95% sneller (in grote systemen met 10.000 camera's en 500 opnameservers) en is de licentie-activatietijd op de server met 93% verkort
Bekijk onze demo over Windows Presentation Foundation (WPF)
Zorg dat u geen enkele systeem-update mist - meld u aan voor Milestone Care Plus